My Experience as a Web Intern at the ROM
Posted: July 31, 2014 - 15:14 , by
royal
A year ago this August, after uprooting my life in Victoria, British Columbia, I relocated to Toronto. It was a pretty intense transition, since I grew up in a coastal city of less than 350,000 people. I've dreamed of working in a museum for many years, so when I was accepted into the Master of Museum Studies program at the University of Toronto I couldn't turn it down. I remember my first visit to the ROM so clearly. It was the first place in the city where I felt the usual comforts of home as the lively dioramas, artefacts, and taxidermy animals triggered childhood memories of the Royal British Columbia Museum (it wouldn't be Canadian if it wasn't Royal!).
Why Web?
A key component in my masters program is the completion of an internship that would foster professional development. Having previously volunteered in art museums, I set my sites on interning in a cultural and science-based museum; the ROM seemed like the perfect fit. As an emerging museum professional (as they call us), I wanted to gain experience in museum communications and the web. After completing two courses that focused on the web and digital technologies, I knew this was an area of interest. I connected with the ROM Web Manager, Cheryl Fraser, and subsequently began my internship as a Web Intern in early May.
My Primary Internship Tasks at the ROM
My primary internship assignment was to conduct a research survey that uncovered museum blogging trends and best practices. Since Cheryl and the web team are looking to ways they can enhance the ROM blog, they required extensive research to help understand inform future developments. I also worked on the back-end of the blog in preparation for its upcoming transformation, so to speak. One of my favourite tasks during my time as an intern however, was the research and writing process for my blog posts. This experience helped me realize how much I enjoy interpreting museum information and working in web communications.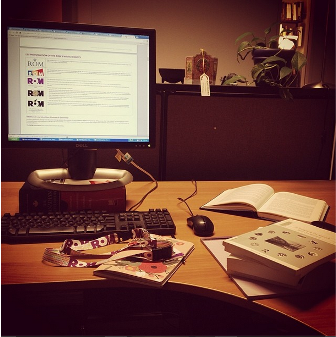 Blog posts I most enjoyed researching and writing
My first blog post was inspired by my encounter with the three-toed sloth, located in the Reed Gallery of the Age of Mammals. I was anxious to learn about some of the scientific specimens and taxidermy animals housed in the museum because I had spent much of my adult life studying art and culture. I also wanted to write a post for readers like me, who were not as familiar with science and biodiversity.
I spent many lunch breaks exploring the galleries for inspiration for future blog posts. One day, I came across a small case in the Sigmund Samuel Gallery of Canada that contained several artefacts used in the early collection and production of maple syrup and sugar. I was particularly excited about this mini-exhibition as I was less familiar with this aspect of Canadian heritage. After researching in the ROM library and combing the Canadian Encyclopaedia website, I assembled a blog post for Canada Day that addressed heritage and identity.
The last couple of blog posts that I wrote focused on the Art and Artefact Conservation department. My Cheryl (my supervisor) and I both agreed that we wanted to establish a more visible web presence of this department, as they are so integral to the function of the museum. I serendipitously met the conservation intern, Emily Ricketts, while exploring the Samuel European Galleries. She invited me to the Ceramics, Stone, and Glass conservation lab to learn all about her work. She then introduced me to Natasa Krsmanovic, a paper conservation intern at the ROM. I was lucky enough to spend half a day with her in the lab as she shared her methods in paper treatment.
Excitement at the ROM
One of the most exciting aspects of my internship were my many encounters with artefacts and specimens. Here are some of the photos I captured for Twitter and Instagram.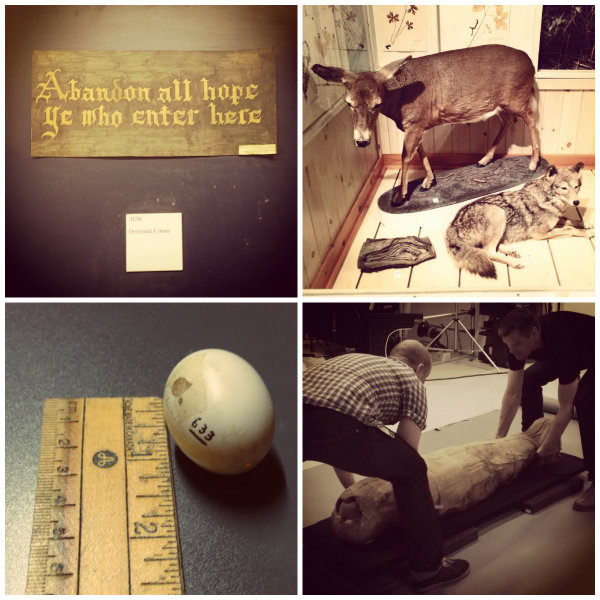 Partings
I learned so much about best blogging practices, the web, communications, and how to create dynamic digital content. I also met so many wonderful ROM staff members, who so graciously welcomed me into the museum. The knowledge and experience that I am taking with me will definitely help shape my future as a museum professional. For now, I must return to school to complete my final year of studies. I am so thankful for this wonderful opportunity and will miss the museum very much!
If you would like to keep up with my work, I run the Master of Museum Studies blog called Musings. Please feel free to comment and share your ideas with me.