Conservation Intern Spotlight: Emily Ricketts
As a ROM intern and a newcomer to Toronto, I spend a lot of time exploring the public spaces at the museum. One particular day, while visiting the Samuel European Galleries, I noticed a jarring new addition to a charming 18th century English room. A bright blue ladder (with no trace of entrance might I add) had so conspicuously invaded this pristine diorama. I went back to my office shortly thereafter completely puzzled by what I saw.
A couple of days later, I returned to the gallery to find the lovely Emily carefully examining a luxurious crystal chandelier hanging from the ceiling behind the glass wall. She had an industrial cart full of tools and cleaning products, a massive light, and some cloth covering the floor. Without hesitation, I promptly asked her what she was working on. As it turns out, she was conducting a meticulous cleaning treatment on the lustrous artefact. So taken by her work, I insisted on interviewing her for the blog. Here's what I found out: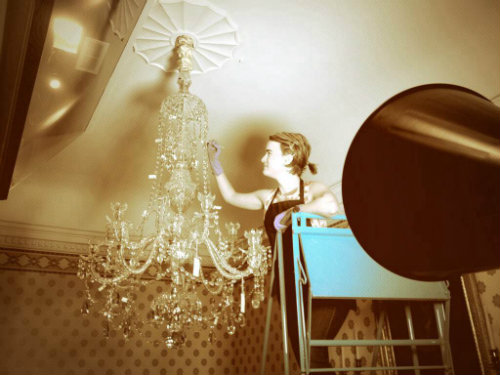 Intern Profile
Role of the Conservator
As an experienced Conservation student, Emily spoke in detail about her encounters in the classroom, her experiences in the field, and her work at the ROM. She began by explaining the purpose of her profession and how it differs from similar lines of work. I learned that art and artefact conservators essentially act as advocates for objects as they uphold a mandated code of ethics. Their job extends far beyond basic cleaning and repairing tasks. They must uncover the history of the object in order to determine its original intended use, and in doing so, they may more accurately assess its needs. In contrast to standard restorative practices, the goal of a conservator is not to render objects to their 'shiny' original state. Their main goal is to preserve its physical history and to ensure its future stability and safety. Older repairs or additional embellishments are often maintained, as these vital features trace the history and evolution of the object.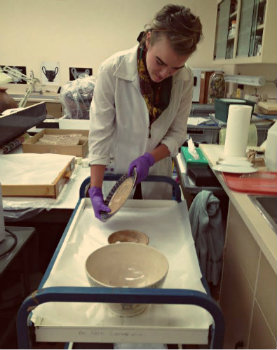 Archaeological Conservation & Museum Conservation
While Emily loves working in well-equipped museum labs, she is most passionate about Archaeological Conservation—particularly in the Mediterranean. She has travelled to both Greece and Italy where she has experienced hands-on conservation practice with ancient ceramics, stone, glass, and metal artefacts in remote archaeological sites. She described these practices as "stripped-down conservation", where she worked with limited resources in challenging excavation environments. She enjoys the excitement of last minute discoveries of ancient objects (which almost always happens!) and the need to exercise her resourcefulness in such intense conditions.
Her experiences of varying conservation practices in the Mediterranean and at the ROM have helped her identify the contrasting demands of fieldwork versus museum work. She is delighted to have had the opportunity to develop her skills in both areas, as conservation requires adaptability and a range of skill.
While classical archaeological conservation is her primary area of interest, Emily loves working with more recent (i.e. not ancient) Canadian and European artefacts as well. Her experience with treating a 19th century glass bottle (extracted from a Canadian excavation site) as well as working in small Canadian museums helped her discover her appreciation for a range of artefacts. She explained that "every object requires a different set skills and a different set of knowledge". Emily's internship at the ROM has enabled her to adapt to a different environment, and also helped her diversify her conservation skills.

Emily's Projects at the ROM
After learning all about Emily's background and interests, she walked me through some of her tasks at the ROM. Here's what I learned:
Pre-Conservation Process
Before performing cleaning and repair tasks, conservators must conduct extensive research, reporting, and examinations, including the following:
Extensive pre-treatment examinations of artefacts and coordinating reports;
Condition reports (i.e. evaluation of damage/deterioration and general state of object);
Extensive studio imaging is conducted before, during, and after conservation processes. Conservators are trained in various other photographic techniques, such as X-radiography and Infra-Red, to help them further examine and understand an object.
Emily carried out these tasks while working on the following projects: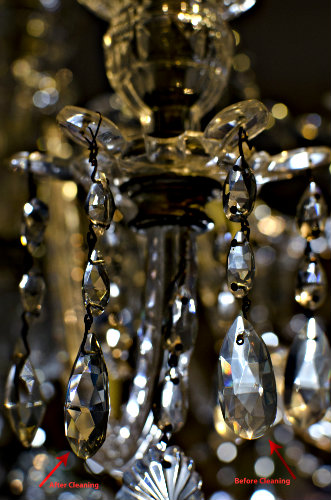 18th Century Neoclassical Crystal Chandelier located in the Samuel European Galleries
Task: To clean the crystals and repair the wiring.
Cleaning Process: Emily initially used a 50/50 solution of ethanol and distilled water to clean the chandelier. She applied the solution with bamboo skewers and cotton swabs. Not fully satisfied with the results, she then mixed a new solution of distilled water and conservation grade detergent (Orvus WA Paste). This solution provided much better results as it further reduced water spots and ensured brilliance and lustre while also preventing future degradation of the glass.
Repair Process: Emily is currently conducting initial research on pins. She must better understand the history and function of these materials before she can repair the wire and ensure future stability of the object.
British/Canadian Port neuf Spongeware Ceramics, 1840-1920
Issue: The potential for development of mould. Preventative conservation was necessary as traces of soluble salt were found on the artefact. If the object came into contact with moisture, the salt could bloom and consequently expand. This could have broken the surface of the ceramic and damaged the sponge detail. While this threat was barely visible, an extensive pre-treatment examination helped determine the issue.
Cleaning Process: In addition to careful surface cleaning, a desalination process was conducted in order to leach the salt from the body of the ceramic.
Emily is excited to continue her learning process at the ROM before she enters the work force as an experienced Conservator. We wish her the best of luck in her future endeavours!