September to June
Ontario schools and education groups. Tuesday to Friday, 10:00 AM to 5:30 PM.
Onsite Visits........ Book Now

Self-Guided General Admission ($8/person)
Special Exhibitions + Self-Guided General Admission ($10/person)
Onsite Lessons + Self-Guided General Admission ($16/person)
Booking an out of province school, adult group, corporate group, Post-Secondary group or a visit on a weekend/holiday? Visit Group Sales.
For big groups looking to purchase a group lunch/food at Druxy's ROM Café, we recommend emailing schoolv@rom.on.ca prior to the visit.
---
Ways to experience ROM today:
---
OCT Teachers Save Up to 20%
Buy your tickets online and save up to 20% off the regular rates for you and your family*. Enter the promo code PERKS to save, then print your tickets and walk right in.
* Not valid for ticketed programming.
---
ROM Learning eNewsletter
Be sure to sign up for the ROM Learning eNewsletter to be the first to know when our programs are available to book.
---
Visit Types
[+]
Virtual Lessons
Connect your students to objects from cultures throughout human history and specimens from the natural world through the ROM's virtual lessons. Our programs are connected to the Ontario Curriculum and linked to 21st century competencies. Virtual lessons are taught by a dedicated and high calibre team of ROM educators, including Indigenous museum educators, who engage students through inquiry- and object-based learning.
Onsite Visits
Self-guided visits - explore ROM at your own pace with students under your supervision.
New and updated Guided lessons!
Payment Information and Policies
[+]
Bookings should be requested more than one week in advance. Bookings made less than a week prior will not be guaranteed.
Cost
Onsite Self-Guided, general admission: $8 per person
Onsite Special exhibition + Self-Guided, general admission: $10 per person
Onsite Guided lesson + Self-Guided, general admission: $16 per person
Guided lesson pricing is tax exempt. Self-guided visit pricing includes HST
Per person includes students, teachers, and other adult staff/volunteers
1 adult/staff/volunteer free for every 2 students on all pricing
Minimum 15 students/persons charge applies
General Admission or Membership offers or discounts cannot be applied to School Programs
Virtual Lessons - free for K-12 Schools in Ontario, thanks to our generous Education Partners. Apply discount code ONT24 in the shopping cart
Payment Information
You will receive an invoice/reservation as soon as you submit your booking. Payment is due on arrival by cash, cheque, debit or credit card. Cheques should be made payable to "Royal Ontario Museum", please provide one cheque per booking. Purchase Orders must be arranged in advance of your visit.
Please note that we are not able to accommodate individual student payments for School Programs bookings.
Your invoice/reservation number must be quoted on all invoice payments and all communication.
Cancellation Policy
We understand that last minute changes can happen. Please notify us as soon as possible if you need to cancel your booking.
If you are cancelling multiple visits, please cancel them individually by responding to each reservation email, or send a separate email listing all the invoice/reservation numbers.
Supervision and Code of Conduct
School/Educational groups are encouraged to bring as many teachers/parents/volunteers/supervisors (adults) as needed to ensure that children are safe and well supervised. To facilitate this, ROM School Engagement offers 1 adult free for every 2 students attending.
Please check your board/organization's supervision requirements or aim for our recommended minimum supervision ratios.
Recommended minimum supervision ratios:
Kindergarten to Grade 3 (Age 9 and younger)......... 1 adult per 5 children
Grade 4 to Grade 8 (Ages 10 to 13)......... 1 adult per 10 children
Grade 9 to Grade 12 (Age 14 and older)......... 1 adult per 15 youth
Children aged 13 and younger are required to be with an adult at all times. Please review our visitor guide for additional information on supervision and code of conduct.
Accessibility
[+]
The ROM is committed to accessibility for all visitors. We offer a variety of
programs and services to ensure the accessibility
of the Museum and its collections. To request communication supports and/or accommodations for your onsite or virtual field trip, please email
schoolv@rom.on.ca
or call 416-586-5801 x1 (voicemail only). Please note that some services may need at least three weeks advance notice.
Meet the ROM Educators
[+]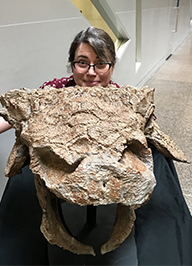 Kelly W Hodgins
ROM position: Museum Educator since 2003
Favourite ROM gallery or object: Strigil in the Roman Gallery. This seemingly innocuous object can be interpreted as intersecting science, history, and human perseverance.
Favourite quote: "Don't let anyone rob you of your imagination, your creativity, or your curiosity. It's your life…make it the life you want to live." - Mae Jemison
About me: The ROM is an incredible place to teach, with our millions of objects and wide range of visiting students! My degrees are in science, English, and education. I have taught preK to post-secondary, and have taught outdoors, in schools, and weekly on a commuter bus. My favourite parts of teaching are learning from students and engaging visiting classes. I look forward to welcoming you to the ROM and sharing the wonder around us!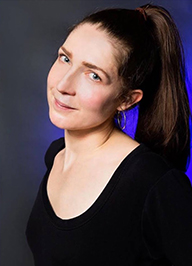 Jessie Jakumeit
ROM position: Indigenous Museum Educator since 2018
Favourite ROM gallery or object: Shaking Pole of Kw'ax̱suu'. It's a symbol of our matriarchal cultures and has a great story about respecting nature.
Favourite quote: "What is a life? It is the flash of a firefly in the night. It is the breath of a buffalo in the wintertime. It is the little shadow which runs across the grass and loses itself in the sunset." - Chief Crowfoot
About me: I am a Visual Artist and Educator from Vancouver with Gitxsan, Tsimshian, German, and Icelandic ancestry. I studied Visual Arts at the University of Victoria and Education at the University of Toronto. In 2015, I completed an International Residency in northern New Mexico and Colorado. Curiosity led me to teaching at art galleries and museums including the Royal BC Museum, Blue Crow Gallery, Latcham Gallery, the Living Arts Centre, and Art City.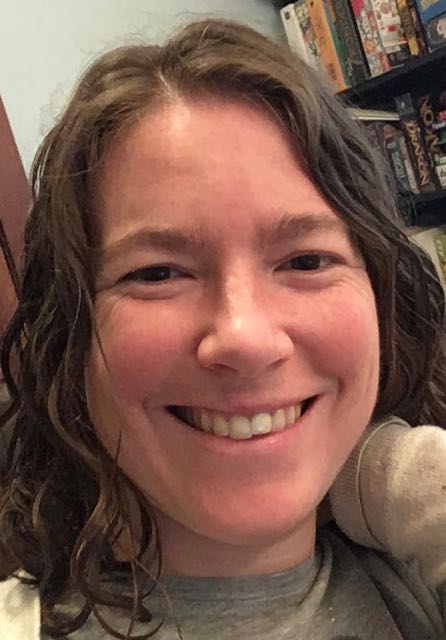 Alexis McBride
ROM position: Bilingual Museum Educator since 2015
Favourite ROM gallery or object: Plastered skull from Jericho. The Jericho plastered skull is my favourite object in the museum because even though it has been studied a lot, we still don't really know why people made it.  This reminds me that people in the past had a rich culture that we will never fully understand.  It motivates me to keep asking questions and appreciate the complexity of the world. 
About me: I am an archaeologist with a PhD in Middle Eastern archaeology and over 15 years experience working in museums.  I have travelled all over, learning about the world and how people live, and I love nothing more than sharing my excitement for this knowledge.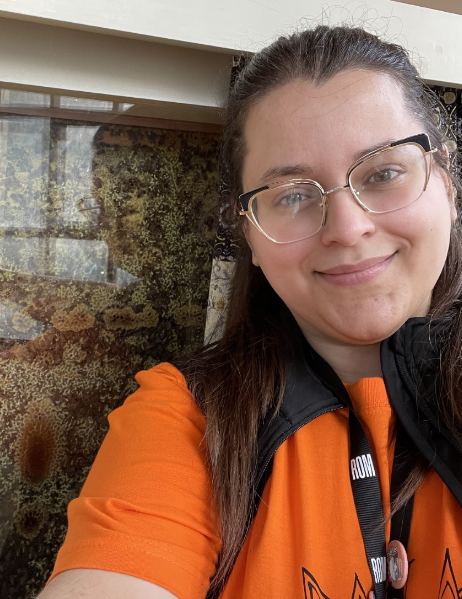 Ana Maria Oliveira (Preferred Ana Oliveira)
ROM position: Rom Educator since 2022 and Hands-On Gallery Facilitator since 2019
Favourite ROM gallery or object: The Bee Hive one the second floor in the Hands-On Biodiversity Gallery! Honey bees have so much to share in what they achieve, how they take care of their home, and how they collaborate so well with each other. From making honey, bee bread, building a hive, pollinating, taking care of the land and more. They are a great reminder of how learning is interdisciplinary!🐝🍯
Favourite quote: "It was a pleasure meeting you, even if you are my least favorite vegetable! Take care, Turniphead!" -Sophie from Howls Moving Castle
About me: I am a teacher with a focus on history! A new thing that I am learning is the history and stories of math. I really enjoy listening to the stories that folks share. What I love about learning is, that it is collaborative, social, engaging and always growing. I look forward to meeting you virtually or in person! 🙂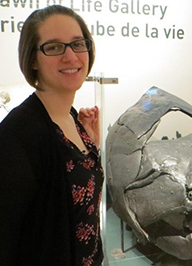 Julie Tomé
ROM position: Lead Bilingual Educator since 2007
Favourite ROM gallery or object: The planetarium. I know, I'm cheating. It's immersive, and I can whisk students to the farthest reaches of the galaxy or to a dinosaur dig in Alberta.
Favourite quote: "[Kids] don't remember what you try to teach them. They remember what you are." - Jim Henson, It's Not Easy Being Green: And Other Things to Consider
About me: I'm by my nature a science communicator - that kid who would dive into a subject then tell you all about it. I decided to study astronomy in Grade 6. While at university, I realized it was the teaching not the research aspect of science that I preferred. I've worked as a science communicator at observatories, science centres, and at the ROM for over 20 years. My alphabet soup: BSc, BEd, GDip SciComm.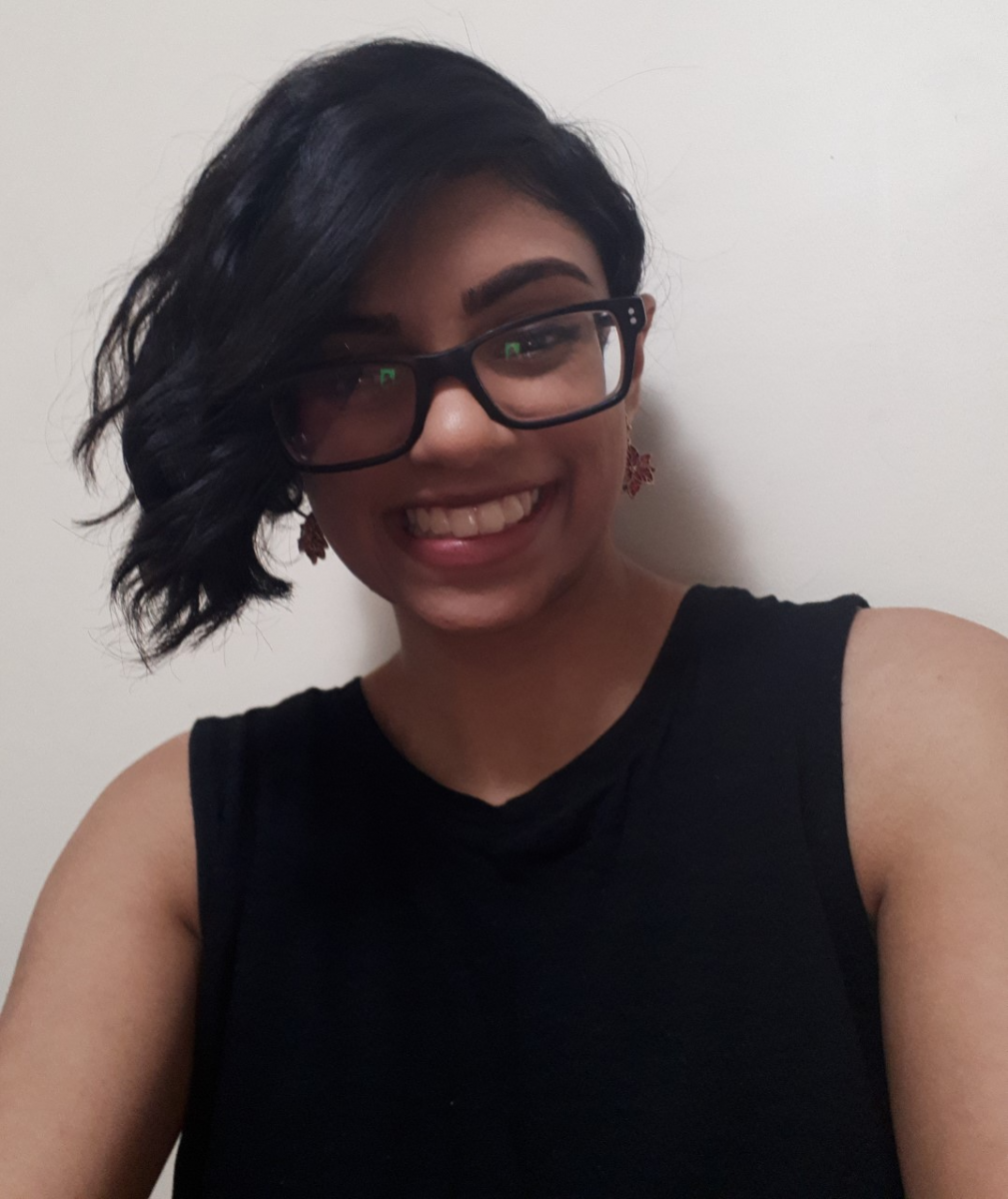 Januya Uthayakumar
ROM position: Bilingual Museum Educator since 2021
Favourite ROM gallery or object: This one is always changing for me, especially as I learn more and more about different things. For now, my favorite exhibit was The Cloth that Changed the World. I love how identity stories and cultural myths were woven (both literally and figuratively) into the cloths. As a Sri Lankan-Canadian, this exhibit connected me to my identity, especially because my mother continues to work with cloth and fabrics to this day.
Favourite quote: "Search (and learn) with sincerity, humility and love," ~Hatsheput: Daughter of Amun by Moyra Caldecott.
About me: I am a teacher. I have a Bachelor of Education as well as a Bachelor of Arts in Early Childhood Studies. I have an insatiable curiosity, especially all things history and science, and I absolutely love learning! I think learning is all about helping people become kind and caring citizens who want to make the world a better place for everyone!
Contact Us
Phone: 416.586.5801
Email: schoolv@rom.on.ca