Celebrate Canada Day with Maple Syrup!
Posted: June 26, 2014 - 11:38 , by
royal
As we prepare in joining friends and family for Canada Day celebrations, there is no better time to reflect on the rich cultural heritage embodied within our beloved maple leaf. Located in the ROM's Sigmund Samuel Gallery of Canada—in a small case near the entrance—are a series of artefacts that were used in the early collection and production processes of maple syrup and maple sugar. These tools, though basic in form, safeguard history and traditions of early settlement in Canada.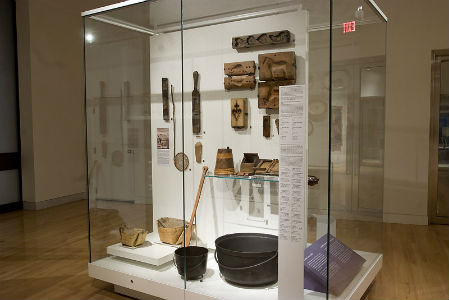 Life in the New World
As French and English pioneers gradually colonized the Eastern regions of North America in the 16th and 17th century, they faced a challenging transition as they adjusted to life in the New World. Supplies from the Old World were limited and early settlers were largely unfamiliar with local environmental resources. Ojibwe, Iroquois, and Algonquin First Nations taught them how to collect and process the icy sweet water tapped from Sugar Maple trees (Acer saccharum) in the early months of the year.

New Techniques and Traditions
In adopting this practice, settlers developed new tools, fostered their techniques, and gradually established distinct maple folklore and traditions. Using a hand brace, they bored small holes into maple trees and inserted a sap spigot (spile) made of wood or metal. Settlers would collect dripping sap water in buckets, suspended from the spigot, before transporting them to sugar shacks for processing. After a lengthy boiling process, they were left with sweet yet nourishing syrup or sugar that was rich in iron, potassium, magnesium, calcium, and phosphorous. Read more about the collection process and check out this Heritage Minutes video. Remember this?
Maple Harvest in Canada, 1920-1929 (Silent Footage)
Sugaring Off/Maple Moon
As this rich maple resource became a coveted food staple and initiated a budding industry, settlers established traditions around the harvest season (March and April). The "Sugaring Off" period or "The Maple Moon", as it is known, became synonymous with the end of winter and with the arrival of spring. The harvest was celebrated as a time for renewal and purification as syrup and sugar provided additional nourishment during the off-season. With plenty of food, alcohol, music, and dancing, family and friends came together (and still do!) to celebrate this transformative tradition.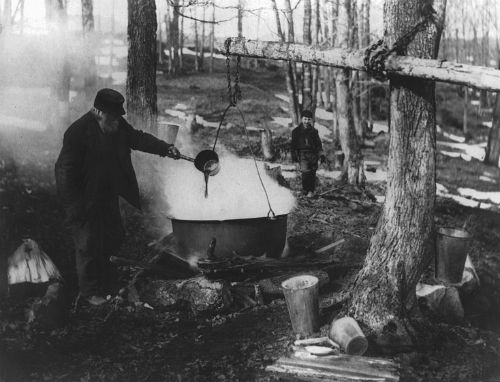 Tools as Cultural Signifiers
Early settlers crafted various tools used to process, prepare, and store maple syrup and maple sugar. Sugar moulds—that formed dry maple sugar into pressed blocks—in particular, were decorated with imagery that is evocative of traditional Canadian folklore. The moulds exhibited in the Sigmund Samuel Gallery of Canada shaped sugar blocks into forms of horses, houses, beavers, snow shoes, crosses, and hearts. These forms of folk art are illustrative of early settler life and their distinct societal values. Heart-shaped sugar blocks and frozen syrup sticks, for example, would often be exchanged during acts of courtship. The popularity of house-shaped sugar moulds—reminiscent of traditional sugar shacks—is telling of the value in which society placed on these structures. The beaver mould, pictured below, illustrates one of the most endearing (and clichéd) historical symbols of Canada.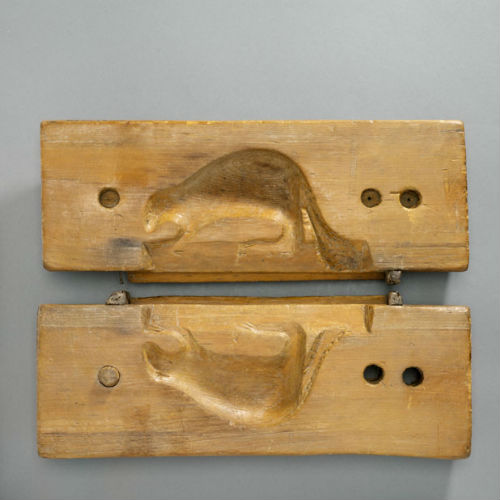 Canadian Identity & Family
Early maple syrup production helped in shaping early settler communities as it fostered collaboration and familial support. Older generations passed down their knowledge and skills to younger generations, as did local First Nations communities. While they have transformed throughout the passage of time, many communities continue to perpetuate historic Canadian traditions. In reflecting on the vibrant heritage embedded within our maple leaf, I believe our collective national identity was founded on the establishment of family bonds. As Canada has transformed into a diverse multi-cultural nation, our foundation is grounded in family kinship. So for Canada Day this year, consider how your family has shaped your identity—as sappy as that may be (no pun intended)!