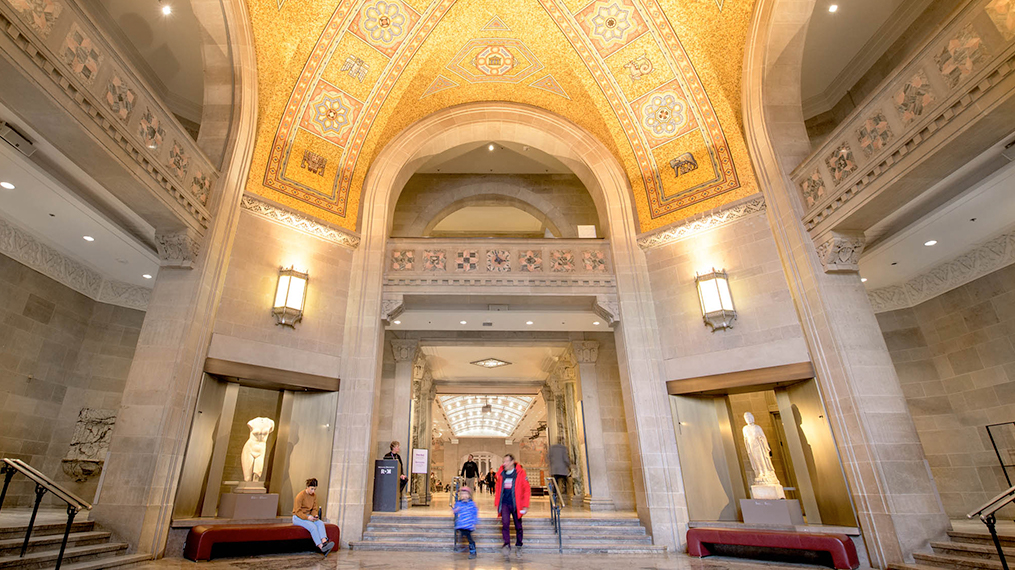 Plan Your Visit
Arrive
BY TTC: Ride the subway (kids 12 and under ride free) to Museum station, then enter ROM through our heritage entrance on Queen's Park. If you need the use of an elevator, go to St. George station instead and leave through the Bedford exit.
BY CAR: If you're driving, there's affordable parking behind the Royal Sonesta Hotel (220 Bloor St W). From there, head east until you see the magnificent Michael Lee-Chin Crystal.
Roam
Stroll through ROM's many galleries and exhibitions.
Recharge
Take a break at our new pop-up coffee bar on the main floor. There you'll find drinks, pastries, and plenty of comfy seats, where your family can rest and relax.
In accordance with Ontario's Chief Medical Officer of Health recommendations, visitors are encouraged to wear masks inside the Museum and postpone your visit if feeling unwell.
Visit Accessibility for more information on Museum accessibility.
Some touchables and interactives may be temporarily offline for maintenance and/or updating.
Druxy's ROM Cafe is open Tuesday – Sunday, 11 a.m. – 4 p.m.
Coffee Bar is open Tuesday – Sunday, 10 a.m. – 4 p.m.
ROM Boutique is open Tuesday – Sunday, 11 a.m. - 6 p.m.
During the hot summer season, the museum is kept cool for our visitors and for our collections, please consider an extra layer when planning your visit.
Not sure if you can bring something inside the Museum? Check our list below of items we commonly get asked about. Some are permitted, but some are not allowed (including prohibited items). We encourage our visitors to leave valuables, large bags, and other personal belongings at home. For safety reasons, we reserve the right to inspect all bags. Please take a minute to check the lists below and contact us at info@rom.on.ca if you have any questions.
Permitted Items
Strollers (oversized strollers may not be allowed on busy days)
Purses, baby bags, and backpacks (If wearing a backpack, please use care when moving through the building. We encourage you to carry your backpacks at your side to avoid hitting objects and other visitors.)
Small, collapsible umbrellas are allowed if they can be carried in a pocket, purse, or small bag
Water bottles: water filling stations are available on all levels
Items not Permitted
Backpack-style child carriers, wagons, or other pull vehicles
Full size umbrellas
Photography selfie sticks, tripods, monopods
Musical instruments (must be checked when you enter)
Pets (service animals are allowed)
Prohibited Items
Paints and aerosols
Indelible markers
Weapons of any type
Any item prohibited under the Criminal Code of Canada
Any item deemed by ROM Security to be inappropriate
The Museum reserves the right to amend the above restrictions without notice.
Please approach any Museum staff member for assistance with First Aid or lost and found articles
There are low ceilings throughout the building; please take care when carrying children
We've provided seating areas throughout ROM should you or your family/friends need a quick break
Hand sanitizer stations are available throughout the building

Antimicrobial Copper at ROM
Copper is a good conductor of heat and electricity, which helps the Museum start up and go each day. But copper also helps things slow down and stop, like the spread of harmful bacteria and viruses. ROM has installed copper hardware and fixtures in high-touch, high-traffic areas, where its natural antimicrobial properties help reduce the spread of infection to keep our visitors exploring safely.
Antimicrobial copper installations were fully funded by Teck Resources Limited, as part of its Copper & Health program.
Photography with flash and video recording are allowed in most permanent galleries for personal use only, with hand-held equipment
Selfie sticks, tripods, monopods, etc. are not allowed
Photography may not be permitted in some special exhibitions. Signs will be clearly posted in spaces where photography restrictions are in effect
We hope that everyone visiting ROM has the best experience possible. We ask all visitors to be considerate of each other, our building, and our staff. All Museum visitors are subject to ROM's Code of Conduct.
Below are some quick tips for when you visit.
Children 14 years or younger must be accompanied by an adult
All visitors must wear shirts and shoes
Unless you see a sign indicating a touchable object, please don't touch objects on display. Even mild touching, over time, can cause damage
Please don't shout or run in the Museum. Swearing and other disrespectful language is also not allowed
ROM is a smoke-free property. This includes smoking, vaping, or the use of cannabis in any form
Please turn your cell phone to "silent" or "vibrate" and be considerate of others when using your phone. Some special exhibitions do not allow cell phone use
Everyone entering ROM is subject to video surveillance
Closing of the building begins 15 minutes before indicated times
The Sigmund Samuel Gallery of Canada is currently closed. Stay tuned for updates on the future development of a new gallery for Canadian art and culture
The area that housed the Japan and Herman Herzog Levy galleries is currently under redevelopment. Please watch for a new installation of Japanese art and culture soon