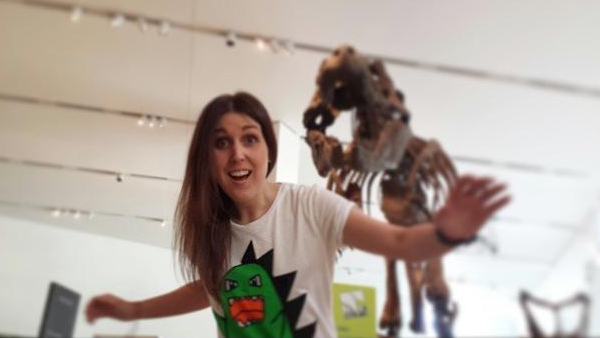 In the interest of safety and security for our staff and visitors, the following practices are observed at the Royal Ontario Museum. Visit Accessibility for more information on Museum accessibility.
Baggage
Please do not bring large bags or parcels with you when visiting the Museum. In the event that you do have bags or parcels, please note the following:
All bags entering or leaving the Museum, including purses, are subject to inspection by Security staff.
Visitors are encouraged to check all large backpacks, bags, and parcels. Visitors with oversized items may be directed to coat check prior to purchasing admission or proceeding to the priority access point with online tickets. Bags and other oversized items may be checked for $3, and a complimentary cloth bag may be obtained for a small deposit, for your convenience while visiting. A cost of $2.50 applies to each checked garment and $5 for luggage.
Visitors are required to carry large backpacks at their side. When worn, backpacks extend your personal space, which can put Museum artifacts and objects at risk.
Full size umbrellas are not permitted in the Museum. Collapsible umbrellas are permitted, providing they can be carried in a pocket or small bag.
Electronics, such as laptop computers, will be accepted by the Coat Check. Visitors may be asked to demonstrate that the device is in working order prior to checking it in. Visitors choosing to carry electronics on their person when entering the Museum may also be requested by Security staff to demonstrate that the device is functional.
Special exhibitions may have additional restrictions.
Visitors are encouraged not to bring musical instruments to the Museum. Instruments may not enter the galleries, and must be checked at the Coat Check, subject to space availability.
Please leave your valuables at home. The Museum assumes only limited liability for items left at the Coat Check.
The Museum reserves the right to amend the above restrictions without notice.
Tips for Families
Backpack style child carriers are not permitted for safety reasons. Rental strollers are provided at the Coat Check, at a cost of $2, subject to availability.
Strollers are permitted in the Museum. Oversized strollers may be restricted on very busy days, as they can pose a risk to other visitors. Strollers are not permitted in the CIBC Discovery Room, but designated stroller parking is available on Level 2.
Wagons and other vehicles that are pushed or pulled, are not permitted in the Museum. They pose a potential elevated risk to objects on display and to other visitors.
Please do not carry children on your shoulders. Some areas of the Museum have low ceilings.
Museum Conduct
All persons entering the ROM are subject to video surveillance.
Visitors are asked to refrain from shouting, running and rowdy behaviour.
Profane language is not permitted.
Please turn your cell phone to the "silent" or "vibrate" setting, and be considerate of other visitors when using your phone. Use of cell phones in special exhibitions may be restricted.
Food of any type is not permitted in the Museum galleries. This is to help the Museum control insects and other pests which pose risks to the collections on display. Food services are available in the Druxy's ROM Cafe on the Level 1B of the west wing. A "brown bag" lunch area is provided for use by visitors on the Level 1B of the east wing. Food brought to and from this location must be carried in sealed containers.
Touching objects on display is not permitted. Even mild touching, over time, will cause damage to artifacts. There are some exceptions to this rule, and those objects will be clearly marked as being touchable.
Photography with flash and video recording is permitted in most permanent galleries for personal use only, with hand-held equipment. The use of tripods, monopods, etc is not permitted. Photography may not be permitted in special exhibitions. Signs will be conspicuously posted in galleries where photography restrictions are in effect.
Visitors are welcome to sketch in the permanent galleries, with pencil only. Easels are not permitted. Sketching activities may be restricted on busy days. Sketching in special exhibitions is not permitted.
Pets are not permitted in the Museum. Service animals, such as seeing eye dogs, are exempt.
The Museum is a smoke free building.
For First Aid or lost and found articles, please approach any museum staff member and ask for assistance.
Closing of the building begins 15 minutes prior to the stated times.
The following items are not permitted in the Museum at any time:

Paints and aerosols
Indelible markers
Weapons of any type
Any item prohibited under the Criminal Code of Canada
Any item deemed by ROM Security to be inappropriate