Daily Life in Greek & Roman: Insights from our Interns
Student interns are a vital part of behind-the-scenes throughout the ROM. In the Greek & Roman section most students spend their time with us as part of their studies, such as a high school co-op programme, university research opportunity course, or as a work placement for community college.
Interns gain real hands-on experience working in a museum setting. At the same time, students fill an important role to by contributing to projects such as archive digitization, collections inventories and public programming.
Menghan Yan (university research opportunity) and Clare Schwartzberg (high school co-op) have been working with us for this past school year. I asked them both to answer a few questions to give you a peek at what it's like!
What made you want to intern / co-op at the ROM?
Menghan: Since my research opportunity project is on the topic of Graeco-Roman numismatics, I initially applied to work at the ROM to gain some experience with handling ancient coins. I also wanted to help with the archive digitization process so that more people would have access to detailed information about the ROM's artifacts.
Clare: The co-op program my school offers has always really interested me. When reading the brochure I saw that students get placements at a lot of really cool places including the ROM. I knew it would be a perfect fit because of how much I love history. I was excited I was to take the Co-op program.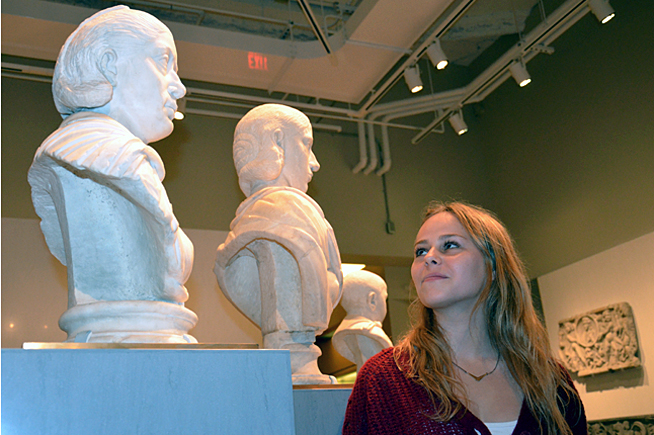 Clare Schwartzberg with Roman portrait busts in the Eaton Gallery of Rome Photo: K.Sunahara
Can you share with us your favorite ROM object or gallery?
Menghan: It is very difficult to pick one favourite artifact from ROM's diverse collections! However, I am particularly interested in the silver cistophoric coins on display in the Gallery of Greece. These coins were first struck in Pergamon under the reign of the Attalids sometime during the second century B.C. They have a highly unique design which depicts a sacred snake crawling out of a basket.
Clare: I don't exactly have a favorite artifact or object, but I love the displays in the Renaissance exhibit. They are put together so that it actually makes you feel like you are in the 15th century.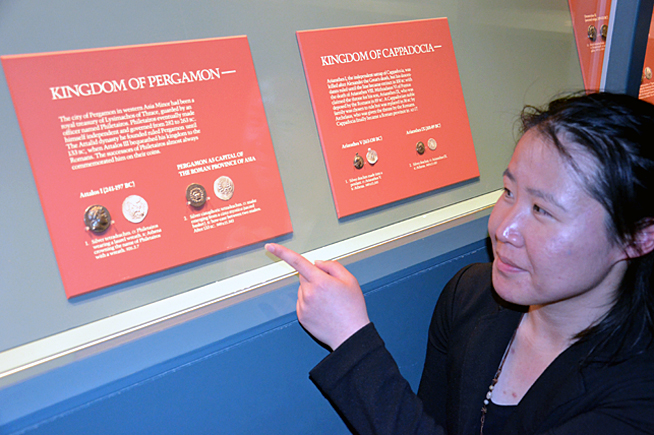 Menghan Yan points out a favourite coin from Pergamon in the Gallery of Greece Photo: K.Sunahara
What was insight have you gained working here?
Menghan: Working at the ROM made me really appreciate how much work and effort goes into organizing all the exhibitions. From choosing the specific artifacts to be displayed, to designing display stands, every decision must be carefully made and executed.
Clare: Considering I am in high school, I really didn't know much about anything when I began working at the ROM. I have learned so many useful things like the way that museums are run, archaeological terminology, and general information about Classical civilizations that I wouldn't have otherwise had the opportunity to learn about.
What is next for you... future plans?
Menghan: In the coming year I would like to do some traveling before I apply to graduate school. My first stop will be Beijing, China, and after that I would like to head across Europe.
Clare: After completing my final year of high school, while hopefully continuing work at the ROM, I will be applying to university. With luck, I will find a great program which will allow me to continue learning about history.
Come to Ancient Greece & Rome Weekend at the ROM June 15-16. Ask Menghan and Clare your own questions - they will be volunteering on Saturday, June 15th!