When the BioBlitz Turns into a Treasure Hunt
Guest Blog written by 2015 Environmental Visual Communication student Anne-Sophie Blanc
The Bioblitz experience is educational and fun, but for kids it's even more than that, it's a real treasure hunt!
I experienced my first Bioblitz on June 13th 2015. It was a special event for me, because I was there as an EVC student (Environmental Visual Communication) covering the event as a photographer, and on top of that I had just arrived from Switzerland (my home country) where we have slightly different flora and fauna. The general atmosphere of the event was wonderful and I noted a great enthusiasm coming from the attendees, made up of scientists, volunteers and the general public; but what impressed me the most was that of the children.
I took pictures during the guided blitz "Reptiles & Amphibians" led by Dave Ireland, the Managing Director of the Centre of Discovery in Biodiversity at the ROM. There were many families with children who took part in the event. I felt privileged to witness the excitement and fascination on the faces of the kids during this BioBlitz. Their sense of wonder is priceless.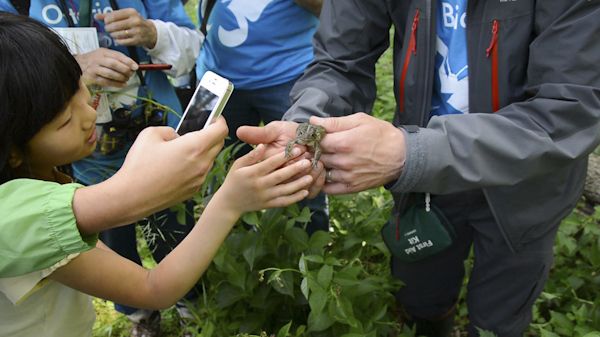 The blitz turned into a game, a treasure hunt. "Who will be the first to find a frog?"- Kids were eager to know the name of every species they encountered, and wanted to touch all of them and find out more. They didn't seem to be afraid of getting dirty; they just wanted to explore everything that was hidden in the grass and in the bush. The two guides, including Dave, were very good with the children and taught the families how to gently handle the different amphibians.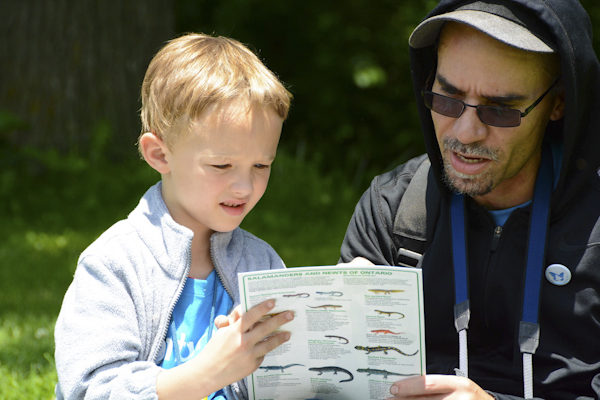 Nowadays it is more important than ever to educate new generations about protecting the environment. The BioBlitz plays an important role in this, as we live in a world where people are becoming more and more disconnected from nature, and it is imperative for us to reconnect with our roots. This planet is in urgent need of advocates to protect it, and engaging future generations in the protection of the environment is the key for developing a more sustainable world. Events like the Ontario BioBlitz, where young children learn to appreciate nature and how to protect it, can inspire new generations and future careers.
The BioBlitz is a wonderful experience, so be sure to come next year and bring your kids! They will love it, and so will you, because we are all just grown-up children at the end of the day!