Photography in the Field: equal parts business & pleasure
By Guest Blogger Thomas Cullen, PhD Student and ROM Fossils and Evolution researcher.
While I have always been interested in research, and in particular my own field of palaeontology, I was first drawn to science through a love of natural history. Growing up I have always taken any chance available to go outside and learn about the huge diversity of animals, plants, and landscapes on our planet. This combination of interest in research, nature, and the outdoors is what led me to the career path I am now on. During my Bachelors and Masters degrees in Earth Sciences at Carleton University, in Ottawa, and now in my PhD in Ecology and Evolutionary Biology at the University of Toronto, I have had the opportunity to participate in multiple field expeditions to places such as the western and eastern Canadian Arctic, the Antarctic Peninsula, and most often, the Badlands of Alberta and Montana.
While in these far-flung field areas, we need to document our work and all of the fossil material we find. The photos and notes we take are of great use later in putting our specimens into broader geological and palaeoecological context. This information is crucial now and in the future, as we often find ourselves consulting the field notes of researchers who worked in similar areas up to 100 years in the past, in order to put specimens they collected into context with new material we collect.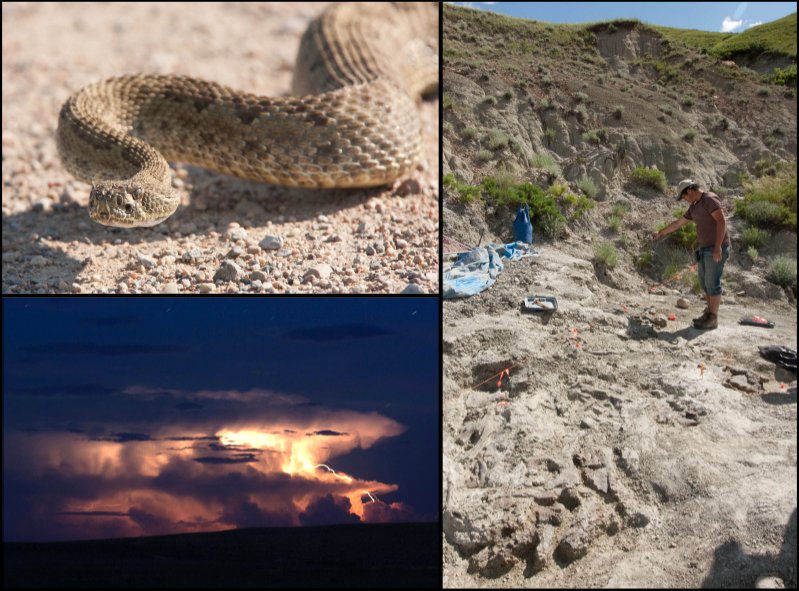 Clockwise from top left – A Prairie Rattlesnake sunning in the badlands; UofT PhD student and ROM Fossils and Evolution researcher Kentaro Chiba photographing specimens at a dinosaur dig site; a large storm rolls across the prairie, which damaged several tents in our camp.
In addition to the site and specimen photography we collect as part of our research, I also try to document the amazing landscapes and wildlife in which we find ourselves on these expeditions. Some of my most memorable experiences in the field have related to the encounters with animals we had, or to the beautiful terrains we have traversed while searching for new fossils. As such, I am always interested in sharing these glimpses into the natural world that we as field scientists are lucky enough to participate in.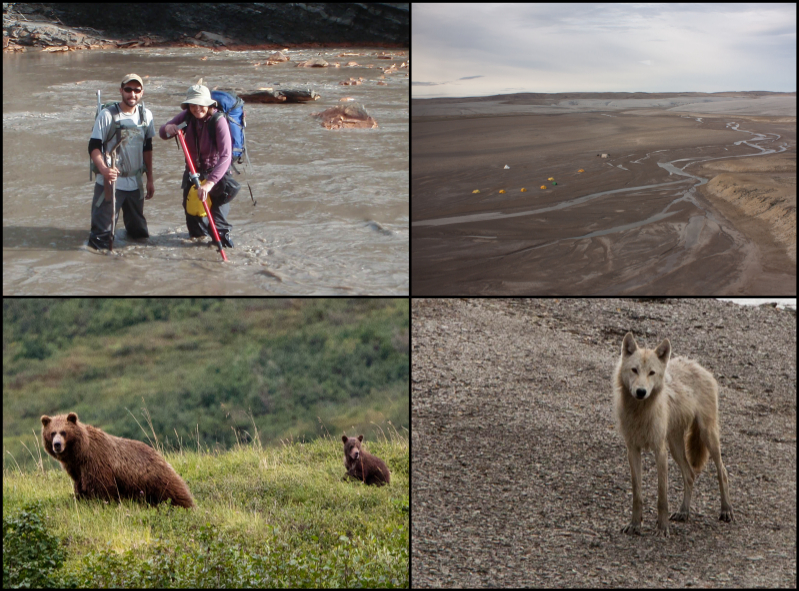 Clockwise from top left – Wading through an arctic river to search for fossils; an aerial view of our field camp on Devon Island; an Arctic Wolf curious about the field team; a mother Grizzly Bear and cubs who stumbled upon one of our field camps.
Inspired by the upcoming Wildlife Photographer of the Year exhibit (opening November 22nd at the ROM), I'm thrilled to be sharing some of my photos in a special edition of the ROM's Curators' Corner program, called ROM Photographers of the Year! On Sunday, November 23rd, ROM staff, students and volunteers will be coming together in the Earth Rangers Studio (Level 2 - in the Life in Crisis: Schad Gallery of Biodiversity) to share their photos, research and stories from their travels around the world. You can even vote for your favourite photo taken by a ROM photographer on the ROM's Facebook page!
Come to the museum and be inspired by the amazing images in Wildlife Photographer of the Year, and, if you have the chance, come and check out my photos (and the photos of many of my ROM colleagues) on November 23rd!
Related Links:
Learn more about ROM Fossils & Evolution on the ROM website, and/or follow ROM Palaeontology on Twitter
Learn more about the research Thomas and others are conducting here: http://evanslab.wordpress.com/
Follow Thomas' exploits on Twitter: @cullen_thomas