National Volunteer Week | Volunteer Spotlight: Rebecca Beayni
How can a museum volunteer change the way we view the world? This National Volunteer Week, we invite you to meet Rebecca Beayni, a volunteer in the Hands-on Biodiversity & Discovery Galleries, who was recognized for her contribution to the museum at the 2014 Ontario Volunteer Service Awards.
We spoke with Rebecca and her mother Susan about how volunteering at the museum provides both Rebecca and ROM visitors the opportunity to connect in new and meaningful ways.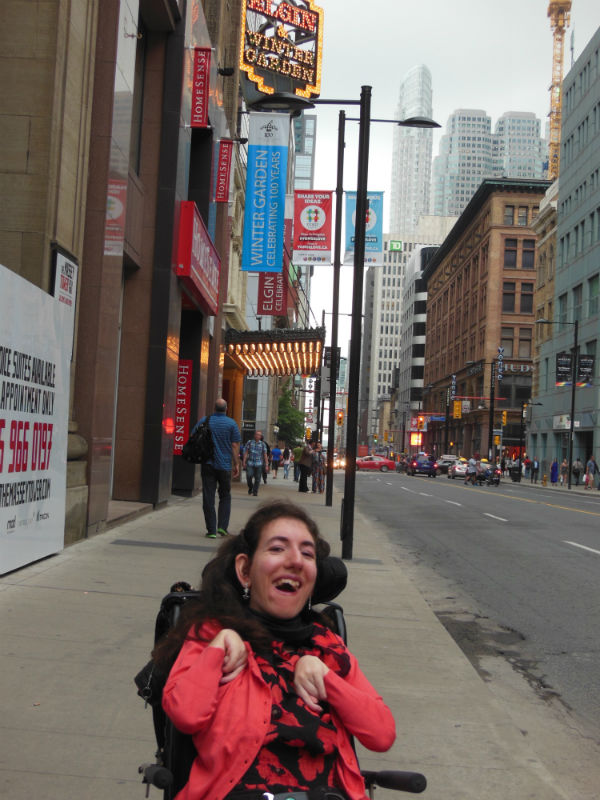 Rebecca at the Elgin and Winter Garden Theatres for the Ontario Volunteer Service Awards ceremony in 2014
What inspired Rebecca to volunteer at the ROM?
More than 10 years ago, Rebecca gathered a group of her friends together to assist her in imagining where she might volunteer. Her interests, passions and gifts she would like to contribute were listed. Some of these are: loves being in nature and notices things that others often miss; is fulfilled being with people, especially teaching children and those who support them; enjoys spending time in downtown Toronto; and appreciates all that the ROM offers their visitors.
As well as meeting strangers, Rebecca wants to spend time with a few people on a regular basis and wants to be in a role which is typically valued socially. It became clear that volunteering at the ROM fulfilled all of these interests, goals and gifts.
In the Biodiversity Exhibit, Rebecca spends time assisting visiting students and families to use all their senses to explore nature.
Volunteers generally have the same shift each week so there is the opportunity to get to know people on a deeper level. The ROM also has recognition and social gatherings for their volunteers, another way to connect and potentially create friendships.
What does Rebecca love best about volunteering at the ROM?
From the Bees section where Rebecca and her supporter usually station themselves, Rebecca delights in watching the children creep in and out of the Fox's den. Rebecca loves to display bird wings on her tray each week. It is wonderful to watch the look of awe on the Children's faces as they come up to Rebecca, to look at the wings of the Snow Owl or the Red Tailed Hawk or the Great Horned Owl. It offers a beautiful opportunity for children, parents, educators and other visitors to interact with Rebecca who in turn showers them either with smiles or with a look of acknowledgement.
Sometimes the children are interested in knowing how Rebecca's wheelchair works and how she manages to accomplish her daily routines. This too is learning about diversity and how interconnected we all are.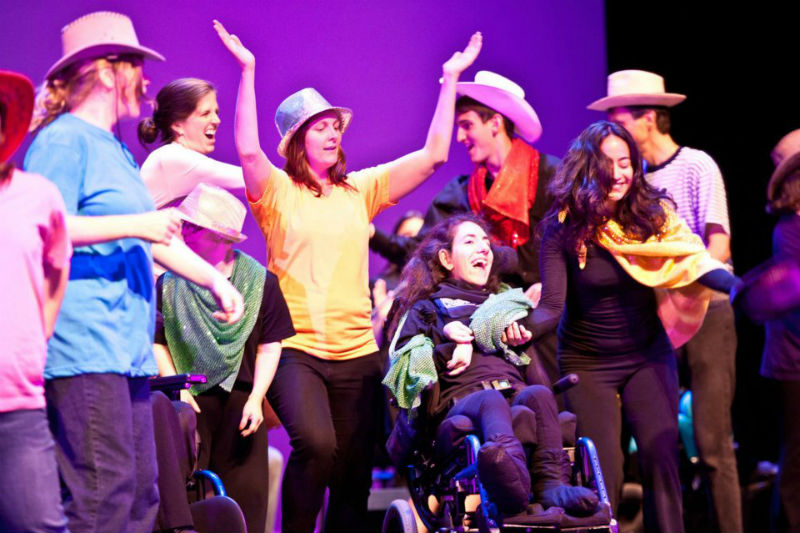 According to Rebecca's website, her dream is to "change the world into a more compassionate place where everyone's gifts are recognized and welcomed." How can museums like the ROM contribute to making this a reality?
The Royal Ontario Museum is a place where diverse people and ideas come together for others to explore and deepen their curiosity. And so the museum is a natural place for Rebecca to spend time as she celebrates the diversity in all people and calls people to be curious.
Just like the ROM, Rebecca puts herself out there to allow people to ask questions, to wonder, to think bigger than themselves in the hopes that her teaching will encourage others to be more welcoming and her example will free others to expose their vulnerability.
The gift of not using words to communicate is that people need to listen and look very deeply. Rebecca's work at the museum asks the people who walk through the biodiversity exhibit to pause and see what they otherwise might not see.
In the same way, her mere presence in a role as important as "Museum Volunteer" calls people to pause and think about what they otherwise might not, how all people need space to share their gifts and how our gifts might not be always obvious but if we are curious enough we can discover the strength and beauty in everyone.
Rebecca's advocacy work focuses on "representing persons with disabilities who demand to invoke their rights as citizens to be seen, heard, and allowed to make meaningful contributions to the community." What can we do to support this work?
People interested in supporting Rebecca's advocacy work need only to look more closely around their community to see the possibility. Is there someone who is often misunderstood? How do structures, attitudes and policies exclude, separate and underutilize people in your community? What can you do to change this? Can you be more welcoming in your place of business, in your schools, in your homes?
For more information, please visit www.rebeccabeayni.com. View Rebecca's latest film Dance in the Shadow, here.
+
Thank you, Rebecca, for your time and for your service at the ROM. We are thrilled to have you on the team!
Do you want to volunteer at the ROM? Join Rebecca at the Hands-on Biodiversity and Discovery Galleries, or check out the various other opportunities on our website!