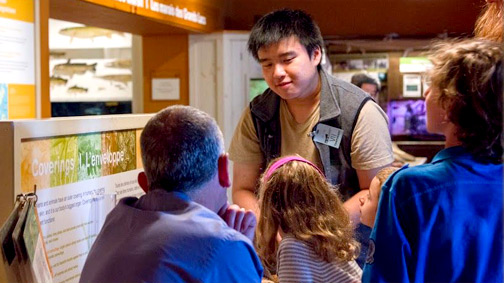 Families, youth and elementary students flock to our three permanent, interactive and "alive" galleries at the ROM. Our Hands-on galleries depend on a team of over 200 dedicated and educated volunteers to engage visitors. This is an excellent volunteer opportunity for people who enjoy working with children in a fast-paced fun environment.
The Life in Crisis: Schad Gallery of Biodiversity
Volunteers Facilitators in the Schad Gallery engage our visitors with a "hands-on" approach using museum speciments to talk about the diversity of life on the planet and the challenges facing its conservation.
For more information, visit the Schad Gallery web page.
Keenan Family Gallery of Hands-on Biodiversity & CIBC Discovery Gallery
Volunteers Facilitators work with our visitors (mainly families and school groups), engaging them using activity stations, interactive components and museum objects. This volunteer experience will provide you with valuable training and experience in communication, interpersonal skills, teaching skills and Museum education.
For further information, visit the hands-on galleries web pages.
Responsibilities
Work alongside other volunteers and staff as a team to ensure the gallery meets its goal of providing a fun, hands-on learning experience
Work directly with the public to actively engage visitors by facilitating the use of discovery boxes, activity stations and other exhibits
Welcome school groups and visitors
Qualifications
Applicants must be 18 or older and have a High School Diploma. University Degree, or working on a university degree, is considered an asset
Able to make a commitment of one four-hour shift every week for one year including the summer months and holidays
Previous experience working with children is essential
Excellent communication and interpersonal skills
Experience working in a crowded and noisy environment
Proficiency in English; bilingualism is an asset
Able to work well as part of a team under the direction and supervision of staff
Enthusiasm for educational museum work, experiential education and volunteering with children