National Volunteer Week | Volunteer Spotlight: Helen Hatton
After one of her shifts at the Hands-on Biodiversity Gallery, ROM volunteer Helen Hatton said to her husband, "Honey, do you want to hear about the sex life of hissing cockroaches?" Her husband, whom Helen describes as "a delightful retired geek," calmly replied, "Let's have a drink first."
He later observed that Helen and her colleagues at the ROM were all "a bit around the bend." "He's right," Helen admits. "And that's what I love!"
This National Volunteer Week, we are proud to introduce you to Helen Hatton, a proud and self-proclaimed geek who volunteers at the Hands-on Biodiversity & Discovery Galleries, and was recognized for her contribution to the ROM at the Ontario Volunteer Service Awards in 2014.
We spoke with Helen about why her volunteer work at the ROM is so much fun!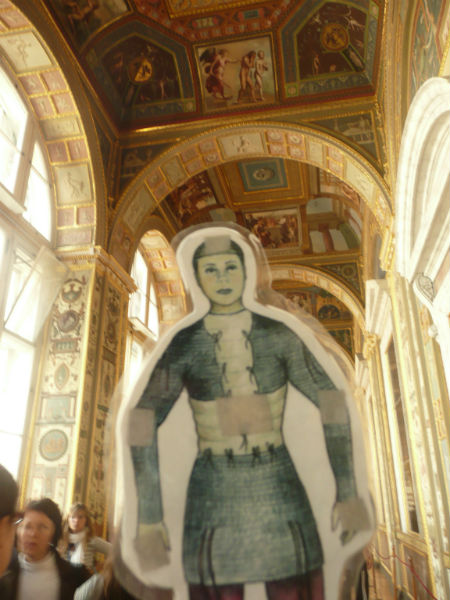 Helen's travelling companion Anne, from the Hands-on and Biodiversity Galleries. Usually being dressed in armour by children at the ROM, Anne is now enjoying a visit to the Hermitage Museum in Mexico.
ROM: What inspired you to volunteer at the ROM?
I love natural history and science, and being around the brilliant people here. I wanted to be a small part of this remarkable place!
Tell us about your role at the ROM.
I'm in the Hands On/ Biodiversity area; we interact with (especially young) visitors offering them a chance to dig for dinosaur bones, look through a microscope at anything that will fit under the lens; (cuts and scabs are particularly popular followed by grubby fingernails!); relax in the teepee, try on armour and period costumes, or play in the Under Six section.
I feel very strongly that our job at the ROM is to enhance the visitor experience and share the excitement; if we can't do that, why be here?
What do you love best about volunteering here?
The high Geek Factor! Everyone is so very interesting! It's also so much fun!!!
We get nice perks. Getting to go behind the scenes is marvellous, and the volunteers are very much appreciated! I'm also very proud to say to people, "I volunteer at the ROM."
I enjoy meeting visitors from all over the world and sharing their enthusiasm for our collections. I love the staff in this area; we've all become friends and laugh a lot! I mean, where else do you get to learn about, handle and feed Madagascar hissing cockroaches?
High Geek Factor? We have geeks in this museum?
This is NOT pejorative! Geeks are the most interesting people around; they clean up well and make great friends and partners! Find a geek at the next boring cocktail party and you might find out about dwarf stars, Higgs-Boson or a new species of insect! I met one who said off-handedly, "My photos from the Hubble have just been published!"
It's people like this who make the ROM so terrific!
Can you share a favourite memory of volunteering here?
One Halloween we were urged to dress up; I found a white sheet with red splodges, ripped it up and staggered around the 2nd floor moaning, thinly disguised as a mummy. Alas, no one was alarmed.
Apart from your volunteer work at the ROM, what do you like doing in your spare time?
Who has spare time? I also volunteer at the AGO, National Ballet and Canadian Opera Company and York Pioneers. My husband and I travel and make a point of visiting museums and historical sites wherever we go. And, I write a food column at www.tonyaspler.com.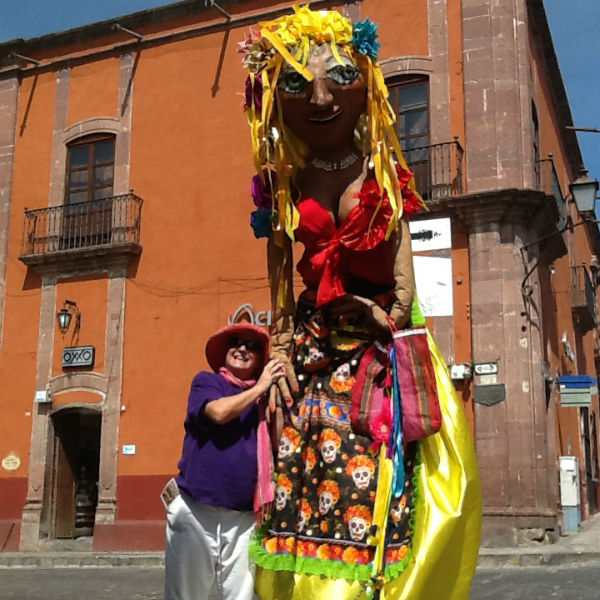 Helen with a MOJIGANGA giant dancing puppet in Mexico
Thank you, Helen, for your time and for your service at the ROM. We are thrilled to have you on the team!
Want to volunteer at the ROM? Join Helen at the Hands-on Biodiversity and Discovery Galleries, or check out the various other opportunities on our website!