Migration: The Long and Bumpy Road
Posted: August 15, 2013 - 15:23 , by
royal
"Migration" by Norval Morrisseau, Daphne Cockwell Gallery dedicated to First Peoples art & culture
As we enjoy this summer in Toronto, moving from heat wave, to flooding rain, to hailstorm, one is always aware that winter is indeed coming! Some of us greet Canada's national season by taking a trip south to warmer climates, whether that be Florida, Mexico, The Bahamas, or basically anywhere really. Others, like myself, try to convince themselves it's not that cold outside today, and stay put. You could say that many of us are undertaking an annual migration for the winter to escape the cold, while others yet remain sedentary. Humans have also historically undergone large migrations, spreading across the planet and developing into many rich and diverse cultures. Migrations are very much a part of our nature, and have helped lead to the success of our species!
Of course there are many other living things on the planet that undergo migrations as well that are integral for their survival, rather than simply a new suntan. Many different species migrate thousands of kilometers to find better climates, food supplies, or for the purposes of mating. While these migrations are impressive to behold, the challenges these animals face are plenty, and unfortunately humans tend to be the cause of many of these challenges.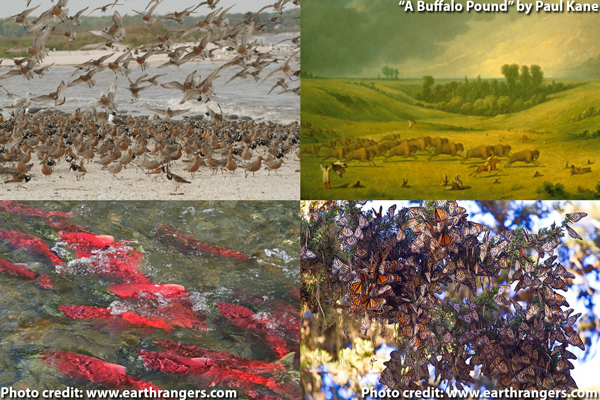 Migration takes many forms, from flocks of birds, herds of bison, schools of fish, and a whole bunch of monarch butterflies!
Perhaps one of the most visually stunning migrations on the planet is that of birds. I've never seen a giant "V" flying in the sky where I haven't felt compelled to look up and stare! Bird migrations are highly visible, frequent, and impressive! But they also come with huge obstacles. Some species, such as the red knot, make incredibly long journeys. The red knot flies from its summer breeding grounds in the northern arctic tundra, all the way to the southernmost tip of South America for the winter, before returning in the spring. Of course, all this flying takes a lot of fuel, and this fuel comes in the form of delicious horseshoe crab eggs!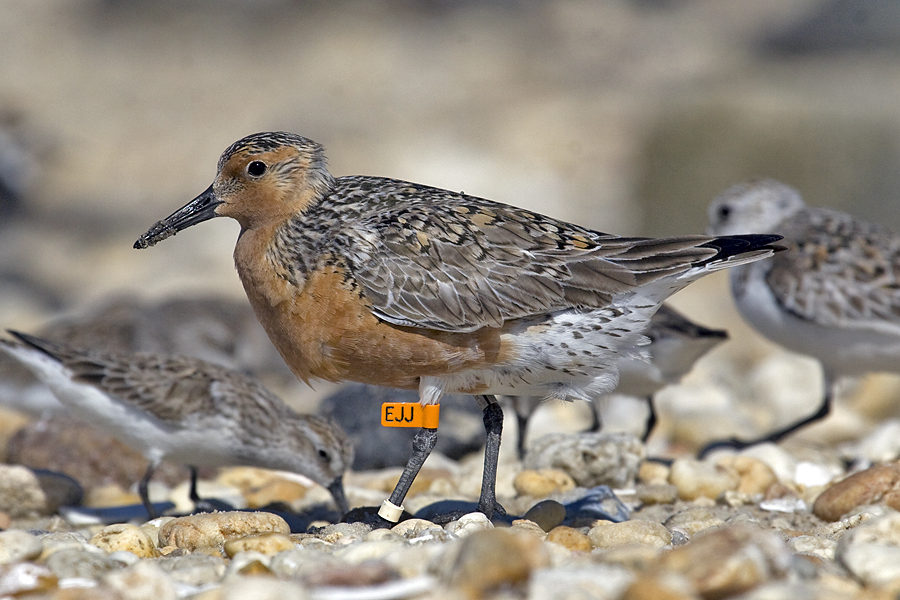 A red knot sporting a fashionable bird band, a method of tracking and identifying birds during their migration. This bird was banded in in December of 2006 in Rio Grande, Argentina.
The red knots make a pit-stop in Delaware Bay, and spend about two weeks feasting on these eggs until they may even double in weight, supplying enough energy reserves to make the rest of the flight. The eggs are plentiful, and provide a very efficient energy source. They also make great bait for the conch and eel fishing industry. As a result there are fewer and fewer crabs and eggs available each year, putting this important ecological refueling station at risk, and the red knot as well.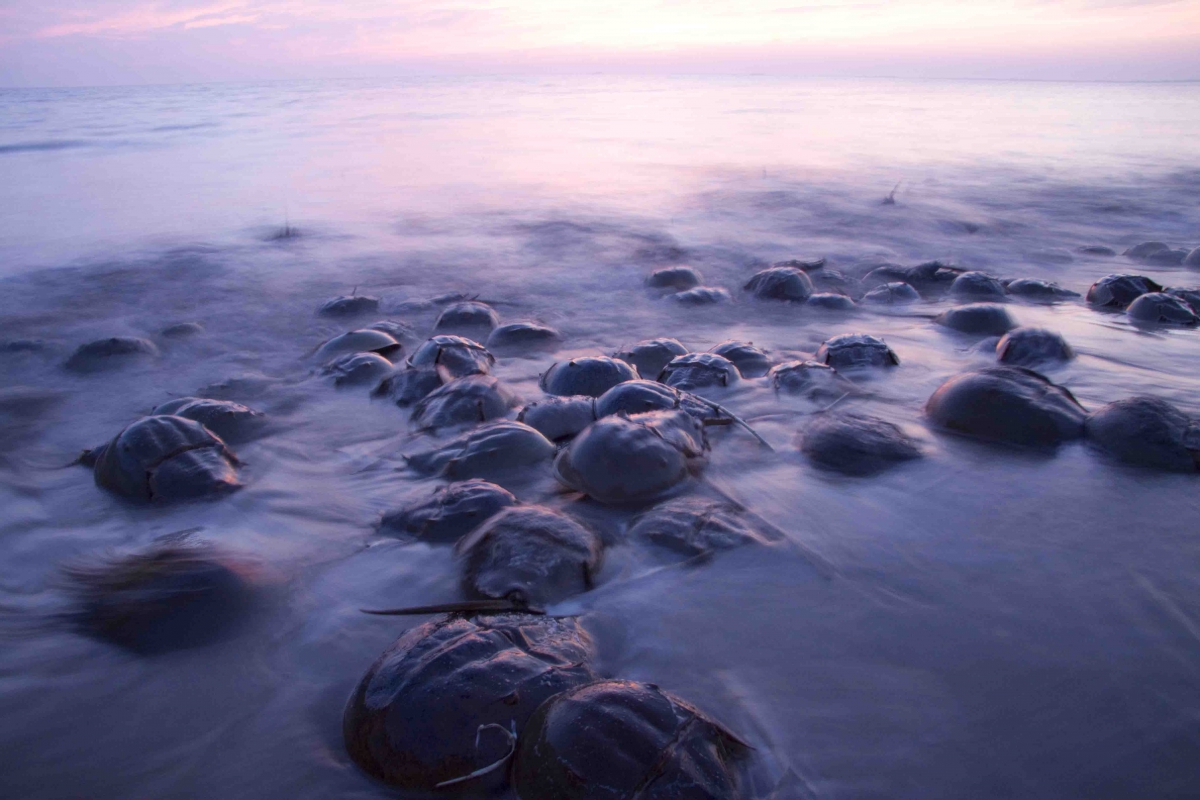 Horseshoe crabs spawning in Delaware Bay. Horseshoe crab eggs really hit the spot when you're a red knot and you've got places to go!
The museum not only has a great biodiversity collection in our galleries, but also conducts important scientific research behind the scenes as well! Dr. Allan Baker, ROM senior curator of ornithology, has been studying Red-knot populations for more than a decade, and is currently in Mingan National Park at the mouth of the St. Lawrence with a team of international biologists. This region was discovered as an additional resting spot where many red knots stop to catch their breath in 1996, and offers an excellent opportunity for scientists to guage the breeding success of these birds, a key unknown existing in red knot research. We received a very important update from Allan last week: the team has seen the legendary Red-knot "B95, or the moon bird"! This particular Red-knot was tagged many, many years ago by Allan and his colleagues, and has been observed in New Jersey, Mingan, and Tierra Del Fuego, Argentina. Incredible! Also, a second ROM-lead team is concurrently in the James Bay basin watching out for Red-knots - Mark Peck, our ornithology technician, is leading this trip and we're excited to hear reports from him soon!
In order to help raise awareness of some of the obstacles faced by these animals, the amazing staff and volunteers at the museum have put together a workshop entitled "Wildzone Workshop: Migration" and I've been very excited to be a part of it during my time here at the museum! Every Wednesday this summer the workshop is being held inside the Earth Rangers' Studio in the Schad Gallery. Inside the workshop is an opportunity to get your hands on our collection of migratory animal specimens including a hawksbill turtle shell, beluga whale vertebrae, and even a coconut! (To find out why coconuts belong you'll just have to visit!) You'll also have a chance to chat with our knowledgeable staff and volunteers about these animals, about the conservation efforts the ROM is taking part in to help protect these ecologically important species, and about some of the research efforts ROM scientists are utilizing to help them!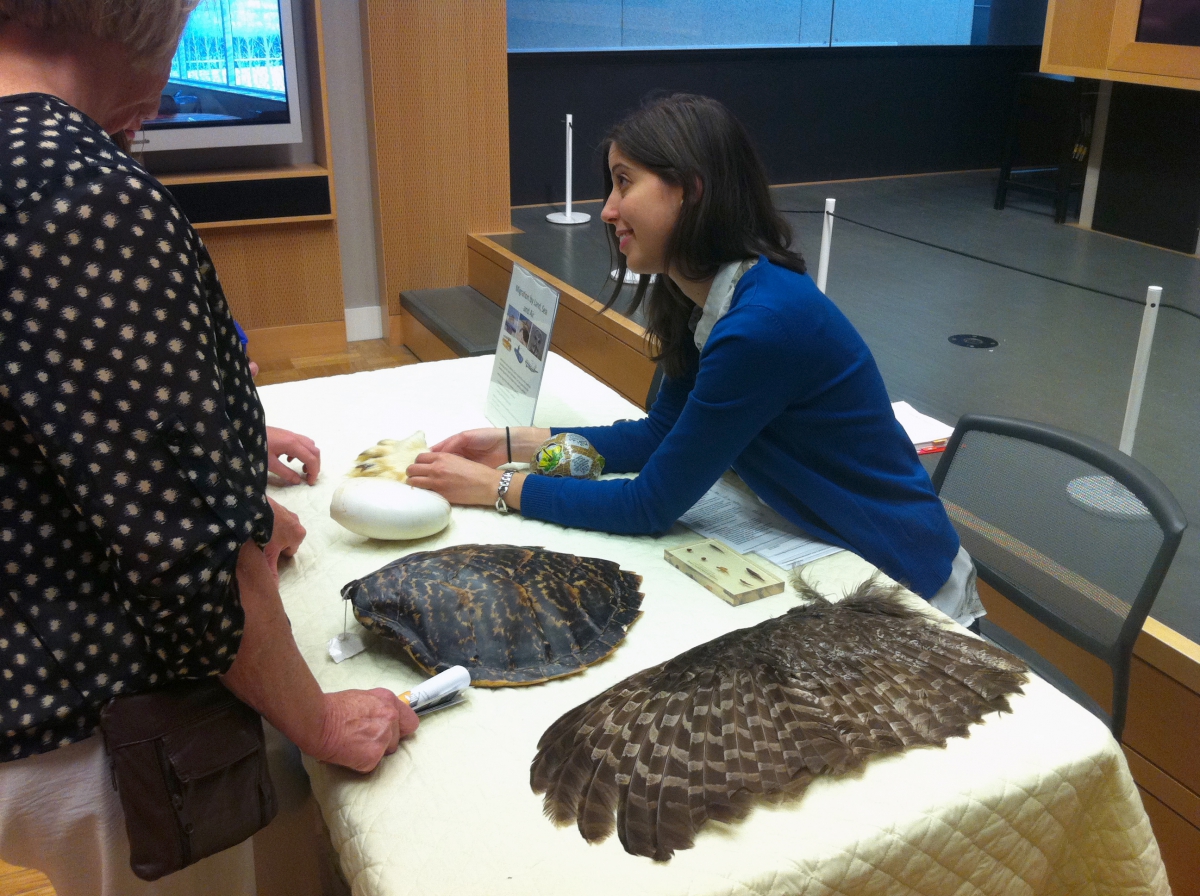 Nadine explains the adaptations and migration strategies of various organisms.
If you're interested in learning more about these amazing creatures, and want to find out what you can do to help species like the red knot, migrate on over to the Wildzone Workshop: Migration, Wednesdays from 11AM to 3PM in the Earth Rangers Studio!