Dr. Zahi Hawass Lecture at the ROM
Last Monday the ROM hosted a sold-out lecture by Dr. Zahi Hawass in our Currelly gallery (Currelly was the ROM's first collector of Egyptian antiquities). The ROM welcomed his free lecture on short notice as it coincided with the launch of our Centre for Ancient Cultures and new Ancient Egypt-themed programming. During the 90 minute lecture he extolled most of the Egyptian discoveries that he oversaw in his position as Egypt's preeminent Archaeologist and briefly lamented the state of Ancient Egyptian archaeology since the 2011 revolution that toppled Hosni Mubarek. And the crowd soaked up every word. His passion was palpable.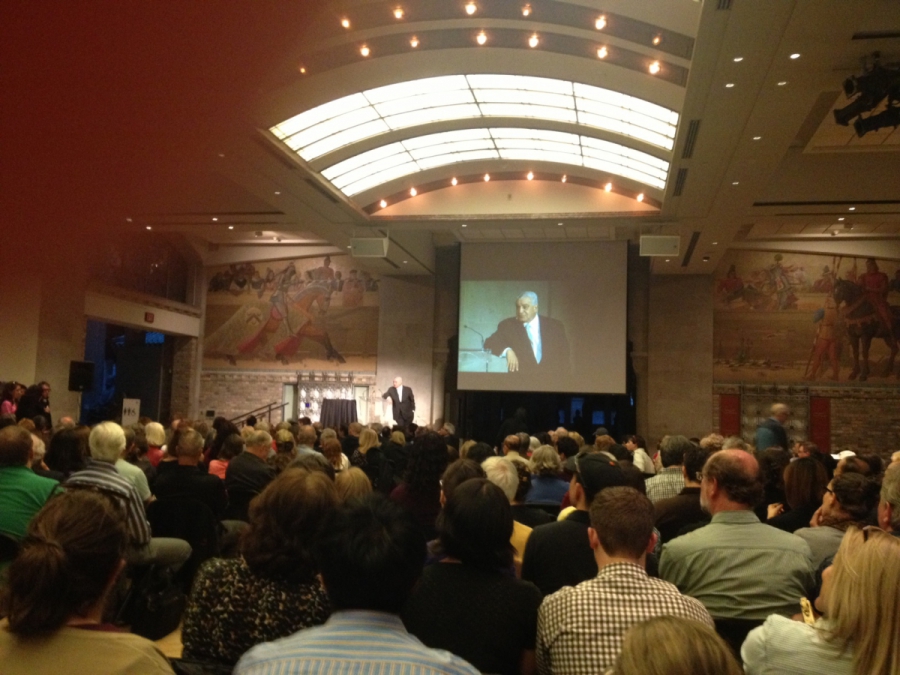 Dr. Zahi Hawass is certainly a lightning rod, and has brought Ancient Egyptian antiquities into the international spotlight over the last decade with his 'Indiana Jones' persona. His piercing no-nonsense dominance slashes through bureaucracy, but it also compels him to make grandiose statements, as seen in the Chasing Mummies television series. He is also a tireless and successful advocate for the conservation of Egyptian antiquities and his obsession with the archaeology and the desire to have it controlled by Egyptians, not "foreigners", clearly drives him, perhaps sometimes too far. Above all he has given Egyptology an Egyptian face.
Hawass Dynasty: During his career there have been numerous important developments including the discovery of the Tombs of the Pyramid Builders, the DNA reconstruction of King Tut's family tree, extensive explorations of the Great Pyramid at Giza and the extremely popular King Tut museum exhibition. From the perspective of the tourism in Egypt, Hawass is a super star, and has certainly increased tourism. He claimed in his lecture that "Egyptians will never harm a foreigner. They will fight each other but never harm a foreigner," clearly hoping to dispel fears of instability and unrest. He also mentioned several times that Egyptian tourism must increase again to fund the pyramid conservation efforts. He seemed to be encouraging the crowd to go visit Egyptian pyramids now, even showing an Egypt tourism video as his introduction. He no longer holds the post of Minister of Antiquities in Egypt. But he still tells the crowd "Go to Egypt."
At the end of the night I found myself asking this: What is more important in terms of Egyptian site conservation, increasing tourism in Egypt or encouraging archaeological scholarship and field studies in Egypt?
Regardless of opinions on him at this point, the questions remain:
would bringing back the Hawass Dynasty help Egyptian tourism,
would it help the safeguarding of Egyptian sites and antiquities, and
would it promote archaeological scholarship in the region?
For an in-depth June 2013 article on Dr. Zahi Hawass by Smithsonian Magazine, click here.