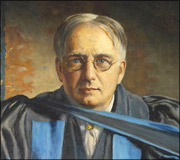 Charles Trick Currelly, more than anyone else, created the art and archaeology collections of the ROM.
Currelly was born at Exeter, Ontario in 1876. Although trained as a Methodist minister, following his graduation from the University of Toronto, he devoted himself to archaeological work, first in Egypt, and later in Crete and Asia Minor.
It was in Egypt that Currelly discovered he had a talent for collecting: a nose for bargains and an ability to distinguish the genuine article from the fake. He began collecting for people in Britain and Canada, including Sir Edmund Walker, the father of a classmate and a prominent Torontonian who wished to establish a major museum in the city. With money provided by private donors, the University of Toronto and the Government of Ontario, Currelly began collecting for the future museum. He was appointed director of the Royal Ontario Museum of Archaeology in 1914 and held this position until his retirement in 1946.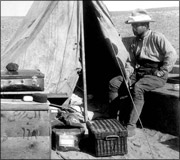 Currelly's energy and audacity helped advance the new Museum's interests. In 1907 while in Egypt, he was visited on site by a group of Torontonians. He was making a cast of a temple wall for the Museum but explained he lacked the money to colour it. Sir Edmund Osler and Harry Warren offered the needed funds and later became lifelong supporters of the ROM. Currelly never ceased looking for acquisitions and the collections grew enormously through the late 1910s and the 1920s.
A visionary museum-builder, Currelly dedicated his life to the ROM. He believed museums had an educational purpose: to display the material achievements of humanity through all time, so as to inspire the present-day. When he finally retired, the ROM re-named the old Armour Court as the Currelly Gallery (now Samuel Hall

Currelly Gallery).
Shortly before his death, he published his autobiography, I Brought the Ages Home. The book is filled with tales of the adventures and people he encountered in his travels and museum work.