Viktor&Rolf Dolls come to the ROM
Posted: June 20, 2013 - 14:07 , by
royal
by Alexandra Palmer, Senior Curator, Nora E. Vaughan Fashion Costume Curatorship
The Amsterdam studios of Viktor&Rolf, the internationally renowned fashion designers currently exhibiting at the ROM, occupy an historic 17th-century house that was once the home to the burgemeester (mayor). Overlooking a placid urban canal, the light-filled, Golden Age building houses beautiful art that ranges from full-scale oil portraits of 17th-century city luminaries to an enormous, ravishingly brilliant and funny etching entitled "Map of an Englishman" by controversial Turner Prize winner Grayson Perry. The juxtaposition of past and present, classical and modern, serious and humorous, modest and over-the-top, is all part of the upside-down design vocabulary of Viktor&Rolf.
Widely recognized and respected for their conceptual glamour and provocative creations, their contemporaries in the world of Dutch design are Droog, Rem Koolhaus, and Studio Job (with whom they often collaborate), while their antecedents would have to include Rubens, Van Gogh and Gerrit Rietveld. The diversity of this list hints at the incongruity and the unexpected that Viktor&Rolf fuse into their own world order. Being a Dutch designer is rather like being a Canadian designer—it is not a marketing advantage; there is no "Made in the Netherlands" national brand as Italy has famously established. However, Viktor&Rolf have created a universe that seemingly comes out of nowhere and is built on old-school Calvinist ethic: work.
Viktor Horsting and Rolf Snoeren met at the Arnhem Academy of Art & Design and upon graduation in 1992, both aged 23, moved to Paris, the Mecca for fashion creation. Their infiltration of the international fashion world was built on an unorthodox, conceptual basis that offered little or no product, but they called what they did "collections." They produced intriguing hybrid installations and performances that straddled the art and fashion worlds, highlighting the essence and glamour of fashion. Their innovative oeuvre captivated the elite of the fashion system, most particularly the media. Author Caroline Evans has described them during this period as "fashion designers in waiting." Their dream of becoming recognized fashion designers was eloquently articulated in a miniature installation called Launch (1996) that traced the imagined lifecycle of a successful fashion company from studio, catwalk show and photo shoot, with 40-cm dolls as models, through to the opening of a boutique. The culmination of this fantasy narrative was a "perfume launch" featuring an empty flacon sealed with wax. It was the ultimate Warholian triumph, recalling his prophecy that eventually restaurants would no longer sell food, just atmosphere.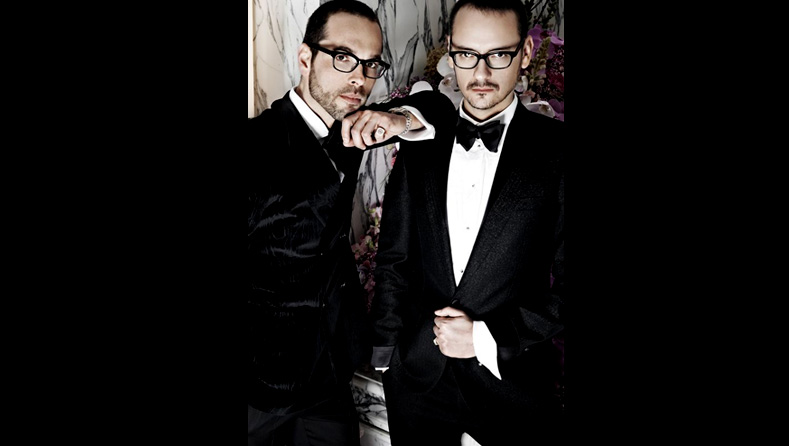 Their visionary installation paid off. In 1998 they were invited to become members of the esteemed Paris dressmaking system, the Chambre Syndicale de la Haute Couture. Since then, Viktor&Rolf have evolved into an international fashion powerhouse that not only makes obtainable consumer products, but also retains its art-project aesthetic. Interestingly, and perhaps to their own surprise, Viktor&Rolf have superseded this business model with several fragrances, including Flowerbomb and Spicebomb, a menswear line and a range of lifestyle accessories.
Viktor&Rolf Dolls is a fascinating on-going project by Viktor&Rolf that simultaneously undermines and glorifies the fashion show and the notion of iconic designs, the quick "in" and "out" of fashion, and questions the very need and purpose of a design house archive. In 2008, when the Barbican Art Gallery in London invited them to celebrate fifteen years of work, Viktor&Rolf knew they did not want a traditional chronological exhibit of their fashions. Instead, as Rolf explained to me when they were in Toronto recently, they wanted "to express everything as one project, a whole universe" that would be about the timeless idea of fashion, not the individual fashions that become outdated at the end of each season. For the Barbican they realized The House of Viktor&Rolf, a giant, 60-foot dollhouse for their newly created Victorian-inspired dolls, each dressed in handcrafted, precisely scaled-down Viktor&Rolf garments, in a complete mini universe.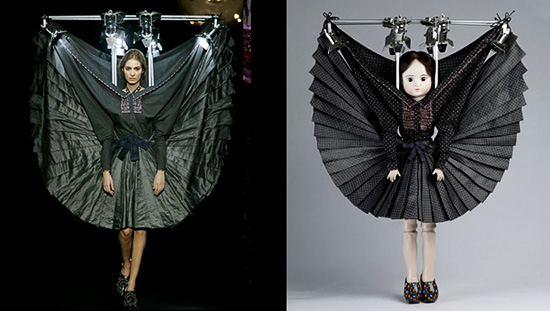 There is a long history of fashion dolls, called pandoras, with complete and complex wardrobes being sent across Europe to circulate and promote the latest elite textiles and fashion. These became obsolete by the end of the 18th century with the emergence of printed fashion plates which could be quickly and widely circulated at little cost. Further, for centuries now young girls have been taught sewing skills and garment construction through the making of detailed, scaled-down garments called samples or samplers.
Half-scale fashions with original sketch, ca 1955, by fashion students at the Ryerson Institute of Technology (now Ryerson University), Toronto.
ROM 957.37.11 and .12

| | | |
| --- | --- | --- |
| | | |
This practical method is still taught in traditional fashion schools, because mistakes in miniature save on materials and time. By miniaturizing their clothes and placing them on fashion dolls, Viktor&Rolf have created an entirely new (but historically referenced) version of their designs that are in fact more succinct than the originals and serve as a mediator of the past.

An English book of sewing samplers, dated 19 September 1849.
Gift of Mrs J. Edgar Stone. ROM 957.208

| | |
| --- | --- |
| | |
For the Luminato Festival, Viktor&Rolf have produced, Viktor&Rolf Dolls, a site-specific installation for the Thorsell Spirit House at the ROM, a disorientingly angular public space designed by "starchitect" Daniel Libeskind. (I have always felt the space recalls the sets in the seminal 1920 German Expressionist film, The Cabinet of Dr Caligari).
Thirty-one dolls (10 newly created) are arrayed on a grey-and-black catwalk created by Studio Job, complete with a lighting rig, music, and Viktor&Rolf's black, gray, and white wallpaper of gigantic, drooping overblown flowers past their prime.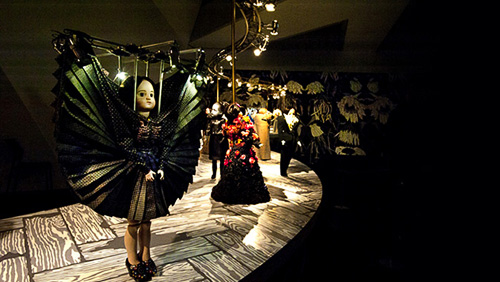 The designers have created a fascinating trope of their past that stems from an on-going query about fashion, spectacle, the role of the fashion show and the mannequin, and indeed the tension between the original and replica in fashion and fashion production.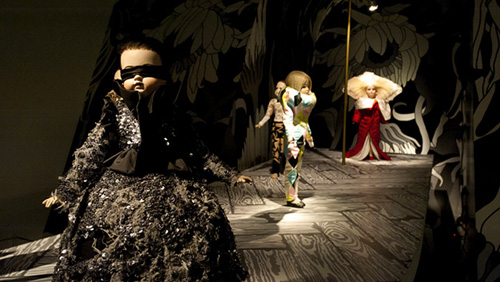 It is a fantastical and uncanny design that beautifully takes advantage of the space, and amplifies the complexities of scale between the dolls, the runway, the concept of fashion, and the room.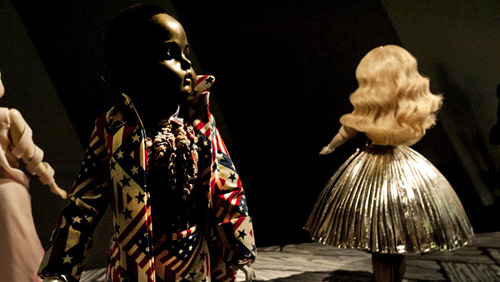 The Dolls are not ordinary and they are not cute. They fascinate thanks to several design decisions that follow the classic 19th-century techniques of doll-making but with a twist. Standing 63 centimetres, larger than most fashion dolls, they are a composite of two historical doll types. The porcelain head is taken from vintage molds of baby dolls with big heads, large eyes, and small lips.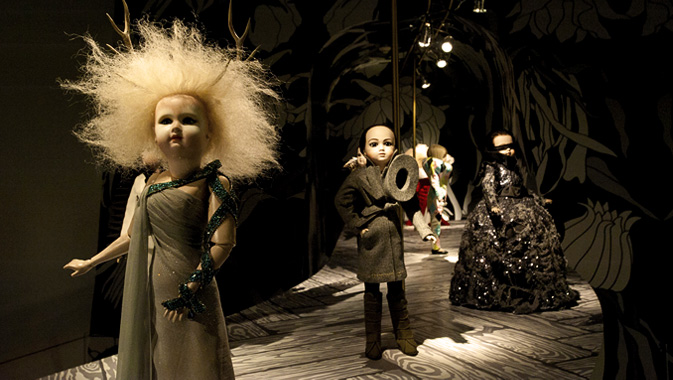 These slightly varied faces are united with the body of an adult female doll in the classic 19th-century style called a Parisienne. Made in traditional papier mâché, they feature breasts and waist shaped as if in a corset, with articulated arms and legs and impossibly tiny, lady-like hands as depicted in period fashion plates. Thus the Viktor&Rolf doll is at first glance a confusion of a modern-dressed but historically confused body ideal to which the eye must adjust in order to decode. These are not dolls for play, nor to love, nor are they classic beauties.
Each doll is an individual in the world of Viktor&Rolf, identified with her name on her back and custom-made by an elderly Belgium craftsman. A signature look from each collection is reproduced as it was shown on the runway–or often without a runway–but as it was staged by Viktor&Rolf. Each of the bisque heads (unglazed porcelain) is delicately hand painted to replicate the makeup and even the eye colour of the model who originally wore the look on the runway. It is fired many times in the kiln for each paint colour, resulting in a soft matte, skin-like finish. The wigs of human hair (made in China) replicate the original colour and hairstyle. The dolls are dressed in exact miniaturized versions of the textiles, clothes and accessories that are meticulously made to order for each doll in the V&R atelier in Amsterdam.
Viktor&Rolf Dolls is an elaborate and compelling project that shifts the designers' archive of their work from frozen and outdated past fashions, to the present by recreating a modern, abstracted and iconic miniature form of their work that will survive into the future as wondrous and precious objects to be admired and closely examined. The clothes, the model/doll, the collection and the world of Viktor&Rolf become fashion specimens as if under a bell jar. It is an experience to behold that unsettles and fascinates as dolls have done for centuries. The Dolls fluidly cross boundaries of meaning from children's toys and nostalgic symbols of the past to powerful, magical, ritual objects that spur on psychoanalytic thoughts, provoke and inspire artists and dreamers because of their surreal qualities.
Viktor&Rolf Dolls is the North American premiere of a newly proposed installation of dolls on a unique catwalk platform with scenography of the exhibition designed by Viktor&Rolf in collaboration with Studio Job. The site specific installation was commissioned and produced by the 2013 Luminato Festival for the Thorsell Spirit House and presented in collaboration with the Royal Ontario Museum.
Read More:
Presented as part of Luminato Festival 2013

References
Evans, Caroline and Susannah Frankel; edited by Jane Alison and Ariella Yedgar. The House of Viktor & Rolf. London, New York: Merrell, 2008.
King, Eileen. The Collector's History of Dolls. London: R. Hale; New York: St. Martin's Press, 1978, c1977
Peers, Juliette. The Fashion Doll: From Bébé Jumeau to Barbie. Oxford; New York: Berg, 2004.
Warhol, Andy. The Philosophy of Andy Warhol: From A to B and back again. New York, Harcourt Brace Jovanovich 1975.