Toronto Space Apps Challenge hackathon results
Posted: May 2, 2013 - 13:33 , by
royal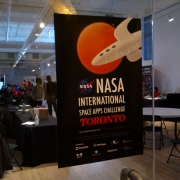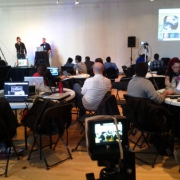 On the weekend of April 19 to 21, 2013, the ROM was host partner for the Toronto Space Apps Challenge hackathon, held in partnership with local event partners and presented by Rogers Communications Inc.
This event was part of NASA's 2nd annual International Space Apps Challenge, that saw over 9,000 people in over 82 cities and 44 countries worldwide, work on a series of tasks designated by NASA. See SpaceAppsChallenge.org to read more about the challenges and the cities participating. The best of the Toronto event have been submitted to NASA for their shortlist of the best submission from around the world. The final round of judging by NASA to see who will win be announced May 22 on spaceappschallenge.org and open.NASA blogs, so stay tuned!
At the ROM, the Toronto Space Apps Challenge had over 250 people registered who spent their weekend working on software, data visualizations, websites, games and apps. A distinguished panel of judges evaluated the team presentations and announced Space Apps Toronto 2013 winning projects "Aurora Localization via Starfields" and "Museum of Intergalactic Species" . As an added bonus, everyone working on their projects in Bronfman Hall got to be part of a live Google+ Hangout with NASA and ESA astronauts.
A big thank you to Toronto event organizers Jonathan Moneta, The Landing Party, and James Costa of The Phuse, all the event sponsors and of course the volunteers and mentors who helped out on the weekend.
For youngsters interested in space and computer technology, on Saturday there was a Youth Challenge where kids got to design an alien in 3D on a computer, print it out on a 3D printer, then go design a virtual planet and more. The Youth Challenge was presented in partnership with Toronto based Maker Kids.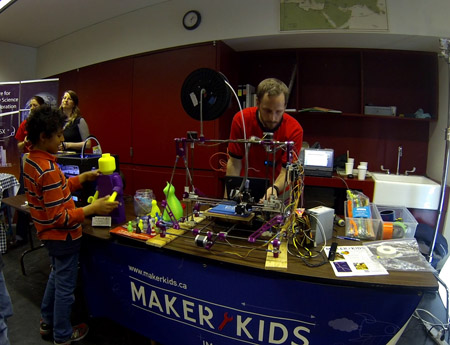 Honourable mention from the Toronto event goes to Best of Space Apps Toronto…
Best in Visualization: Moon Tour
Best in Software: Waystation
Best in Hardware: International Print Station
Best in Hardware: Green Mars
Best in Citizen Science: SocialNEO
And the NASA International Space Challenge global finalists shortlist include…
Inbound – A minimalist and modern display mount that shows the frequency with which Earth is bombarded by coronal mass ejections emanating from the Sun.
Mars Watchtower – An interactive web-app that allows users to explore the recent and past weather of Mars.
NEO Database – A visualization of nearly 600,000 cataloged asteroids and analysis of their economic prospects.
Way Station – An app to help connect astronauts on the International Space Station with everyday people.