The Caribou I Haven't Seen
written by Leslie Bol
I was ecstatic the first time I did a wildlife survey from a helicopter in 2008. I felt like I'd really made it as a biologist. I was equally excited in 2010, when I was invited to be part of a series of aerial caribou surveys in Nunavut. After all, caribou are such an iconic Canadian animal. I envisioned that I would see the rivers of caribou that Farley Mowat describes in his book, People of the Deer. In it, Mowat describes a trip to Churchill, Manitoba during which the train he is traveling on has to stop because so many caribou are crossing the tracks. "For the next hour we stayed there, and for an hour the half-mile-wide river of caribou flowed unhurriedly north in a phenomenal procession, so overwhelming in its magnitude that I could hardly credit my senses."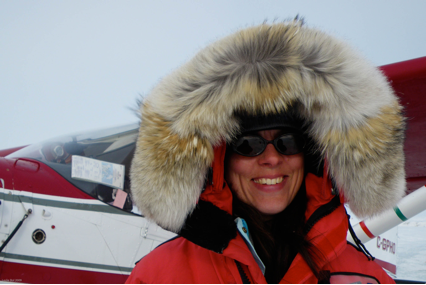 This is what I wanted to witness. Chances were good that I would as surveys were scheduled for a few days at the beginning of May, June, and July. I took a commercial flight to Yellowknife and then a charter plane north to the survey area. I felt like I was truly going to a remote area after flying several hours in a small Beaver bush plane outfitted with skis so that we could land on an airstrip of ice. We were surrounded by miles and miles of white, snowy tundra as far as the eye could see. That first trip we saw very few caribou but I was captivated by the landscape.
The second trip we were on a slightly larger plane, a Twin Otter. Even though it was June and the rivers were running we didn't see any rivers of caribou. In a small world occurrence though, the bush pilot we had was a woman from Thamesford, Ontario where I lived in early childhood. It turned out we'd had the same grade one teacher, Mrs. Elliot.
The third survey in July was my last chance. Again, no rivers of caribou. Barrenground caribou are federally listed as a species of Special Concern and protected under the Species at Risk Act. Their absence on our transect lines wasn't necessarily due to smaller populations though; it may have been a matter of timing. The explanation for why we weren't seeing many caribou is that we had probably missed the northern migration to the calving grounds through the area we were surveying.
Biologists have separated the single species of caribou into multiple herds of barren-ground caribou, such as the Bathurst and the Beverly-Ahiak herds. Barren-ground caribou are divided into herds based partly on the locations of their calving grounds.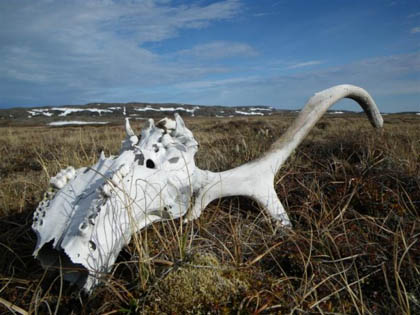 It was this spring that I finally saw a river of caribou although not during a field survey. It appears in one of Sebastião Salgado's photographs in his Genesis exhibit currently on display here at the Royal Ontario Museum. The image was captured in Siberia, Russia in 2011. The river of reindeer moves in a diagonal from the bottom right-hand corner to the top left-hand corner of the image like a fissure through the surrounding snow. This cleaves the image into two right-angled triangles that mirror each other in opposite corners. As we've learned in our graphic design class, Salgado successfully uses the simple elements of line and shape to captivate our attention.
Despite never seeing a river of caribou in the wild, the story of their fate and how they will adapt and evolve to the changing Arctic landscape, captivates my attention. I hope their abundance of "overwhelming magnitude" will continue to be a fitting description of their presence here in Canada and around the world for years to come.