Student Photographers Shoot for the ROM
Posted: April 14, 2014 - 16:52 , by
ROM
On Tuesday evening, April 8, the ROM, in conjunction with The Walrus Foundation, held the book launch of Every Object Has A Story, an amazing new book celebrating 100 years of the ROM. This is a book about twenty-one iconic artifacts/specimens, with twenty-one ROM Curators and experts and twenty-one extraordinary Canadian writers, artists, filmmakers, poets, and scientists writing each sharing their own personal connections with a specific object. Photography for the book was handled in the same way.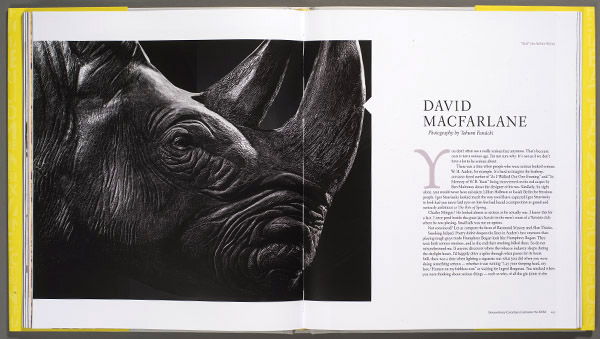 I photographed each of the objects either in our Ivey Imaging studio or a gallery, depending on size. The ROM then invited 20 Photography students (one student photographed two objects) from Humber College, OCAD, Ryerson University and Sheridan College to let their creativity flow and present their individual interpretation of an object for the book.
The result is outstanding! Wonderful, easy reading stories and stunning images and a flowing design to keep it all together.
Here are two of the spreads showing student photographic creations, the first for "Bull", the rhino and the second for the Edo plaque.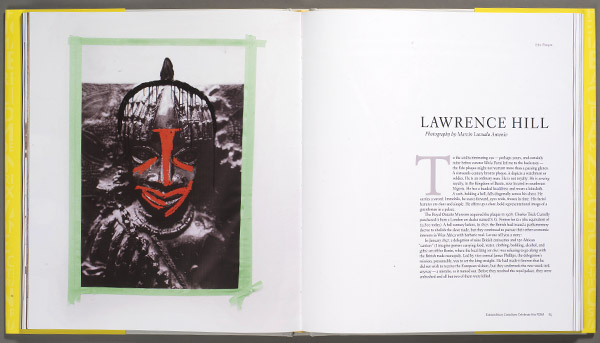 As a photographer, and a graduate of Applied Photography at Sheridan College, I would like to congratulate each of the student photographers (listed below) who contributed to Every Object Has A Story, and wish them my best for a long and prosperous future in this ever-changing field of ours.
Marvin Antonio
Sebastian Benitez
Genevieve Blais
Joe Bulawan
Julia Campisi
David Clark
Laura Domnar
Takumi Faruichi
Beau Gomez
Tess Goris
Evan Griffiths
Christine Mclean
Hassan Mohammad
Arianna Perricone
JC Pinheiro
Jody Rimmer
Raymond Salaber
Lisa Takkinen
Jessica Toczko
Haley Wessel-Friesen
Every Object Has a Story, created using iBooks Author, is now available for iPad and Mac for $14.99 exclusively on iBooks at www.iTunes.com/ROM100.
The hard copy is available on April 8, 2014 in ROM Stores (online or onsite) and through the Walrus Foundation webstore at for $29.95 ($27 for ROM Members). It will be available in other major bookstores on April 15, 2014.