Snapshots of Biodiversity: A Photo Essay on the 2014 Ontario BioBlitz
(Above) Carlene Gallant from the Biodiversity Institute of Ontario showing a young scientist how to collect and catalogue insect specimens. Photo by Vincent Luk
by Stacey Kerr, ROM Biodiversity Storyteller and Creative Producer, and the 2014 Environmental Visual Communication student cohort
The 2014 Ontario BioBlitz was held this past weekend in the Humber River watershed. This 24-hour event is like a giant biodiversity scavenger hunt, combining the efforts of the ROM Centre for Biodiversity along with nine other partner organizations, 500+ registrants and volunteers, and this year's host facilities, the McMichael Canadian Art Collection and Kortright Centre for Conservation, to find and document organisms found in the watershed. As this blog post is being written, the total species count is at 1359, but with data still being processed and coming in from different teams, the total is expected to hit 1550 species or more! For ongoing species count updates, make sure to follow @ROMBiodiversity on twitter, and check out the Ontario BioBlitz website for more info.
Throughout the 24-hours, students from the Environmental Visual Communication (EVC) post-graduate program co-offered by the ROM and Fleming College, captured the experience of the Blitz with photography, videography, and environmental storytelling. Below, you will see a collection of their photos from the event. To learn more about EVC, check out www.eviscomm.ca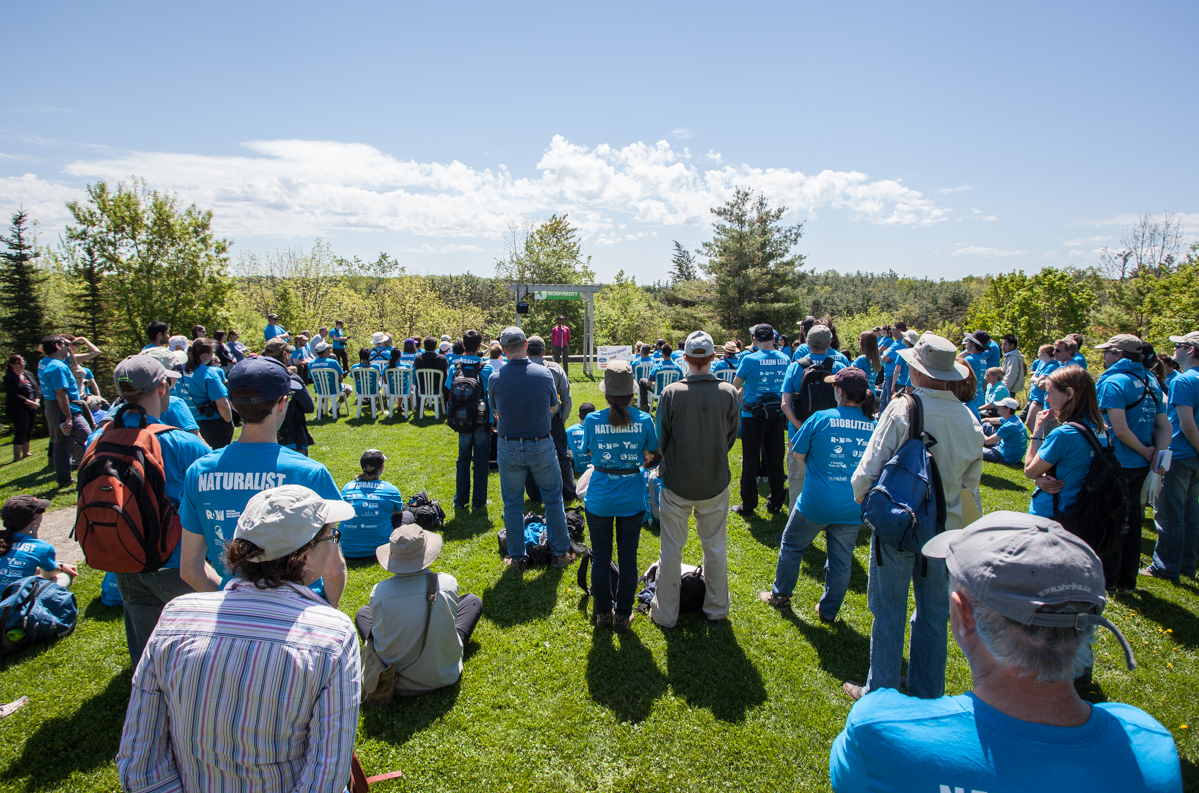 Hundreds of BioBlitzers get ready to start their intensive 24-hour search to identify and catalogue as many species of plants, birds, mammals, fish, insects, fungi and other organisms as possible. Photo by Vincent Luk.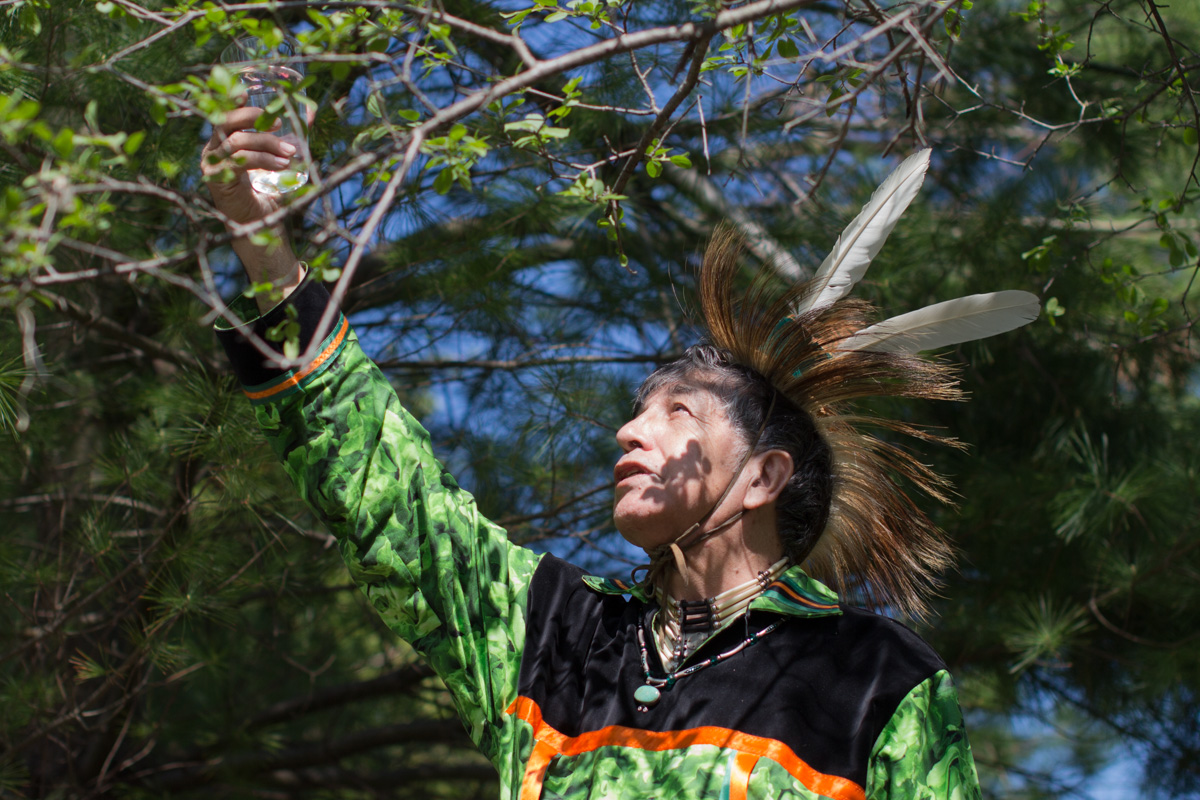 Ojibway elder Garry Sault of the Mississauga New Credit Nation blesses the BioBlitz and its participants within the Humber watershed with a traditional ceremony, reminding us that "water is life". Photo by Elli Levene.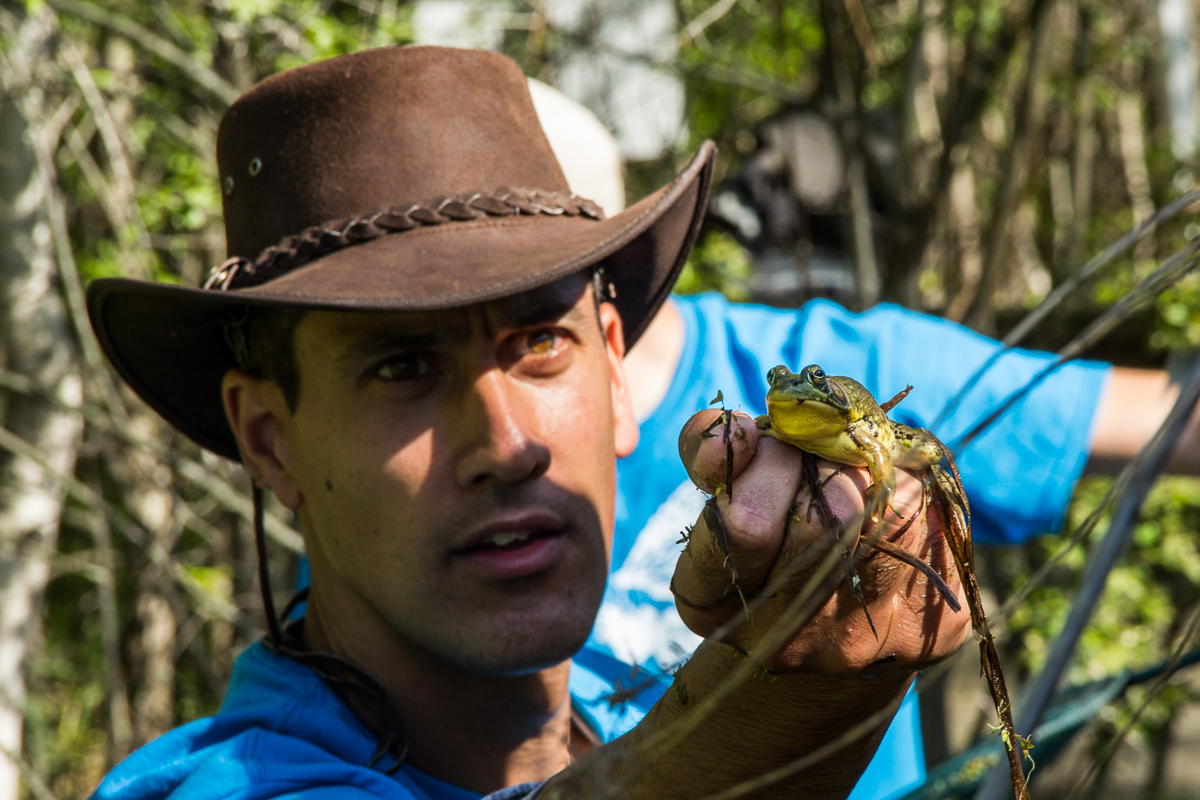 Fleming College professor Josh Feltham presents a green frog (Lithobates clamitans) caught in the wetlands of the Kortright Centre of Conversation to a group of Bioblitzers. Photo by Nila Sivatheesan.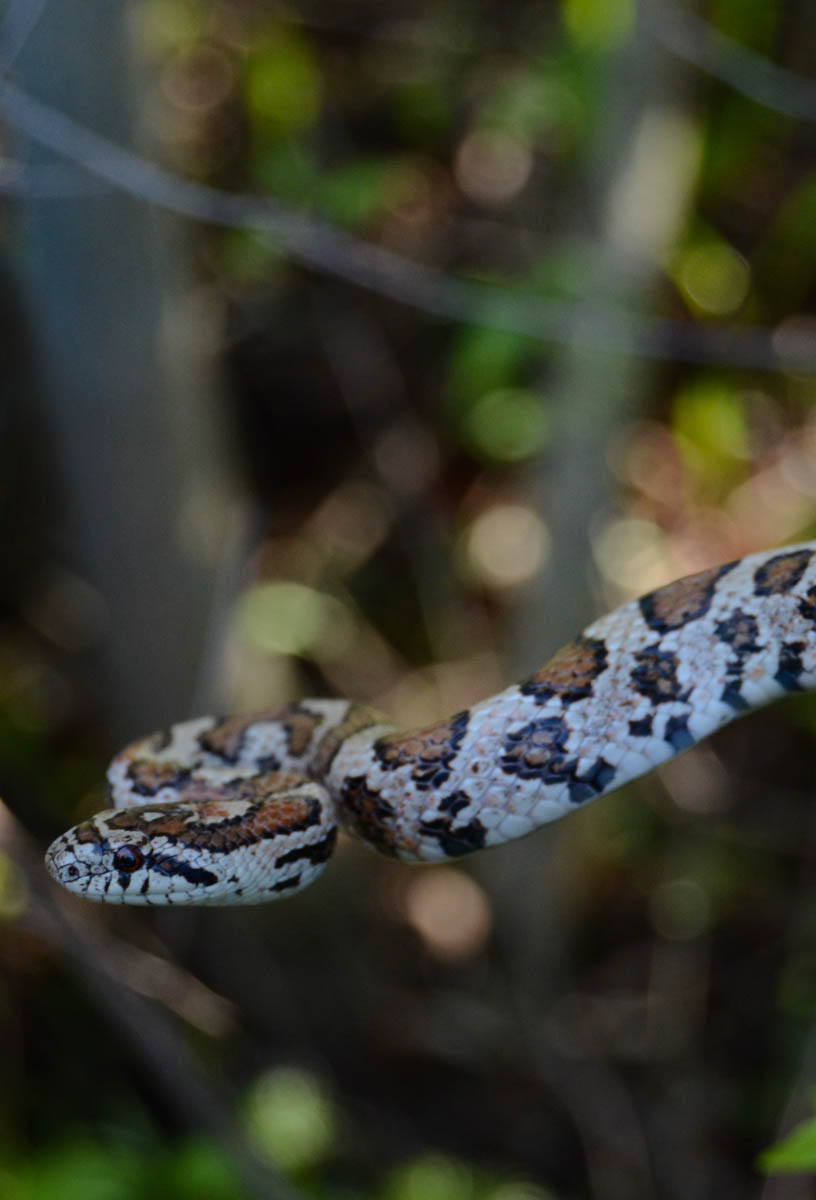 An Eastern Milksnake (Lampropeltis triangulum) spotted by Bioblitzers in the woods. Along with 10 other snake species out of the 16 found in Ontario, the milksnake is listed as a threatened species both provincially and nationally. Photo by Justine DiCesare.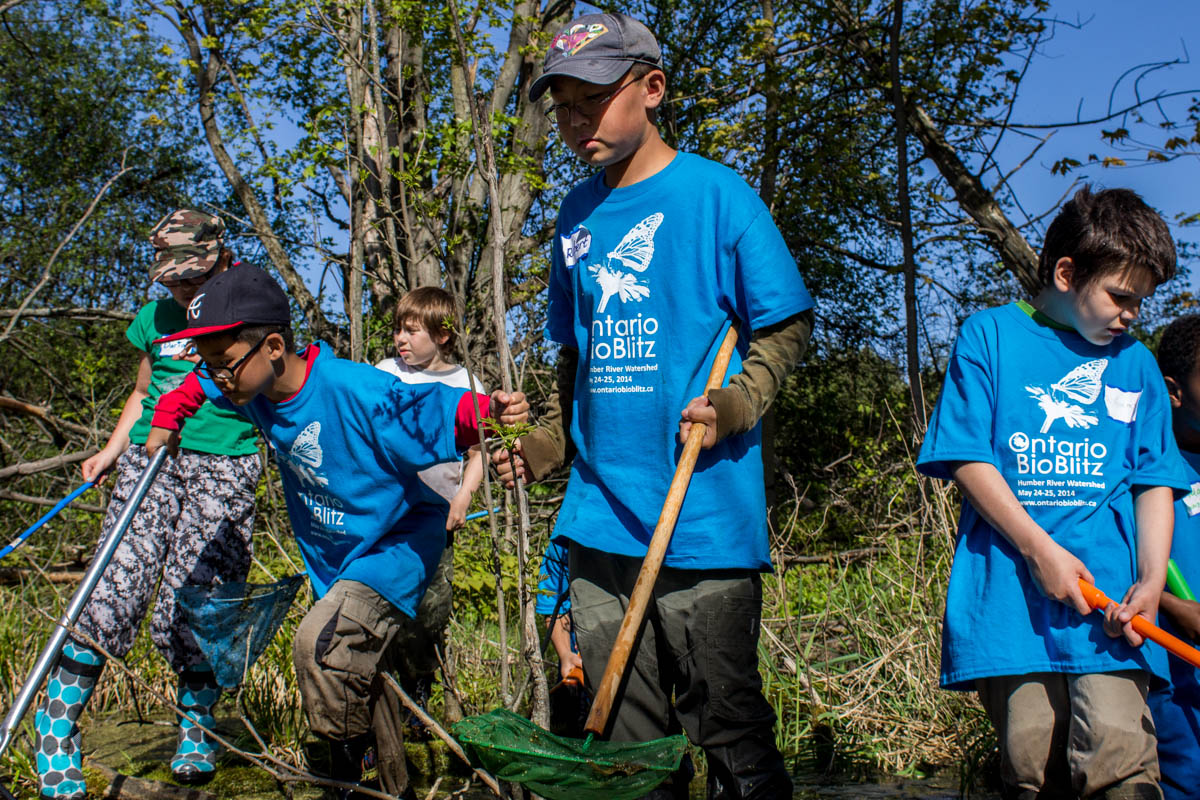 Excited kids explore a swamp, looking for amphibians to identify during one of the guided BioBlitz sessions at the Kortright Centre for Conservation. Photo by Nicole Di Cinto.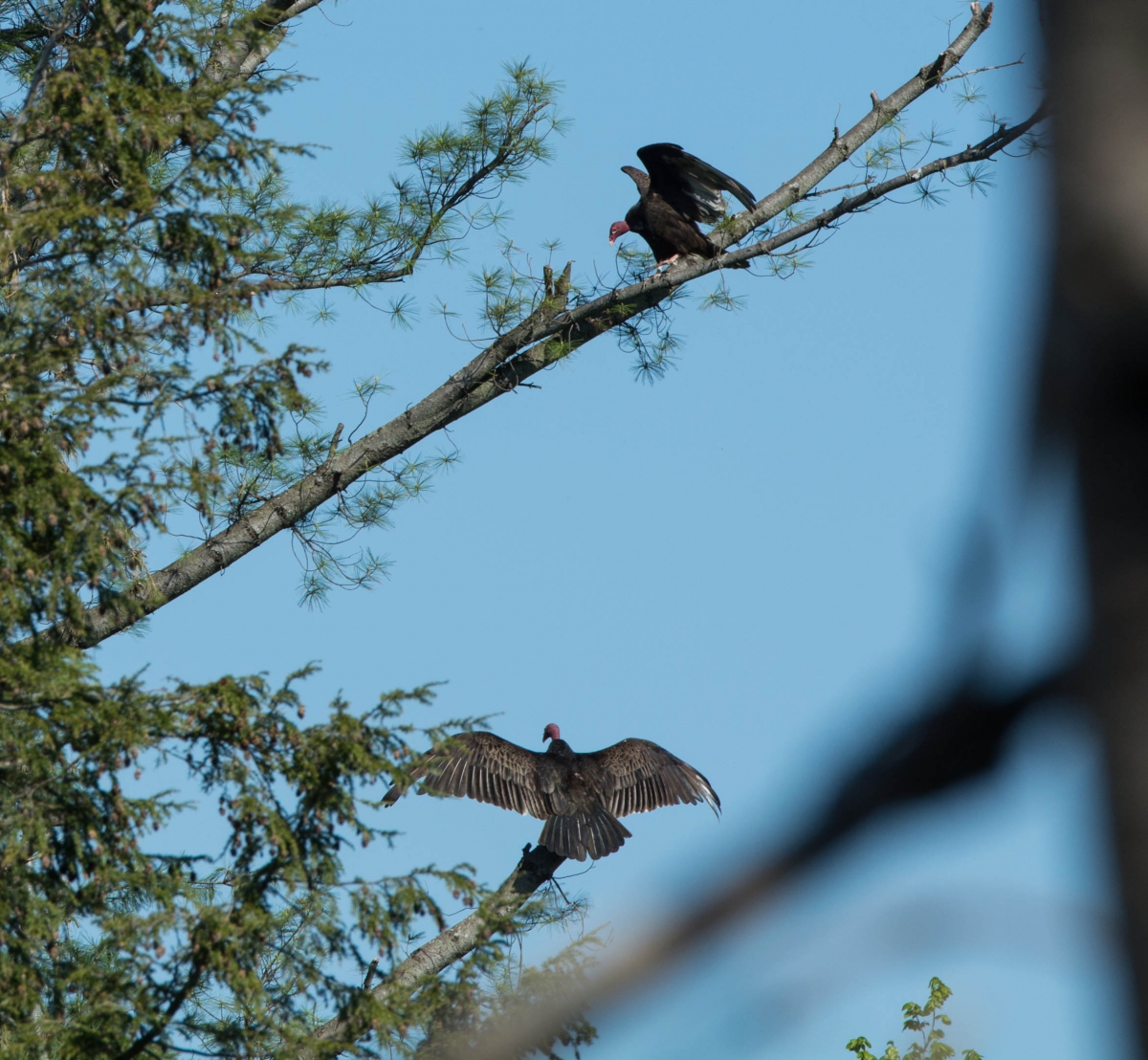 Tukey vultures (Cathartes aura) warming up, possibly to scavenge Bioblitzer leftovers! Did you know turkey vultures vomit on those that corner them as a defense mechanism? Photo by Dorea Reeser.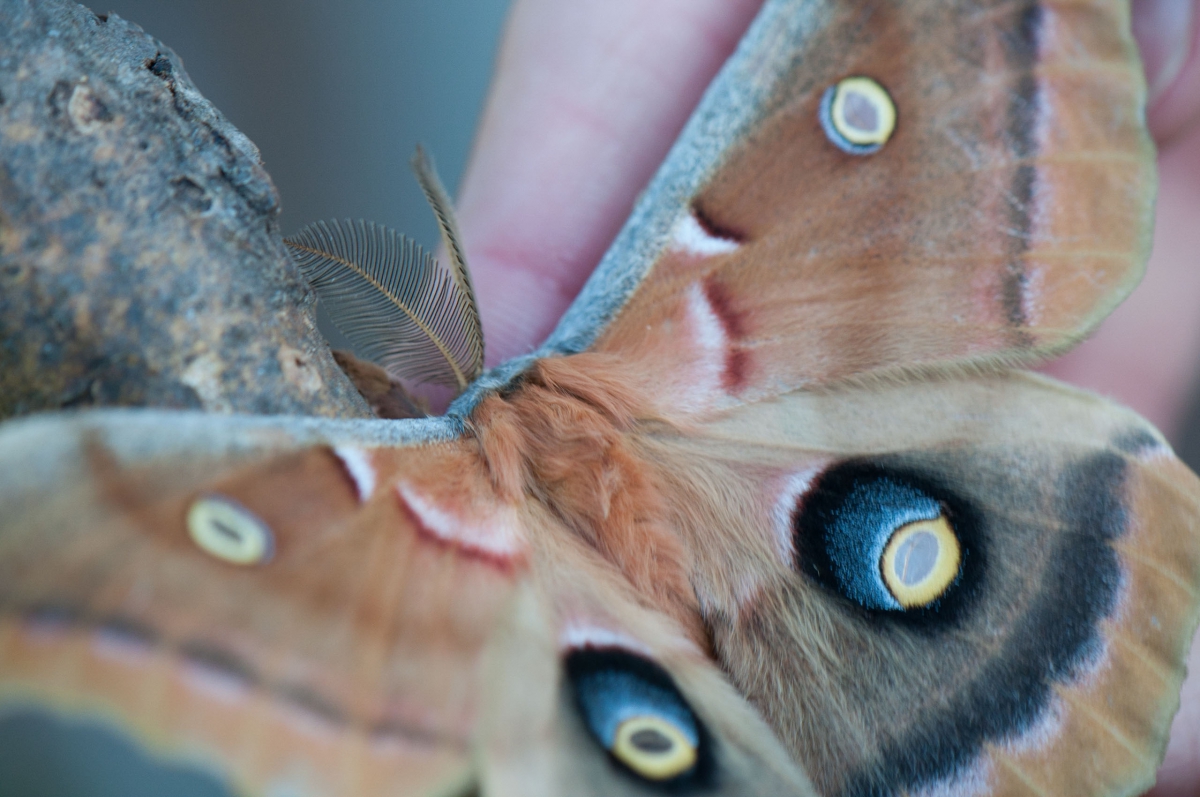 A Polyphemus moth (Antheraea polyphemus) found in the evening shows us moths can be just as beautiful as butterflies. Photo by Matt Jenkins.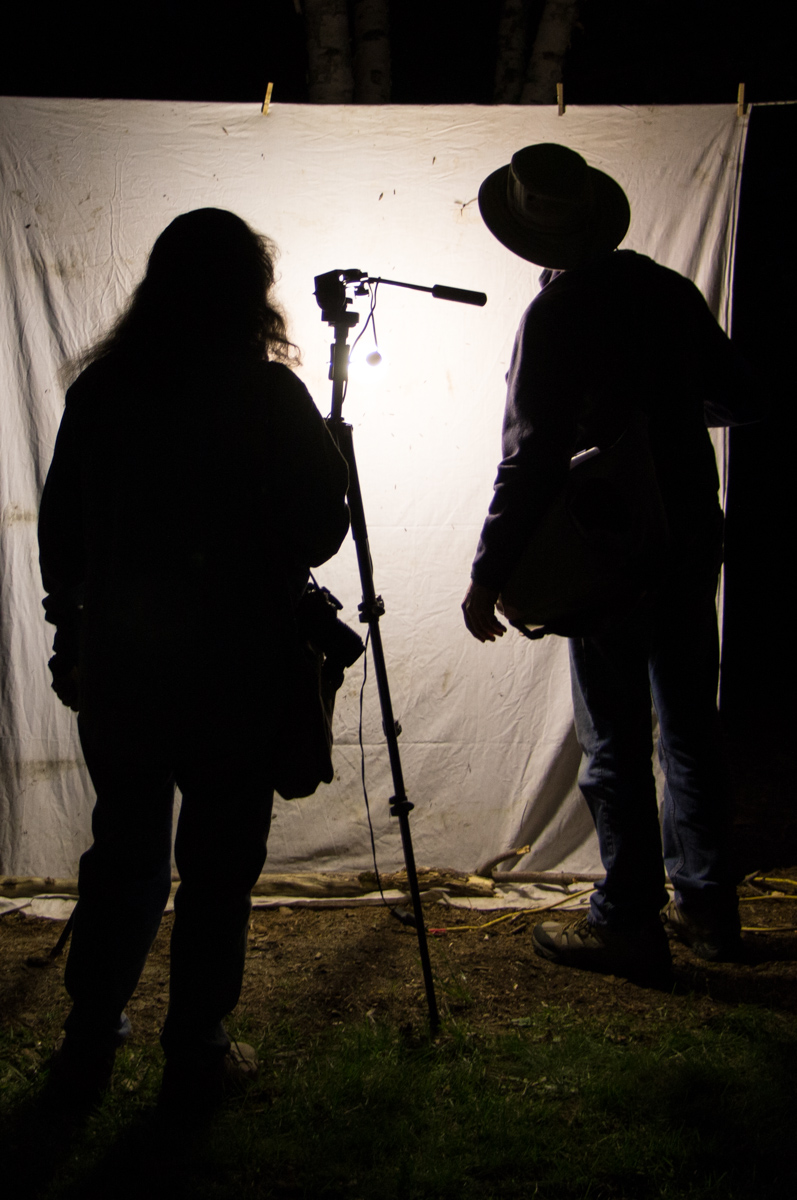 Moth man, Bioblitz taxon lead and naturalist, David Beadle (right), at work in his natural habitat - photographing Ontario night creatures. Photo by Holly Thomson.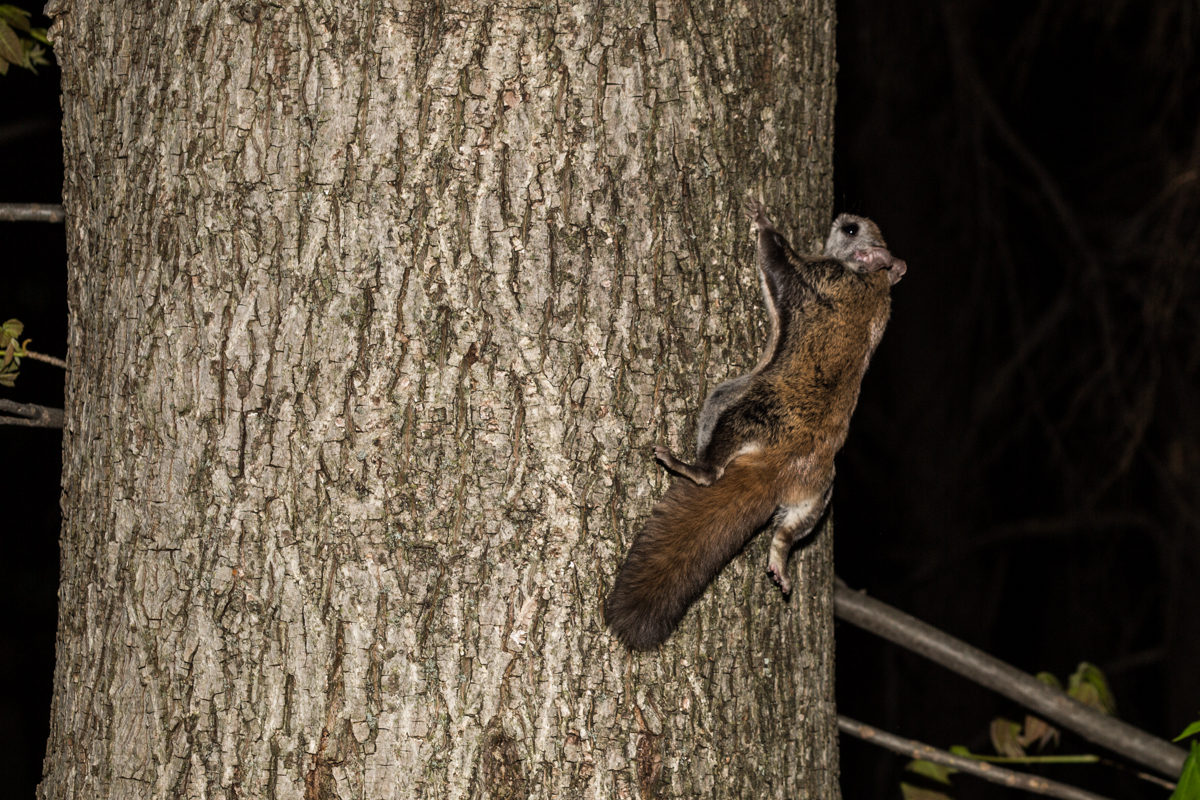 A northern flying squirrel (Glaucomys sabrinus) discovered by the mammal team late Saturday night behind the McMichael Canadian Art Collection. Photo by Tallie Garey.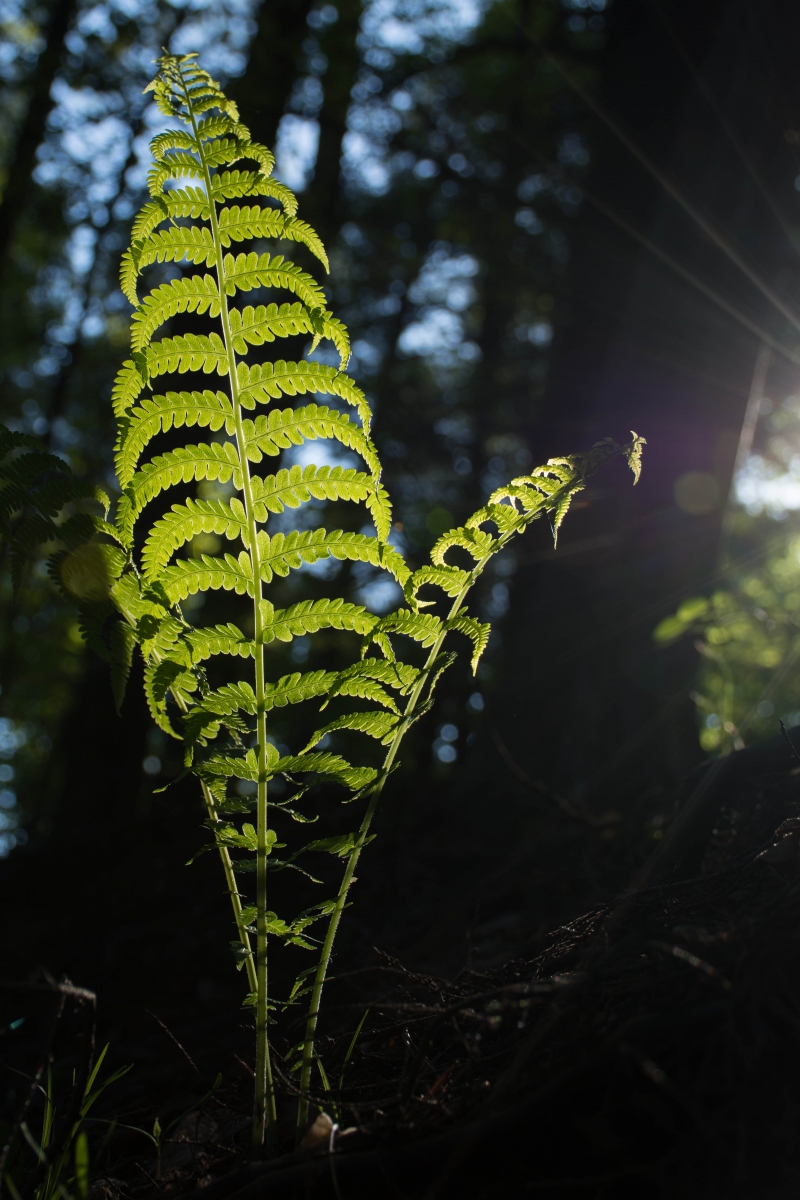 An ostrich fern (spp. Matteuccia struthiopteris) glows in the early morning sunlight of the second day of the BioBlitz. Photo by Tyler Talbot.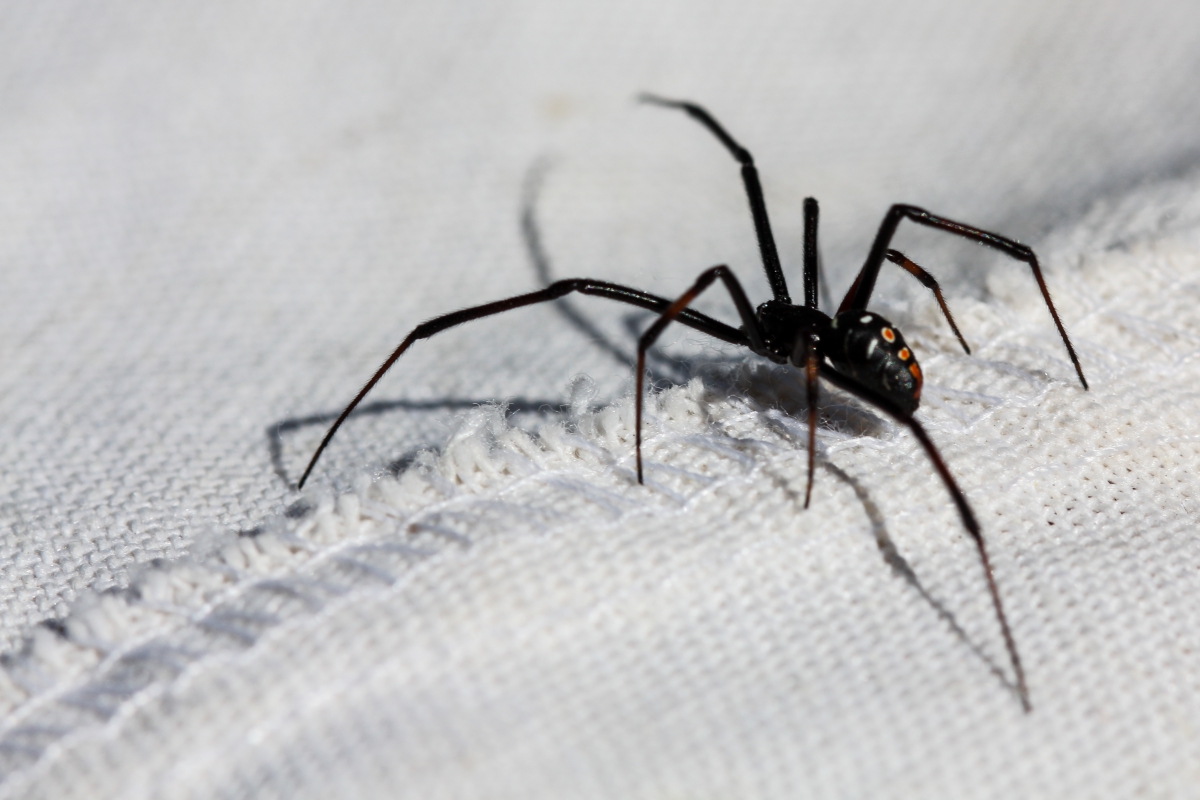 A gorgeous northern black widow spider (Latrodectus variolus). These spiders are rare in Ontario, and although their bites are venomous, they are non-lethal to humans. Photo by Vicki Simkovic, a student at the University of Western Ontario.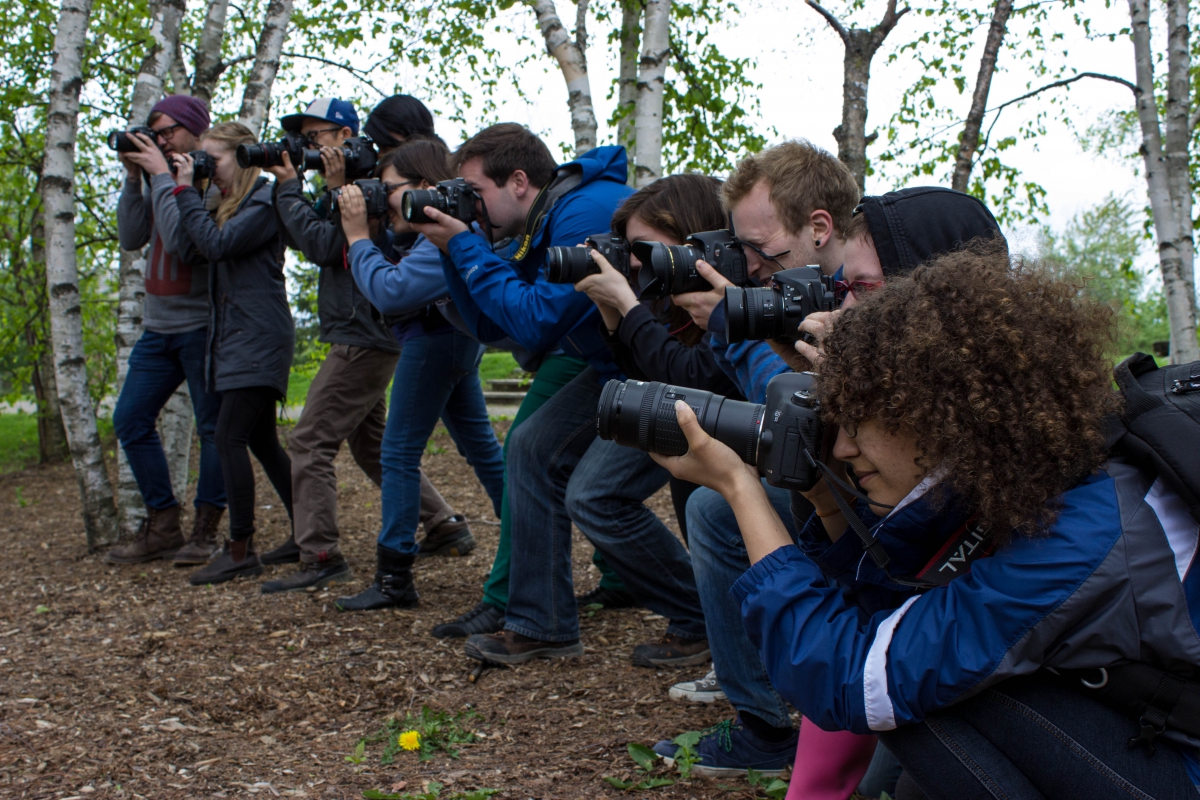 Behind-the-scenes: Environmental Visual Communication students from the 2014 cohort prepare to capture the BioBlitz with their lenses from beginning to end. Photo by Lindsay Barden.