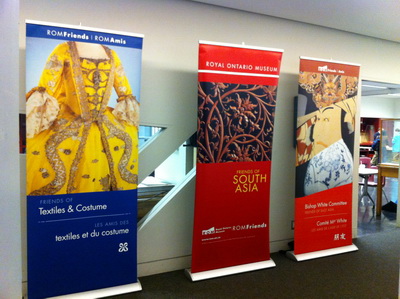 Welcome banners for Friends Groups
On June 5, 2014, the Friends of East Asia, the Friends of Textiles and Costume, Adopt-a-Journal and the Friends of South Asia collaborated to present "Silk Threads from China," a special appreciation event for donors of these groups. ROM Curator Dr. Sarah Fee and J. S. Lee Memorial Fellowship Postdoctoral Fellow Dr. Jianfei He (Beishan Foundation, Hong Kong) gave talks on the historical intricacies and significance of silk. Guests enjoyed hearing these talks, browsing the Asian journal displayed by ROM Far Easterian Librarian Jack Howard, looking at samples of silk cloth, and socializing.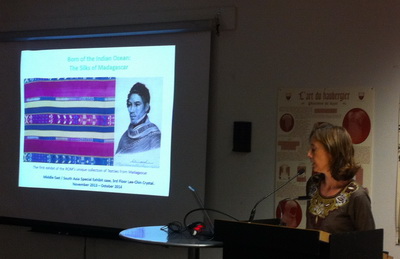 Dr. Sarah Fee, ROM Curator of Eastern Henisphere Textiles and Costumes
In the words of Dr. Sarah Fee, "India and China are the mother of all things textile." Millennia ago cotton and silk were domesticated and fashioned into brilliantly hued luxury textiles. Lust of colourful cloth nearly bankrupted the Roman Empire and much later, led to the rise of the industrial revolution. In her talk, Fee revealed these and other ancient stories of the importance of dyes to world history. In China the "pure" colours, black, blue, red, white and yellow, held significant religious and political significance. For example, only the Emperor and other key imperial family members could wear yellow. One of the most common sources for yellow dye is turmeric, a plant native of India that spread to China. Yet, tumeric, and other natural yellow dyes, fade quickly and the mystery of the process of creating Imperial Yellow remains a mystery. Indigo invokes, for me, images of fields in Bihar and of beautiful, turbaned men under a sharp North African sun. This deep blue, characteristic of much of Ming Dynasty pottery and used extensively in textiles, was a messy, labour intensive pigment, also imported from India to China, often cheaper and more abundant, than the indigo grown in Mongolia.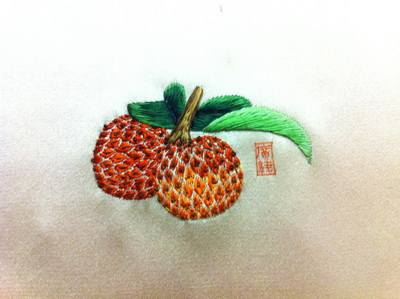 Lichee featuring "water path." Contemporary example of Cantonese embroidery with embroidered signature.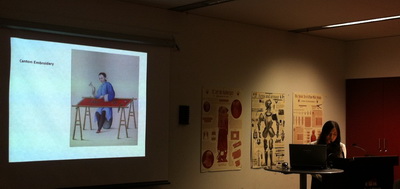 Dr. Jianfe He, J. S. Lee Memorial Fellowship Post-doctoral Fellow, Beishan Foundation, Hong Kong
Dr. Jianfei He told of more contemporary, surprising connections of thread and beauty. The earliest examples of Cantonese embroidery are from the late Ming (1540s-1640s) period and themes were of auspicious symbols, scholarly endeavors and elite families whereas contemporary themes focus on portraying local culture. Like the technological exchanges and trade networks of the Silk Route, southern and coastal China was connected to many far off lands through water routes. The British and Portuguese had a strong presence in the South East, particularly the ports of Macau and Hong Kong. In the late 1800s and early 1900s Cantonese embroidery featuring botanic themes were produced primarily for the export market. These artisans took inspiration for their patterns from popular botanical prints and drawings prepared in the UK for export. In turn these Cantonese embroidery pieces inspired North American handicraft and decorative arts of the late nineteenth and early twentieth centuries!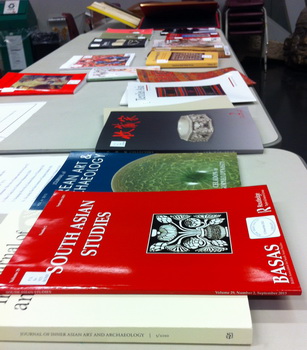 Asian journals in the Adopt-a-Journal program, in the H. H. Mu Far Eastern Library collection, thanks to patron generosity.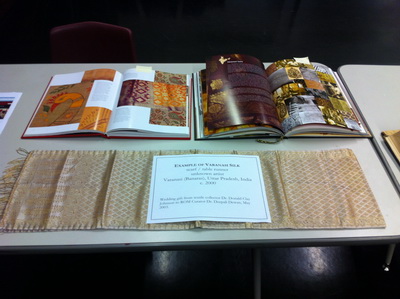 Example of Varanasi silk with zari (gold and silver threads) weave.
This special report was submitted by Friends of South Asia Committee Co-Chair, Aruna Panday.