ROM Volunteer Profile: Gary Cassidy
Posted: April 23, 2013 - 10:34 , by
ROM
This profile series, featuring some of the ROM's longstanding volunteers, celebrates National Volunteer Week in Canada April 21-27.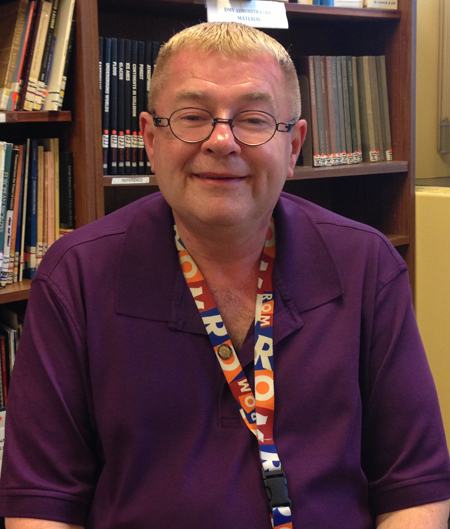 Gary Cassidy's encyclopedic knowledge of the ROM's collections is something of a legend. In his 26th year volunteering at the Museum, Gary can proudly recite by memory at least ten lines about almost every artifact in the Museum's galleries. Gary's incredible depth of knowledge helps him adapt to the variety of volunteer work that he performs and enables him to conduct his favorite ROM public tour, Museum Highlights.
"I really enjoy volunteering at the ROM because it gives me an opportunity for life-long learning about the collections, and history in general," says Cassidy. "I also love interacting with visitors as it gives me a chance to share my knowledge with others."
Two of Gary's volunteer positions directly involve guiding visitors around the Museum. As an experienced Docent and former chairperson, he provides guided tours to visitors and is part of a training program for new museum guides. Furthermore, Gary is the current chairperson of the Gallery Interpreter program. He finds this program very exciting because it exercises visitors' senses by allowing them to participate in activities like smelling exotic Ancient Egyptian perfumes. In addition, Gary leads a trip with ROMtravel every two years and takes part in special events like ROM Friday Night Live and the Explorer's Club, all while working full-time outside of the Museum.
Of all his volunteer activities, Gary finds meeting new people and sharing his enthusiasm for the ROM's collections to be the most rewarding. Every tour he gives is a performance that aims to excite and inform. In fact, it is Gary's enthusiasm for the ROM and his determination to continue learning, which makes him an inspiration to new volunteers.
"If you're interested and excited, that will come across and others will be excited too," says Cassidy.
The next time you visit the ROM, look for Gary - you may be fortunate enough to have him as your tour guide!
ROM Tours are free with general admission, with several different tours offered every day. Each tour is approximately 45 minutes long with maximum number 25 visitors. For a complete schedule, visit our website at: www.rom.on.ca/en/visit-us/maps-tours
For more information, contact:
416.586.5549 or visit@rom.on.ca