ROM for the Holidays: more than just family fun
Posted: December 30, 2012 - 11:20 , by
ROM
As a kid, every year starting in early December I would pre-gloat daily to my younger sister about all the wonderful gifts I was doubtless going to receive from Santa. Each morning I would check my handwritten Christmas list on the fridge, hoping to spot a subtle indication--such as perhaps a tiny little elven checkmark--which would reveal that each of the many listed items had been taken care of.
And when the moment of truth finally came, despite the wonderfulness of Christmas Day I always felt disappointed when I only got one or two of the things I had wanted. There were all my requests on the list on the fridge, neatly printed and numbered, plus my address--it couldn't be clearer. What was wrong with those people at the North Pole?
Little did I know back then what my parents were trying to get me to realize: it's not all about the gifts, dear. Fast-forward to the present and Christmas is a quieter occasion: Now that my Grandma is no longer here, making her annual phone call about whether she should serve Brussels sprouts with the Christmas dinner, and my Dad is no longer here, humming out-of-tune Gershwin songs as he set up the tree, I understand what my parents meant.
It occurs to me that if I were a parent, many of the lessons of the season that I would want my child to absorb are right here at the Museum, especially during ROM for the Holidays, cleverly disguised as fun:
Dressing up in costumes allows kids to put themselves in the shoes of someone else - important in this increasingly crowded, multi-cultural world.
In addition to the creative exercise, making crafts is also an opportunity to show kids that the process is as important as the result. Sure, that other kid's craft is bigger than yours - but so what? You had fun choosing the colours you liked, you cut out the shapes you wanted to, so enjoy what you're doing and don't worry if someone else has more stuff than you.
A scavenger hunt can teach them that small steps of effort can build on each other to reach a bigger goal - and that more gets accomplished when you co-operate.
And the Earth Rangers holiday show uses live animals to deliver the essential lesson that not only is it not all about the gifts, it's not even all about *humanity* on this planet.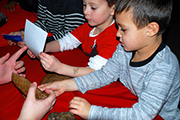 This year's ROM for the Holidays theme is Palaeo World. In addition to everything that kids can learn about dinosaurs and the incredible diversity and evolution of our planet, I think there's another lesson there about change: how sometimes it's fast and we can see it, whereas other changes take place over centuries: we may not see it happening but perhaps we can still affect the outcome.