Roads, Roads, Roads - Road Ecology in Canada
Posted: December 5, 2014 - 12:35 , by
ROM
Last week part of the ROM Bio team was in Ottawa with 110 of the best minds in the road ecology field to participate in "Road Ecology: A National Agenda for Canada" conference that we co-presented with the Canadian Parks and Wilderness Society. Everyone converged on the Canadian Museum of Nature for two days, discussing for the first time, the idea of bringing the road ecology conversation to a national scale in Canada.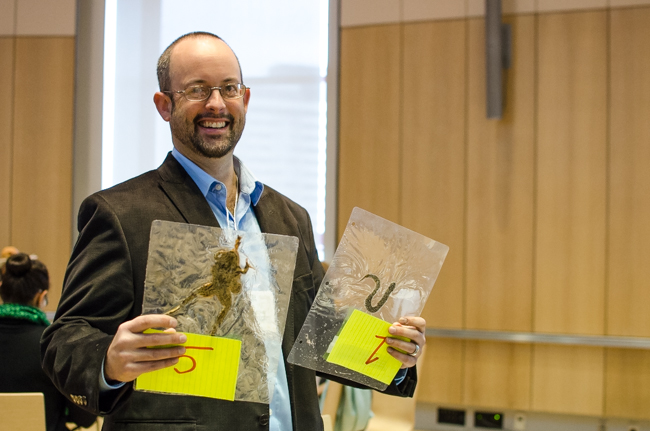 The energy in the room that's created by getting a bunch of scientists, city planners, and experts of all stripes in the same room to discuss the very topic that links them all together, can be both astonishing and empowering. Here's a short video I made to show the highlights of the conference, including an excellent (if chilly) field trip to a completed road mitigation project just outside Ottawa that was led by one of the conference's sponsors, Dillon Consulting. There may or may not be some shenanigans involving people exploring small animal underpasses.
Road ecology is the study of how roads and road networks affect biodiversity and the environment. It involves the more obvious aspects of the interactions between roads and wildlife, like roadkill, but also the more subtle relationships, like the spread of invasive species, the effects of road salting, and the fragmentation of habitat. It's one of those topics that is simple and profound at the same time - you find yourself thinking, "well of course that would have an impact". But we are still working out the best ways to manage or mitigate the impacts that roads have, and also monitor the intensity of these impacts, and use innovative solutions (like ecopassages! Woohoo!) to overcome them.
For a bit of an intro to the topic, check out the video below and visit the ROM's Ontario Road Ecology Group page for even more info.
Thank you to all those who attended the conference - you were all great! Another shout out to the organizations and companies that made the conference possible - The hard-working team of the Ontario Road Ecology Group (OREG), The Canadian Parks and Wilderness Society (CPAWS), Parks Canada, the Toronto Region Conservation Authority (TRCA), along with Stantec Inc, Dillon Consulting Ltd, and Animex Fencing.