Road ecology is the study of the interactions between the environment and roads. The Ontario Road Ecology Group (OREG) is a not-for-profit conservation program dedicated to protecting wildlife, particularly Species at Risk* (SAR) from the threats of roads; primarily habitat loss & fragmentation and direct mortality caused by wildlife/vehicle collisions. OREG works with government and non-government transportation planners, scientists, educators and organizations to protect biodiversity from the threats of roads through data collection, policy and public engagement.
*A Species at Risk is defined as any plant or animal threatened by, or vulnerable to extinction. (Source: Ontario Ministry of Natural Resources.)
A Guide to Road Ecology in Ontario (pdf)
Reporting Sightings Coming Soon! Thank you for participating.
chaTurtle Sign Inventory & Evaluation: Do crossing signs work? Learn how you can help researchers answer this question…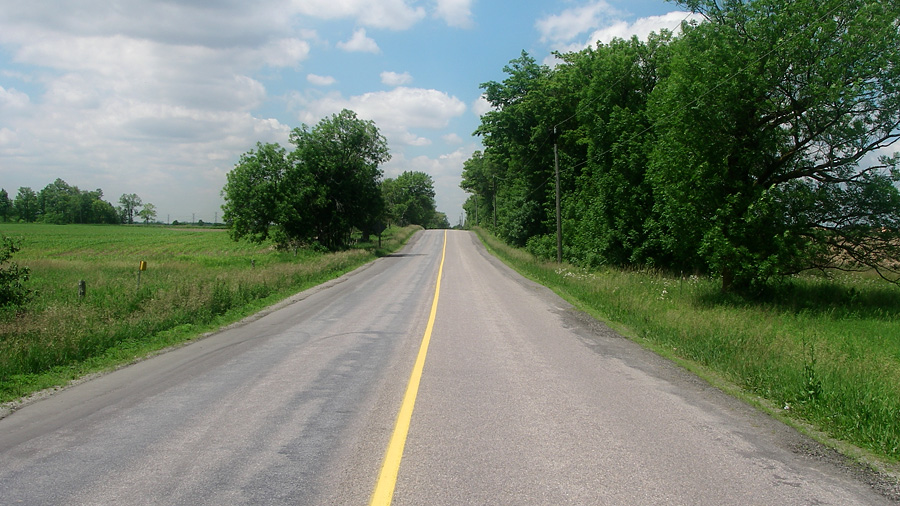 Roads dominate landscapes around the globe and threaten: wildlife populations; soil, air and water quality; and the functioning of ecological processes.
Southern Ontario has the greatest density of people and roads and the highest Species at Risk richness in the province. The vast road network, high traffic volume and abundance of biodiversity in the region increase the probability of a wildlife/vehicle collision.
The Ministry of Transportation of Ontario (MTO) reports approximately 14,000 wildlife/vehicle collisions annually and acknowledges that many more go unreported, especially those with small wildlife, including Species at Risk (SAR) reptiles, amphibians, mammals and birds. The MTO is committed to moving people safely, efficiently and sustainably and supports SAR protection and recovery efforts as they relate to roads and transportation networks.
According to expert road ecologist Dr. Jochen Jaeger of Concordia University and colleagues, the 4 main threats of roads to wildlife are:
habitat loss
direct morality
inaccessibility to resources
population subdivision
Together, these four threats reduce population size and smaller populations are more vulnerable to local extinction (i.e. extirpation).
Roads provide access to once remote locations and facilitate illegal activities such as: wildlife poaching, wild fires (human-induced) and dumping.
Road ecology is a global concern that affects all taxa. Renowned conservationist Thomas Lovejoy reports that "roads are the seeds of tropical forest destruction."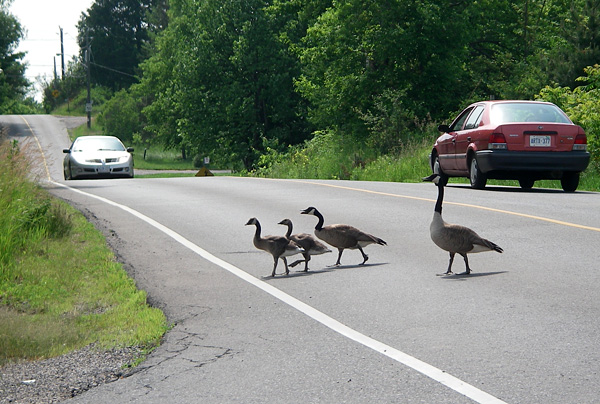 Habitat Loss
Roads act as gateways to urbanization. When a road or highway is constructed it's not only the swath of land dedicated to the route that is consumed, the area around is often developed.
In addition to habitat loss, habitat quality is degraded. Pollution in the form of: litter, light, noise, chemical, heat and vibrations all lower habitat quality for local wildlife. For example, a population of frogs living beside a highway must expend more energy to call louder and more often to attract a mate over the ambient noise of traffic. Roads also facilitate the spread of invasive species. As traffic rushes by, the generated wind carries seeds of salt-resistant and pollution-tolerant plants along the length of the route. For example, the common reed Phragmites australis can be seen lining highway corridors for long stretches. The plant can then spread into neighbouring wildlife habitats where it out competes local biodiversity.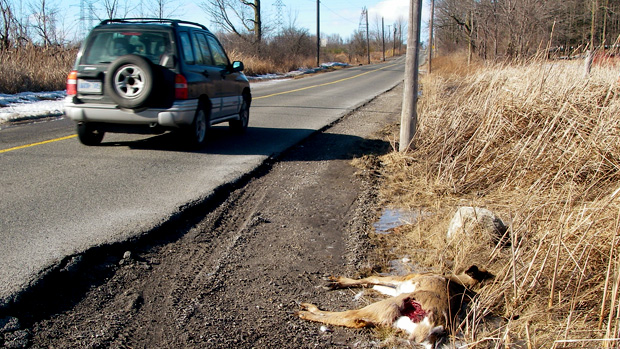 Direct Mortality
Direct mortality caused by wildlife/vehicle collisions can drastically lower local biodiversity. In addition, wildlife on the road is a hazard to humans. A collision with a large animal (e.g. moose) may be fatal for motorists and swerving to avoid small wildlife (e.g. turtle) may result in an accident. The costs (e.g. insurance, road clean up, time lost in the transport of goods and services) represent hundreds of millions of dollars annually in Canada.
Inaccessibility to Resources
Roads fragment the landscape and may prohibit animals from accessing critical resources such as food, shelter and mates.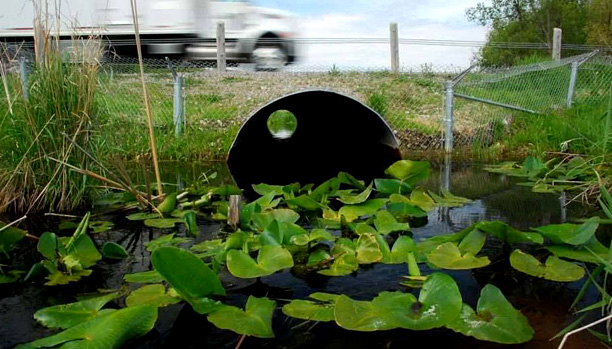 Population Subdivision
When populations are sub-divided and gene flow is reduced or ceases, populations are more vulnerable to succumbing to extreme environmental events (e.g. flooding, drought, disease, etc.).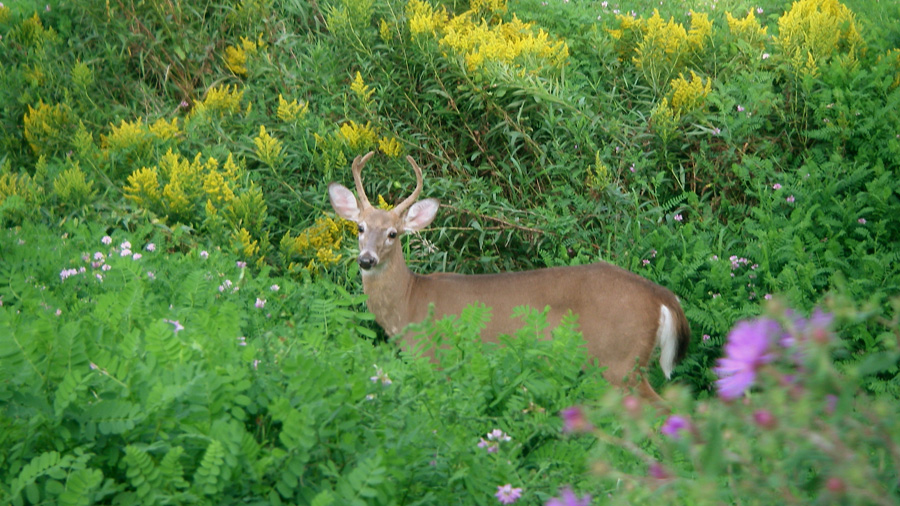 The province of Ontario and various regional and municipal governments are seeking the principles and practices of road ecology to help achieve sustainable growth objectives and contribute to province-wide Species at Risk protection and recovery efforts.
Using a multidisciplinary approach to develop a sustainability strategy is imperative. Collaboration among planning (transportation and environment), traffic and GIS departments and local ecologists from conservation authorities are necessary to identify priority sites, target species and mitigation options and opportunities. Through research, innovation, mitigation implementation and monitoring, transportation networks can function efficiently and in harmony with wildlife.
There are many mitigation options available to planners that include:
road closures
wildlife crossing signs
reduced speed limits
rumble strips
speed bumps
exclusion fencing and ecopassages
route placement (i.e. avoid fragmenting wildlife habitat and bundle modes of transportation,e.g. road and rail, to maximize available habitat)
road design elements:

curbs (designs that enable small amphibians and reptiles to climb off the road)
median permeability
road surface
line of sight (i.e. where feasible reduce hills and curves to maximize visibility)

lighting (design lighting to maximize motorist visibility, but reduce light pollution)
vegetation (customize plant species, height, proximity to road and density to help reduce wildlife/vehicle collisions of target species)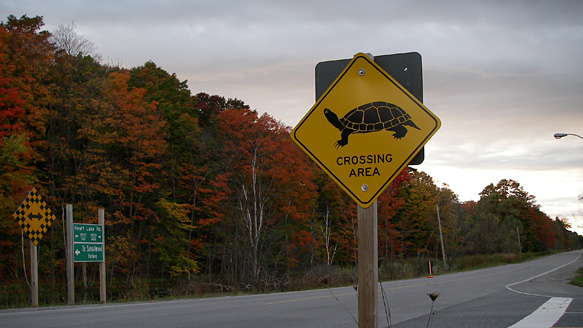 Limit driving (plan efficient routes, travel less at dawn and dusk when wildlife is on the move)
Alternate modes of transportation (walk, bike, bus, train)
Don't litter (especially food items that attract wildlife onto the road)
Comment on local road projects and inquire about road ecology strategies
Participate in litter clean ups
Pay attention and drive with extra caution through wildlife habitat (e.g. forest/wetland)
Watch for wildlife and wildlife crossing signs
Obey speed limits to increase reaction time to wildlife on the road
Move wildlife off the road IF SAFE to do so (always move turtles in the same direction they are heading)
Report wildlife/road interaction sightings to OREG – coming soon!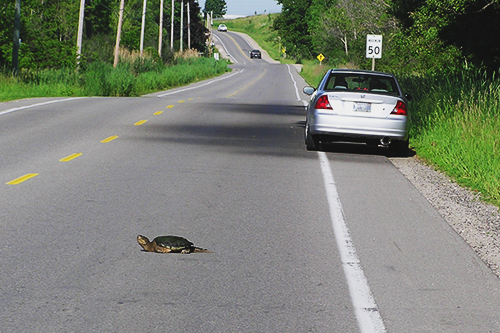 How to Move a Snapping Turtle off the Road
Ensure your safety and the safety of other motorists
Always move a turtle in the same direction it was heading
Use what you have (car mat, towel, blanket, stick, shovel) and carefully and gently carry or drag the turtle across the road
Keep the turtle low to the ground to avoid dropping and injuries
Keep clear of the head to avoid defensive behaviour (i.e. snapping)
Never lift an animal by the tail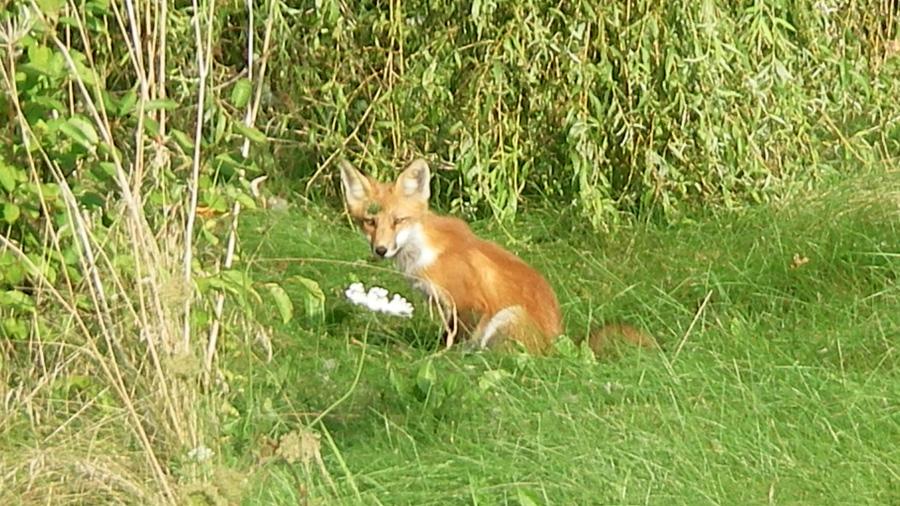 Other Wildlife and Transportation Resource Centres
Carleton University Geomatics and Landscape Ecology Research Laboratory (GLEL)
The GLEL is a joint lab between Geography and Environmental Studies, Department of Biology, and National Wildlife Research Centre. Its focus is to advance habitat modeling/mapping and species conservation science through the integration of Geomatics and Landscape Ecology sciences. Concordia
University, Department of Geography, Planning and Environment
Researching landscape ecology, road ecology, the quantification and assessment of landscape structure and landscape change, land consumption through urban sprawl, ecological modelling, environmental indicators, impact assessment, and novel concepts of problem-oriented transdisciplinary research.
Western Transportation Institute
The Road Ecology Program seeks to provide national leadership in understanding the interaction between roads, natural resources, and the environment.
Clarkson University
There is increasing concern among conservation biologists about the long-term impact of roads on reptiles and amphibian populations. This research is focused on how to predict and mitigate hotspots of road mortality on turtles and other reptiles and amphibians.
University of California, Davis Road Ecology Center
The UC Davis Road Ecology Center brings together researchers and policy makers from ecology and transportation to design sustainable transportation systems based on an understanding of the impact of roads on natural landscapes and human communities.
North Carolina State University Center for Transportation and the Environment
The Center for Transportation and the Environment (CTE) conducts research, education, and technology transfer that seek to mitigate the impacts of surface transportation on the environment.
Litzsinger Road Ecology Center
The Lizsinger Road Ecology Center is an outdoor laboratory for ecological education, research, and restoration in the heart of metropolitan St. Louis.
Ontario SPCA and Humane Society (OSPCA)
For over a century the Ontario SPCA has provided province-wide leadership on matters relating to the prevention of cruelty to animals and the promotion of animal welfare, and worked with its Communities to encourage humane and suitable animal care; call attention to unacceptable practices that harm animals; investigate cruelty complaints; carry out rescues; bring perpetrators of cruelty to court; advocate for humane laws; and provide care to all animals in need.
Charitable Organizations
Canadian Parks and Wilderness Society
CPAWS is Canada's pre-eminent, non-profit wilderness protection organization. It strives to protect natural areas and promote awareness and understanding of ecological principles.
The Ontario Greenbelt
Ontario's Greenbelt is an area of permanently protected green space, farmland, forests, communities, wetlands, and watersheds. The purpose of the Greenbelt is to protect key environmentally sensitive land and farmlands from urban development and sprawl.
Algonquin to Adirondacks Collaborative
Our mission is to restore, enhance and maintain ecological connectivity, ecosystem function and native biodiversity, while respecting sustainable human land uses, in the distinctive region of Ontario and New York State that lies between and embraces Algonquin and Adirondack Parks.
Kawartha Turtle Trauma Centre
The KTTC is located in Peterborough, ON. It is a non-profit organization that rescues, treats, and releases into the wild native turtles that have been hit on roads.
Ontario Nature
Ontario Nature protects and restores natural habitats through research, education and conservation, connecting thousands of individuals and communities with nature.
Adopt-a-Pond Wetland Conservation Programme
The Adopt-A-Pond Wetland Conservation Programme provides teachers, students and community groups with information resources and educational opportunities to conserve, restore and create wetland habitats.
Kids for Turtles Environmental Education
Kids for Turtles Environmental Education is an educational and outreach organization with chapters across Simcoe County and in Muskoka. Their goal is to promote public awareness of wildlife habitats through environmental education, focused primarily on native reptiles and amphibians.
Turtle S.H.E.L.L. Tortue
Turtle S.H.E.L.L. (Safety Habitat Education Long Life) Tortue provides medical care for native turtles, installs turtle crossing signs, and provides public education about the plight of turtles and their habitats.
Canadian Amphibian and Reptile Conservation Network (CARCNET)
In recognition of the inherent value of all native amphibians and reptiles, the Canadian Amphibian and Reptile Conservation Network (CARCNET) is devoted to conserving Canada's native species of amphibians and reptiles, and their ecological and evolutionary functions in perpetuity.
Ontario Government
Ontario Ministry of Natural Resources
The Ontario Ministry of Natural Resources (MNR) manages and protects Ontario's natural resources. The website contains information about species at risk, Ontario's Biodiversity Strategy, Ontario Parks, fish and wildlife, acts and regulations, and more.
Ontario Ministry of Transportation
This site contains information, news and policy pertaining to transportation in Ontario as well as tips on how to avoid a collision with wildlife.
Environmental Registry
The Environmental Registry allows you to participate in decisions that affect the environment. It contains public notices on environmental proposals made by the Ontario government, and allows you to provide comments on these matters.
Ontario Laws
e-laws is an online database of Ontario's laws, statues and regulations.
The Committee on the Status of Endangered Wildlife in Canada (COSEWIC)
COSEWIC is a committee of experts that assesses and designates the national status of wild Canadian species that are suspected of being at risk of extinction or extirpation.
Games
Guides and Books
Road Ecology: Science and Solutions
Forman R.T.T. et al. 2003.
Island Press, Washington, D.C. 481 pages.
A central goal of transportation is the delivery of safe and efficient services with minimal environmental impact. In practice, though, human mobility has flourished while nature has suffered. Awareness of the environmental impacts of roads is increasing, yet information remains scarce for those interested in studying, understanding, or minimizing the ecological effects of roads and vehicles.
Urban Herpetology
J. C. Mitchell, R. E. Jung Brown and B. Bartholomew (ed.)
Human impacts on herpetofauna have been pervasive for millennia largely through direct persecution of amphibians and reptiles for food or out of fear and through habitat alteration through agriculture. Only since the start of the industrial age has urbanization caused essentially permanent loss of natural habitats and the subsequent impacts on these animals. Herpetologists in some parts of the world, notably Europe, Russia, Australia, and the United States have actively engaged in research to elucidate the impacts of this human-generated phenomenon. Yet, the pervasiveness and rate of urban sprawl is progressing at such a rapid pace that we have been unable to ameliorate or prevent population extirpations and species declines. This, we believe, is partly a consequence of the lack of recognition of urban herpetology as a fruitful and critical endeavor. Our aim in this book is to show that studies of amphibians and reptiles in urban systems have much to offer scientists, conservation biologists, and land managers. We asked colleagues from countries around the world to submit original research papers or reviews on a wide variety of topics related to urban herpetology to illustrate this perception. The resulting 40 chapters and 13 case studies in this book will, we hope, set the stage for future research and conservation efforts around the world.
Montreal at the Crossroads: Superhighways, the Turcot & the Environment
P. Gauthier, J. Jaeger and J. Prince
City residents the world over are questioning how best to deal with aging infrastructure built for the automobile, during the cheap fuel era. Montreal is no exception. This volume brings together a range of viewpoints that enriches the discussion.
Children's Literature
Never Give Up by Jan Everett
This book is about little Johnny helping turtles cross a dangerous road. The book is based on the true story of her husband John's efforts to rescue turtles crossing the Long Point Causeway, once rated the fourth deadliest road for turtles in North America.
Turtle Crossing by Rick Chrustowski
This story follows the growth and development of a painted box turtle from her birth in an underground nest to her journey to a pond, till she crosses the road to build her own nest and then crosses back to the pond. Along the way, readers learn about the dangers she faces, how she spends the winter, and mating. The illustrations, done with colored pencil over watercolor washes, with lots of watery blues and greens, give readers a close-up view of turtle behavior. A solid source for reports and general interest. —Hope Marie Cook, Eastern Connecticut State University, Willimantic
Toad's Road Code by Leyland Perree
When Toad goes to visit his cousin, he decides to take him a delicious cake to share for tea. But how will he get across that very busy road? What he needs is a toad road code!