New Acquisitions: Screening Process
Posted: July 26, 2016 - 08:00 , by
ROM
Ever wonder what the process is whenever the ROM gets a new acquisitions? Well wonder no more! Here is the general process of how the ROM screens new acquisitions.
The acquisition procedure typically begins with an email, letter, or phone call from someone wanting to make a donation to the ROM's collection.
Curatorial staff will then make contact, requesting photos of the object as well as further information, such as condition, size, and history.
The object is then examined in person, either at the ROM's holding room or during a home visit.
If the curator approves the donation, based largely on the quality and condition of the object and whether it fills any gaps within the existing collection, the donor either hands the item over to the ROM as a straight donation or asks for a tax appraisal to be completed first. For objects that are considered cultural property, two appraisals are required.
Once a donation has been accepted, it is brought to the intake room, where it's examined for possible infestations. Organic material must be frozen regardless of any findings.
The object is then taken to the collection room where, cataloguing can begin.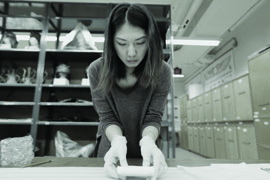 The process is a painstaking, careful one that takes time. But, it's the best way to ensure new objects are authentic and can be properly stored, preserving their stories for years to come.
Originally published in the Summer 2016 issue of the ROM Magazine.