New Acquisition: Late Triassic Araucarian Conifer
Posted: July 22, 2013 - 12:00 , by
ROM
Last week the museum recieved our newly acquired Late Triassic Araucarian Conifer, purchased with the generous support of the Louise Hawley Stone Charitable Trust - Acquisitions Fund.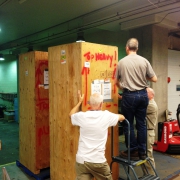 This vertically-sectioned, polished fossil tree trunk stands nearly 2 metres in height and it over one-half metre in diameter. It displays the brilliant red-orange hues that typify pervasively silicified araucarian conifer wood from the Late Triassic (about 225 million-years-old) Chinle Formation of Arizona. The specimen also retains textures of the outer bark surface, and patches of adhering conglomeratic sediment. The best-known examples of such logs are protected within the boundaries of Petrified Forest National Park - this specimen was legally collected from private lands. The excavation took place on Milky Ranch in the Chinle Formation, Arizona.
The specimen arrived on our loading dock in two massive crates. ROM Palaeontology Technicians Peter Fenton, Brian Iwama and Curator David Rudkin were excited to examine the tree to ensure it travelled safely from Arizona.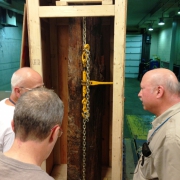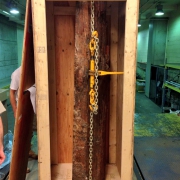 After new acquisitions are given an initial inspection they are taken to the intake room where they are given a thorough examination by our Conservation team. Next they are taken either to the freezer for two weeks to ensure any pests are eradicated. In this case when the specimen will not fit in the freezer they are wrapped in plastic to isolate the crate materials to prevent anything live from escaping until we can figure out how to dispose of them while still ensuring the stability of the specimens.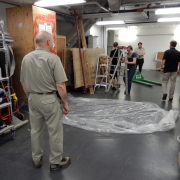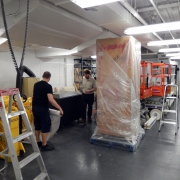 We're planning to display the pair of polished halves in the Triassic section of the James and Louise Temerty Galleries of the Age of Dinosaurs and will let you know when it goes on display!