National Volunteer Week 2017 | Volunteer Spotlight: Anna Chryrsky-Harapa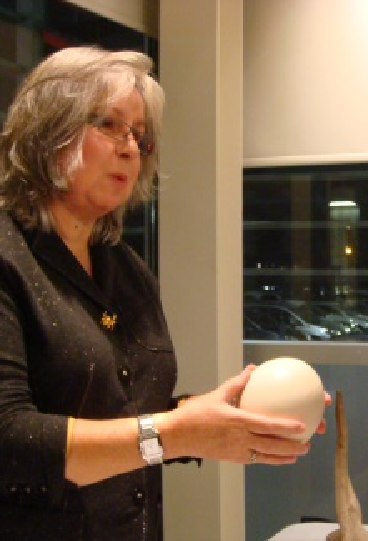 Anna Chryrsky-Harapa is the Co-Chair of the Outreach Committee at the Department of Museum Volunteers.
What inspired you to volunteer at the ROM?
The ROM has always played a strong role in my family's life. The "museum" (at that time the ROM was the only museum of note in Toronto) was my first field trip in high school. And for an inner-city kid, this left an indelible mark. My children both attended ROM Saturday morning classes for many years, so the ROM was ingrained in our weekly schedule. As well, my parents, who immigrated to Canada after the war, instilled in us, by example, a firm belief that we all have a duty to give back to our community.
After retirement, I looked for a volunteering activity that would protect my brain cells from atrophy. Political campaigns had always fascinated me so I worked on Jane Pitfield's mayoralty race: insightful but short-lived. I tried volunteering at TIFF: an intense involvement in a very limited time period only once a year and then nothing.
A close friend suggested the ROM and as soon as I attended the intake meeting I knew that this was what I had been looking for. The limitless opportunities to learn, the ability to set my own schedule for involvement, the endless stream of varied activities and the old tug of "you've come home" were powerfully convincing.
Tell us about your role at the ROM.
Currently, I am a member and Co-Chair of the Outreach Committee. I also do some Gallery Interpreter work whenever I can. Both roles, at their core, carry the responsibility of acquainting or re-acquainting an audience with the mysteries of the ROM.
The Outreach committee has, as its mandate, the role of taking the ROM experience outside of the museum walls to groups unable to get to the ROM i.e. Retirement homes, Sick Kids Hospital, Ronald McDonald House and children's libraries. We've also expanded our reach to include professional associations as well as adult libraries.
For Children's programs, we take museum artifacts and crafts onsite and engage our audience in activities related to these ROM artifacts. Adult programs typically contain a presentation, with images and artifacts, based on a variety of topics, which could include even current ROM blockbusters.
As Co-Chair of the Outreach Committee it is my role to insure that our team consistently and correctly represents the ROM, both through the content and manner in which we engage our audience.
What do you love best about volunteering here?
I like the (previously stated) endless opportunities to learn, the ability to set my own schedule for involvement and the limitless stream of varied activities offered to me as a ROM volunteer.
But what I love best about volunteering at the ROM are the unexpected soft benefits. I love the many friendships forged out of simple activities such as learning a new exhibit . I love the fun we have working hard to reach a goal, e.g. finish a new script presentation for the team to use. And I love knowing in my heart that, like my parents, I am setting an example which hopefully my children will follow.
Can you share a favourite memory of volunteering here?
I attended the first ROM Friday Night Live (FNL) with some friends. We noticed a young girl in a very dressy short white evening dress walking around holding a bouquet. After summoning enough courage, we asked her if she had just been married that day. To our surprise she said "Yes. And I brought my entire wedding party to FNL to celebrate!" What an innovative way to mark your wedding day. And what a memory.
Apart from your volunteer work at the ROM, what do you like doing in your spare time?
Read. See movies at the movie theatre. Read. Entertain family & friends. Read. Travel. Read. Visit the AGO. And finally, I like to read myself to sleep after working at or visiting the ROM.