Museum Monday with Melissa - May 4, 2015
Posted: May 4, 2015 - 09:56 , by
royal
Categories:
None | Comments () |
Comment
I'm quite excited for this week, as the theme will be Cinco de Mayo! So many incredible curated experiences featuring Mexico. This week's ROMSpeaks will be held on May 5th 2015. It will include guest curator Chloë Sayer, of the new textiles exhibit ¡Viva México!, from May 9, 2015 to May 23, 2016. Adults will enjoy hearing the stories of the beautiful clothing and Day of the Dead costumes from Mexico over the last 10 years.
The Cinco de Mayo theme at this week's #FNLROM will bring for a lot of great Mexican music and cuisine. Young professionals will enjoy chocolate making demonstrations, european coffee bar & teck lounge. Food will include Gushi Chicken and Le Dolci macarons.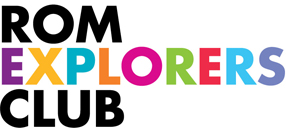 Families can enjoy the ROM Explorer Club Event: Uncovering Pompeii. With the exhibit opening June 13th, it is a great treat. Children and their families can learn more about the city that was taken over by Mount Vesuvius. A great experience for families to get excited about the upcoming exhibit.
May your week be full of fun & adventure,
Melissa Doyle
@star_chronicles