Montréal Botanical Garden hosts the 50th Anniversary meeting of the Canadian Botanical Association
Posted: June 23, 2014 - 10:29 , by
royal
Deb Metsger and I are on the train coming back from Montréal where we attended the 50th Anniversary meeting of the Canadian Botanical Association. Deb gave a presentation there on her experience at the ROM with citizen science, using as examples the recent Humber River watershed BioBlitz, and her involvement with volunteers from the City of Kawartha Lakes who are documenting the flora (i.e. all the different plant species growing in) the former Victoria County with the help of ROM Green Plant herbarium staff. My presentation (co-authored with colleagues in British Columbia and Alberta, Duke University, and the Centre for Applied Genomics, Hospital for Sick Children) was a more academic version of the one I gave at the ROM Colloquium in May, on hawthorns of the Pacific Northwest as potential sources of natural health products with potential for treating symptoms of heart disease (view presentation PDF).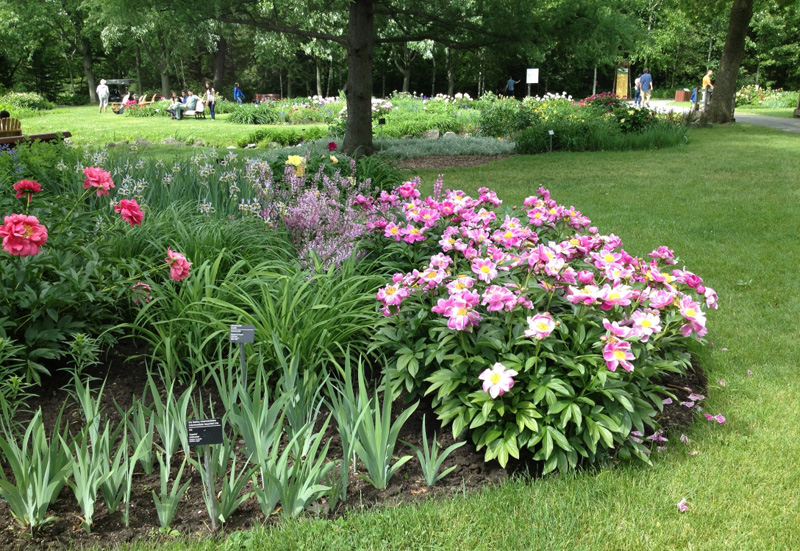 Plantings of peonies (Paeonia spp.) at the Montréal Botanical Garden.
Besides the opportunity this meeting gave us to meet botanical colleagues and friends from across Canada, the meeting had at least three high points for me. First, we heard a series of talks on the history of different aspects of Botany in Canada. These talks repeatedly emphasized the roles that systematic collections have played, continue to play, and will play in the future. Several of the important Canadian botanists of the past are represented in the ROM Green Plant herbarium by specimens that they collected (e.g. John Macoun, Brother Marie-Victorin, Alf Erling Porsild). Second, there was a series of talks and discussions centered on specimen digitization and new developments in deploying specimen data online by means of Canadensys network, and by means of tools like ScratchPads (e.g the Arctic Flora website) . Finally, the meeting was an opportunity to meet with colleagues from the lab of Prof. Chris Campbell at the University of Maine. Campbell and his students study the taxonomically challenging genus Amelanchier (Saskatoons, shadbushes). This genus provides the same problems seen in hawthorns (Crataegus): asexual reproduction, hybridization, and polyploidy. Getting together in Montréal gave Campbell's students a chance to discuss data analyses and to try out ideas on how to present their results not only to other scientists but also to the wider public who will use their taxonomy in, for example, biodiversity assessment, conservation, and land use planning.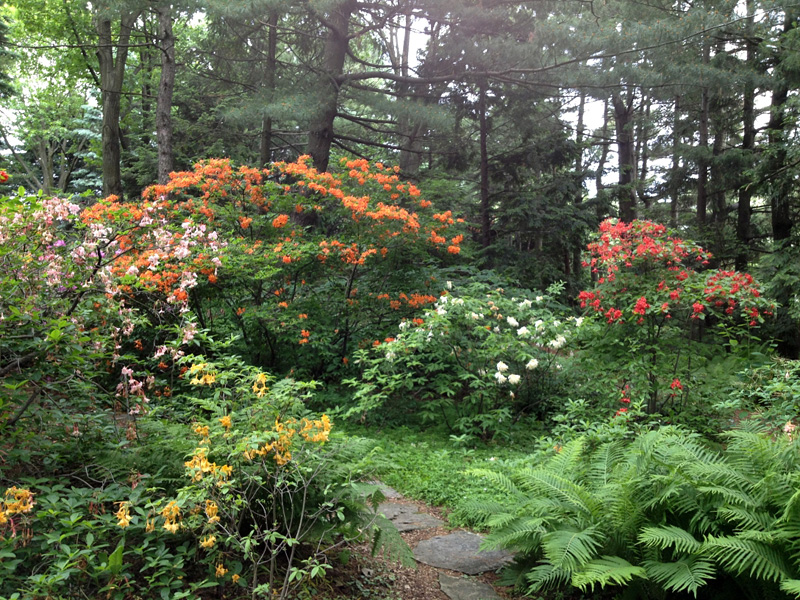 A planting of azaleas (Rhododendron spp.) at the Montréal Botanical Garden.
On top of all this, the meeting was held at the Montréal Botanical Garden, a national treasure where plantings at the height of their bloom are matched by greenhouses with a world-wide collection of all different kinds of plants plants AND the botanical research institute where the Canadensys network is based.
---
All photos © T. A. Dickinson 2014; taken with an iPhone 4S and resized and cropped using
Toyviewer by T. Ogihara