Posted: October 15, 2015 - 14:08 , by
ROM
Categories:
None | Comments () |
Comment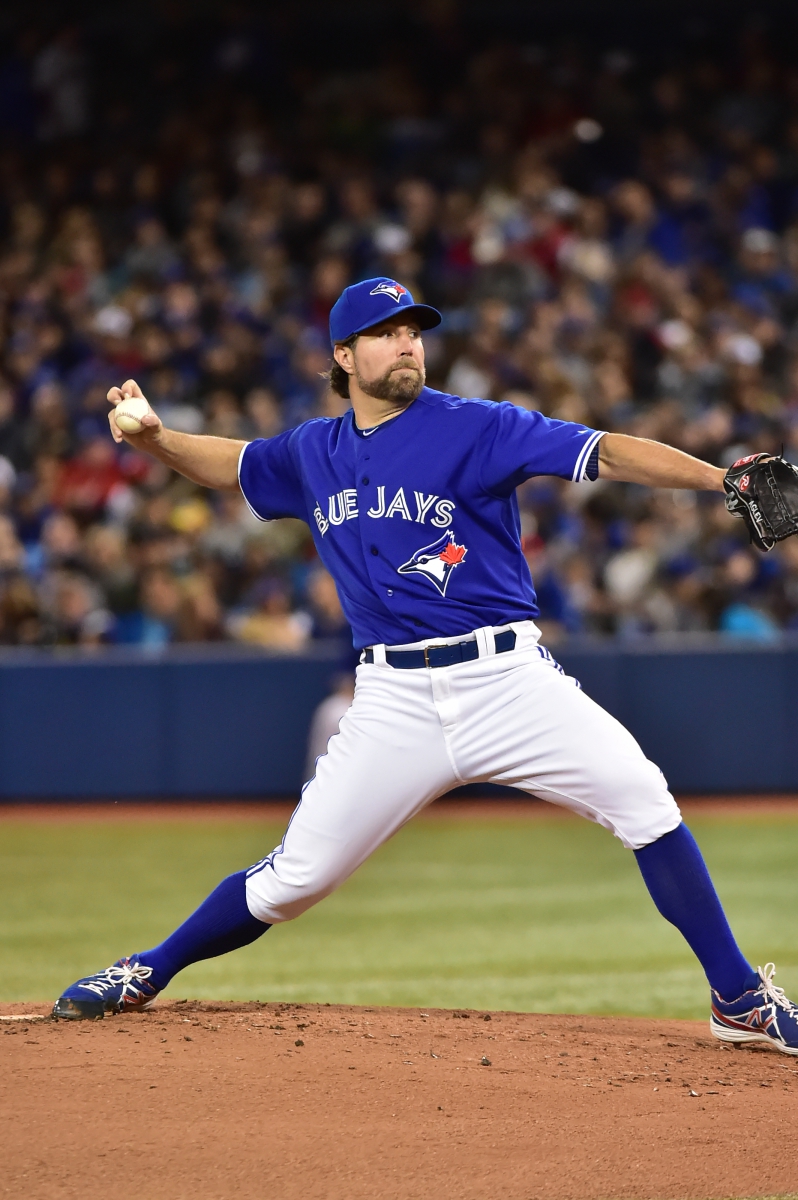 Photo courtesy of Chuck Kochman 2014.
Toronto Blue Jays' R.A. Dickey talks about his love for the ROM
There's a lot to like about Toronto Blue Jay's pitcher R.A. Dickey, and as it turns out, the feeling seems to be mutual!
Rumour had it that Toronto Blue Jay's starting pitcher R.A. Dickey and his family were fans of the ROM. So we sat down with the knuckle-baller to get to get to the bottom of what R.A. and his family love about the ROM
ROM: What inspired your first visit to the ROM?
R.A: I think curiosity. Having been to other museums, I was excited to get to see a new one that offered different exhibits. I had heard great things about the ROM prior to coming to Toronto and wanted to check it out myself.
ROM: If you could take home any one object from the ROM's collections what would it be?
R.A.: An authentic dinosaur bone—a carnivorous jawbone, preferably with large teeth.
ROM: What's your favourite place at the ROM?
R.A.: The Egyptian gallery is probably the most fascinating to me.
ROM: What do your kids like most about the ROM?
R.A.: The Patrick and Barbara Keenan Family Gallery of Hands-on Biodiversity and the dinosaur exhibit are their favourites.
ROM: When in Toronto, what other places do you like to visit?
R.A.: I love the symphony at Roy Thomson Hall, and to walk down King and Queen Street.
ROM: Other than the ROM, do you have a favourite museum?
R.A.: One is the Chicago Institute of Art, and the other is the Smithsonian Institute.
ROM: If there was a baseball museum in Toronto, what would be the top three pieces that you'd like to have included?
R.A.: Both World Series trophies (1992, 1993), obviously—and an original seat from Exhibition Stadium.
ROM: What is the best part about playing for the Blue Jays?
R.A.: The best part about playing here in Toronto is exposing my family to the many different cultures that the city has to offer.
ROM: Who was your hero growing up?
R.A.: Either Nolan Ryan or Larry Bird.
ROM: Are you going to write another book?
R.A.: Yes—I have another children's book coming out in the spring!
ROM: What's the one thing you would share with someone who has never been to the ROM?
R.A: Block off a lot of time so that you don't feel rushed. There are so many magnificent things to take in.
ROM: What excites you most about the ROM this year?
R.A: It is exciting that the exhibits are ever-changing, and that drives me to visit more often.