LGBT Japan: Past, Present, Future
Posted: June 20, 2016 - 13:05 , by
Diana Lu
Categories:
None | Comments () |
Comment
As Toronto Pride rolls in with the same flamboyance as the summer heat, A Third Gender: Beautiful Youths in Japanese Prints is worth checking out - it's current; it's relevant and it's air conditioned.
My name is Josiah Ariyama, and I am an intern working for Asato Ikeda, the curator of the A Third Gender exhibition. I originally grew up between Newfoundland and Nova Scotia, and never dreamed that at just sixteen years old, I'd be spending a year in Japan as a youth ambassador. This would prove to be the most formative time in my life, as I was not only thin, pimply and insecure, but also coming to terms with my sexuality as a gay man.
In just a short, closeted year, my acne had cleared up, I found myself through sports and fashion and I returned to rural Canada more confident than ever to reclaim my Pride. I became a voice for my community by establishing a "GSA", or "gay straight alliance", the first of its kind in my county. Reception was overwhelmingly positive. Gay students and dozens of allies began to come forward, they were welcomed openly to sports teams, and same-sex couples were welcome at the school dance.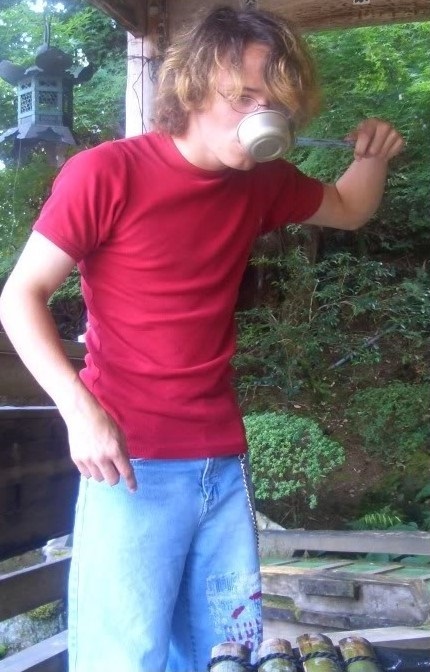 Maybe there really was some power in that water?

Nearing the end of my homestay, I was a totally different person.
Years later, during my time at Carleton University pursuing a degree in Art History, I continued my work in grassroots community involvement. I drafted legislation canonizing the Trans Day of Remembrance in the student union's official calendar, helped build discourse between the LGBT community and the Ottawa Police, maintained a service center and safe-space while also creating a number of events ranging from discussions and workshops to party busses, pride weeks... and I even produced free yoga with a hot, soft-spoken instructor, but that one didn't go as well.
Finishing up my degree, I had taken the hardest Japanese history course, and every Asian Art course available. Even when the class wasn't about Japan, I made it about Japan. In fourth-year seminars about european modernity, I took the discussion to Japonisme. In a class on the history of warfare in the middle-east, I used Japanese woodblock prints to talk about glorification of the military in popular culture. My studies helped me greatly for when I would finally return to Japan as a teacher, so that I could understand my place in Japanese society as a gay man. A society that quickly condemned gender and sexual diversity after encroachment of Victorian social values in the late 19th and early 20th century, and has yet to join the many other developed nations in changing their legal framework to recognize, protect or support LGBT people.
In a nutshell, Japan has an ad hoc approach to government at all levels. That is to say, rules are created because rules need to be created so that rules can be bent. The infamous "Article 9" from the 1947 Japanese constitution which prohibits assembling a military at an institutional level has never actually been followed. They have gotten around the constitution by calling their military something else, and so far allowing America to station strategic resources to appease concerns about international security. It is this ad hoc approach to government that places the LGBT community there in a zone the Western psyche may find hard to understand. There is a social acceptance of a Don't Ask, Don't Tell mentality where queer people exist in suppression, albeit without oppression on the proviso there is no aggressive mobilization of a queer liberation movement. However, in recent years shots have been fired on both sides, and the situation has began to escalate.
While it may be easy to criticize Japan dragging its feet on recognition of gender and sexual diversity, one must also consider that there are many A-list, queer entertainers headlining primetime TV, worshiped like sex symbols or revered for their sage-like frankness. Sometimes the line between being laughed with vs. being laughed at becomes blurry, but remaining objective, it's fascinating how cross-dressing, "boys love", and "onee" (highly effeminate gay men and trans-women) have a strong presence in multi-billion dollar industries without gaining societal acknowledgement.
Despite recent efforts to appear queer friendly, protection from hate crimes and hate speech, the chance to adopt children, the guarantee of sitting by your partner's side in case of dire medical emergency are not yet, nor will become legal anytime soon. 2015 saw two wards in Tokyo (Shibuya, and Setagaya) gearing up to offer a "proof of relationship" certificate. This is very much in line with the ad hoc mentality of government, in that it has absolutely no legal power whatsoever, but there is a community consensus that they will be honored, while giving the slightest of nods to acknowledgement of second-class status for LGBT persons. It is in this political climate I met my husband.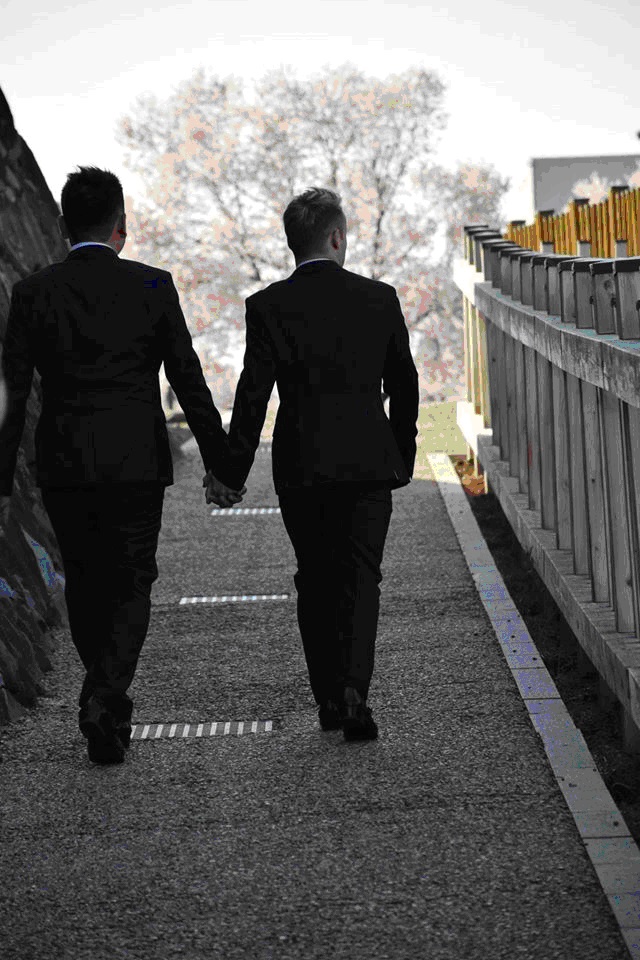 Hand-in-hand under the cherry blossoms, on the way to our reception. Even with all of my life's experience, I was still embarrassed by all the people staring at us.
I had what friends and family joked as a "fake wedding" in Japan, with all the pomp and circumstance you'd expect. It was the happiest day of my life, and yet my legal status had not changed in any way. We still get turned away from some hotels. For the basic recognition I needed, I still had to move back and pay a couple hundred bucks at City Hall for my relationship to be understood as equal under the law.
"Gay Pride" may seem to many like a sojourn into debauchery, and at times it can be, but it is also about inserting queer narratives into our shared history. Through understanding of gender and sexuality structures from myriad cultures, times and geographical locations, we are better able to conceptualize the present.
A Third Gender: Beautiful Youths in Japanese Prints will run at the ROM until late November, 2016. Consider viewing the gallery during Colour ROM Proud, a Pride-themed party, June 24th.