Posted: July 17, 2013 - 11:58 , by
ROM
Textiles from the collection are frequent visitors to the photo studio. They come in all forms: big or small, mounted or flat, modern or ancient, fragrements or complete costumes - you get the picture. Anything from our vast textile collection could be brought to the studio for photography. The reasons for photography range from publication to advertising to research display.
Every textile brings with it the need for a specific type of lighting. Umbrellas, soft boxes, spot lights and reflectors are all used to bring out the details, texture, shape and "feeling" of each textile. Colour accuracy is very important. Lighting some pieces can be a huge challenge. Brocaded silk pieces provide such a challenge. recently, a chasuble was brought to the studio. Its description reads as follows:
ROM970.91.2
Chasuble of Bizarre Silk
Silk damask brocaded in gold filé and frisé
France, Baroque, circa 1710
This quintessential Baroque textile has opulent gold motifs on a richly coloured ground. Two types of metal thread produce a relief effect heightened by the damask sub-pattern. Exotic flowers and fruit on fanciful leaves are asymmetrically arranged in a rolling, tossing composition typical of the Baroque.
Because these pieces are difficult to light, we decided to do a number of shots, showing what does and what does not work. In some cases, moving the lights just a bit resulted in totally different images. When we look at historical textiles, it helps to view them today in the same type or direction of light which they were worn in. For example ball gowns and liturgical garments would be created to be seen lit with candlabra. The light from above would show the amazing craftsmanship that went into each piece. With every bit of movement by the wearer, the piece would come alive, the angles and twists of the threads reflecting light in infinite ways.
Here are four images which show the detail of the gold filé (a smooth thread composed of a strip of metal wound around a silk core), gold frisé (a crinkled thread composed of a strip of metal wound around a supertwisted silk core), and damask sub-patterning. The only difference between the images is the position of the lights.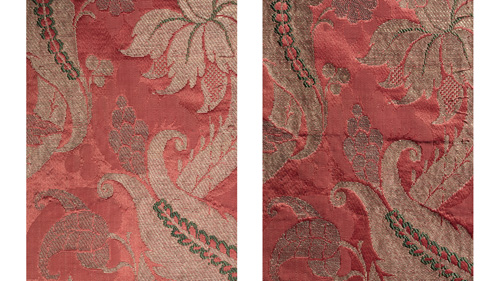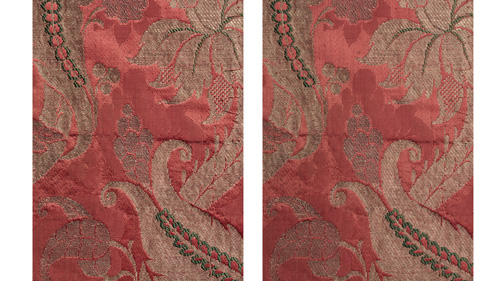 The image at the beginning of this blog combines the best of the details as seen in the previous four images.