The Lego Sphinx Concludes Today
Posted: October 30, 2011 - 13:20 , by
royal
Today is the last day of the LEGO Sphinx build at the ROM. There has been a lot of progress and it's been great to have seen so many of you out to see the Sphinx near completion, and to join in on the other LEGO activities on this weekend.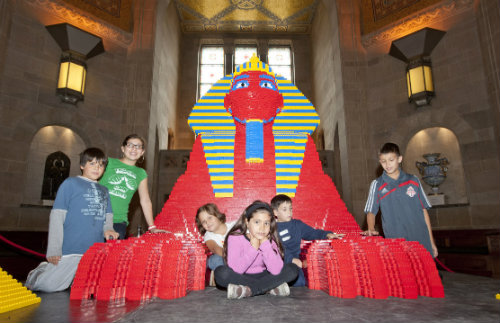 Day 3, 10am - The LEGO Sphinx is almost done
There is still a lot more to do before we place the head on at 4pm today, so come down and see it happen. And while you're here, get a FREE LEGO mini-figure while quantities last! How cool is that?
And finally, the best thing ever for your kids (or you) – LEGO Play Tables! We'll have these out from approx 11am – 4:00pm today for you and your little ones to build and create whatever can be imagined.
Again, 4pm is the target for the head mounting of the LEGO Sphinx - hope to see you today, but you can also come see the Sphinx on display until Wednesday, November 2nd.