Japanese Art Collection at the ROM
The Japanese art collection at the ROM includes approximately 10,000 objects: it is the largest collection of the kind in Canada. The largest number of Japanese items is from the Edo period (1601-1868). Among them are lacquer works, such as incense containers and writing boxes beautifully decorated with gold leaf, which would have embellished people's everyday lives. "Samurai art," such as armour, helmets, saddles, spears, and tsuba (sword guards), some of which date from before the Edo period, is also represented. The collection includes a large number of inrō (small cases that were used for carrying medicine, tobacco, and seals) and netsuke—miniature wood or ivory carvings representing animals and human figures that were attached to inrō. There is also a sizable collection of ceramics from the Edo period, including Satsuma, Arita, and Seto wares.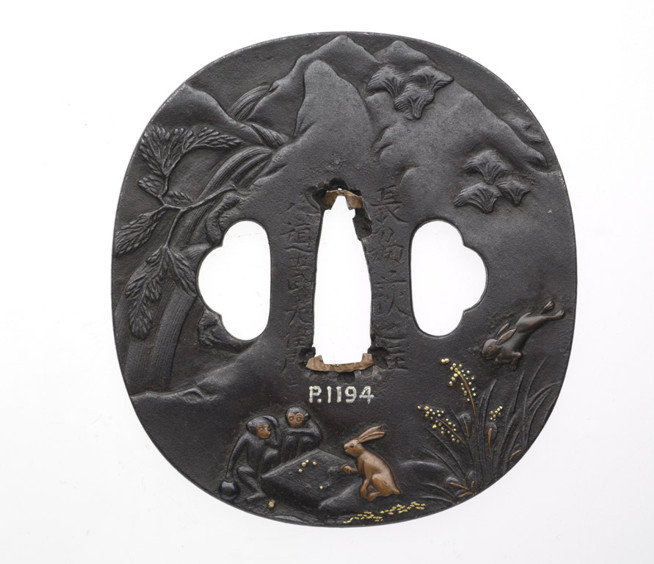 Tsuba (sword guard) with landscape, monkeys and a rabbit playing "go" and rice harvesting; Signed by Yamichi Tomonobu; Iron or steel with copper and gold inlay; Japan; Edo period; 18th century; 927.83.56; Height 8cm; Width 7.6cm; Depth 0.6cm (ROM Photography).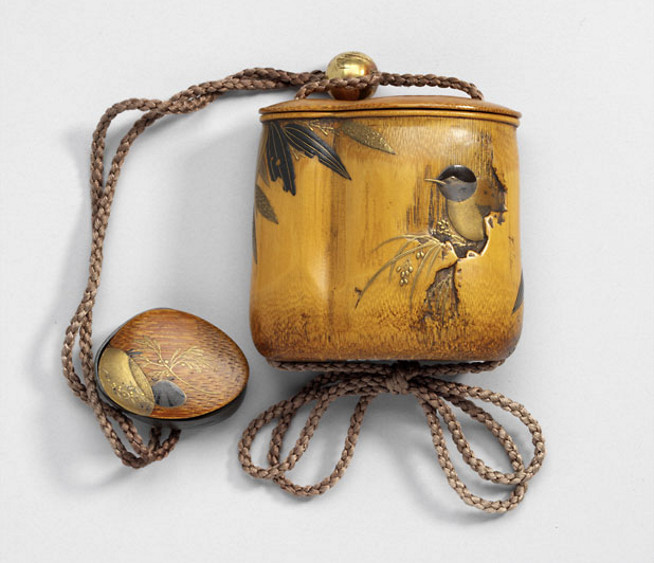 Inrō by Shibata Zeshin, ojime (bead), and netsuke (toggle) by Ikeda Sensa; Bamboo, lacquered and gilded in maki-e and kirigane techniques, with brass ojime; Japan; 19th to mid 20th century AD; 958.27; Length 5.9cm; Height 3.7cm; Width 6.2cm (ROM Photography).
Additionally, the ROM owns a highly unique collection of 200 tea utensils, which once belonged to the Mushanokōjisenke school grand master Yamagami Sōju (1873-1957). There are also paintings, approximately a hundred of them, including both hanging scrolls (kakejiku) and screens (byōbu). The Rakuchū rakugaizu byōbu from the seventeenth century, is likely the most valuable painting in the collection: the screen received conservation treatment by the National Research Institute for Cultural Properties, Tokyo, in 2006 and was displayed at the Tokyo National Museum in 2007. Other works include Buddhist paintings, a few screens attributed to Kanō school artists, and Edo-period literati ink paintings by such artists as Ike Taiga (1723-1776) and Ike Gyokuran (1727-1784), Satake Kaikai (1738-1790), and Okada Beisanjin (1744-1820).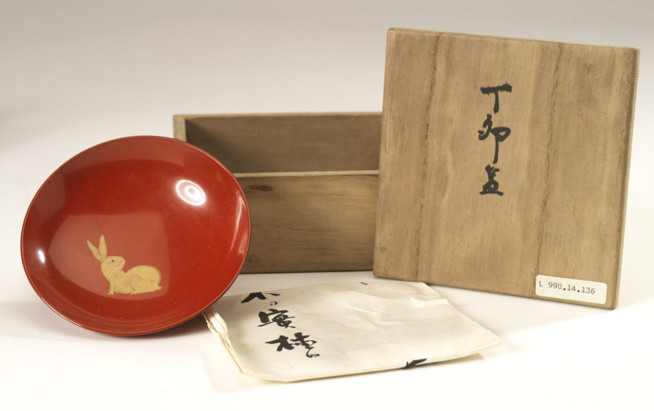 Sakazuki sake cup; Kawai Shitsusen (act. early 20th century); lacquered wood; Japan; 1927; 2011.96.17.1-.3; Height 3cm; Diameter 10cm, The Yamagami Sōju (Akio, 1873-1957) Collection: Gift of Mrs. Yamagami and the Umezawa Family (ROM Photography)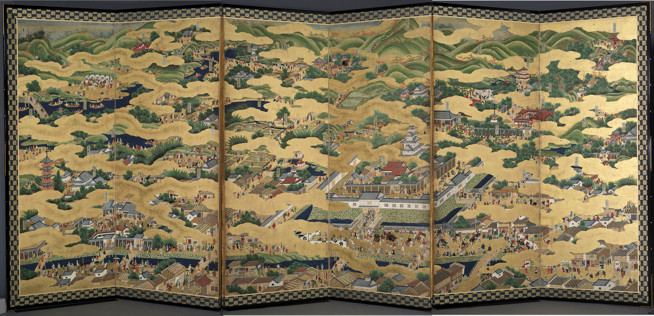 Rakuchû Rakugai Byobu (6-fold screen with views of Kyoto and its environs); Pigment and gold leaf on paper; Japan; Edo period; early 17th century; 970.75.1-2; Gift of Mrs. Percyval Tudor-Hart; Height 168cm; Width 382cm (ROM Photography).
The strongest aspect of the Japanese art collection at the ROM, however, is the selection of Japanese woodblock prints, of which the museum houses more than 2500. More than half of these belong to the collection of Sir Edmund Walker (1848-1924), who was the president of the Canadian Bank of Commerce and bequeathed his prints to the ROM in 1926. The museum's print collection is most comprehensive within the collection of Japanese art. It includes examples from the beginning of the eighteenth century to the twentieth century. Most of the prints are ukiyo-e prints ("pictures of the floating world"), which were produced during the Edo period and were central to popular visual culture. Many ukiyo-e depicted scenes from the kabuki theatre and the pleasure quarters, two main entertainment industries during this time that attracted members of the warrior and merchant classes in urban centers like Edo, Kyoto, and Osaka. The museum collection includes early ukiyo-e prints executed in black-and-white or hand-colour; mid-eighteenth century prints by Suzuki Harunobu (1725-1770) and Isoda Koryūsai (1735-1790); late eighteenth century beautiful-women prints and Kabuk actor prints; and landscape prints by Utagawa/Andō Hiroshige (1797-1858) and Katsushika Hokusai (1760-1849) which, as is well known, considerably influenced European artists such as Monet and Van Gogh.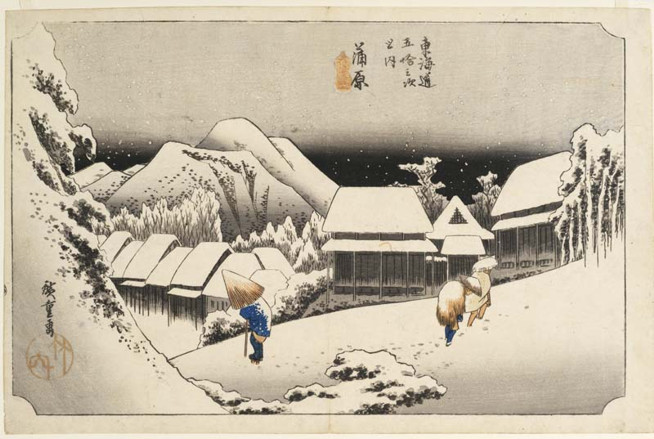 "Kanbara" from The Fifty-Three Stations of the Tokaido; Utagawa Hiroshige (1797-1858); Oban format paper, woodblock-printed; Japan; Edo period; 1833 - 1834 AD; 926.18.762; Sir Edmund Walker Collection; Length 40.7cm; Width 56cm (ROM Photography).
The ROM has recently confirmed the opening of Japanese print exhibition in 2016, which is tentatively titled A Third Gender: Beautiful Youth in Japanese Prints. It is planned to be held at the Third Floor Center Block between May and November, 2016. The exhibition will include approximately sixty prints, ten illustrated books, and ten paintings from the Edo period, and will explore issues of gender and sexuality by focusing on Japanese male youth, called wakashu. I look forward to sharing with you more about the exhibition in the coming months.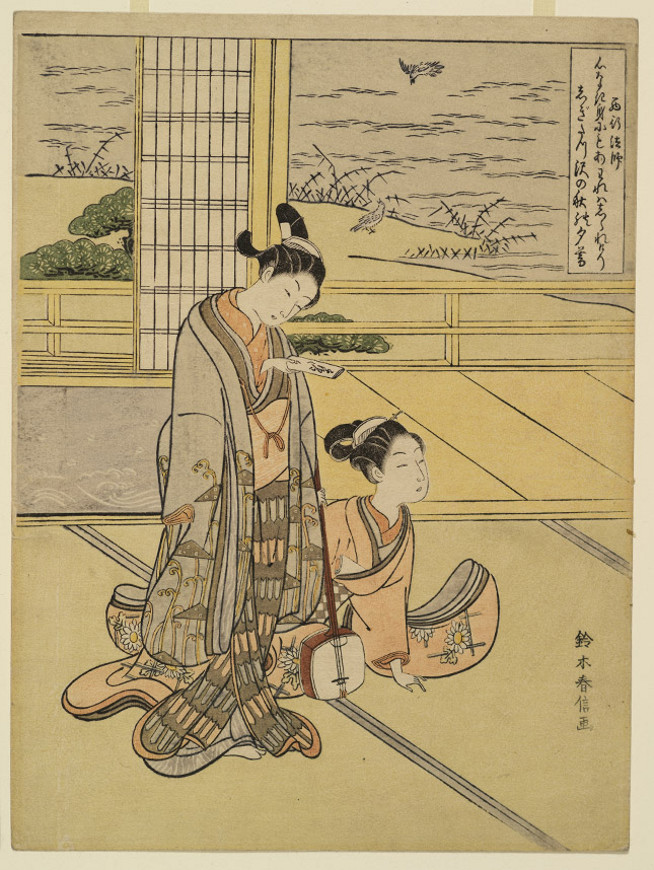 Two male figures in Mitate-e illustration to a poem by Saigyō Hōshii; Suzuki Harunobu (1724-1770); 7-colour woodblock print on paper; Japan; Edo period; 1766 - 1768; 926.18.113; Sir Edmund Walker Collection ; Height 28cm; Width 20.8cm (ROM Photography).
Asato Ikeda is a Postdoctoral Fellow of Japanese Art at the ROM and an Assistant Professor at Fordham University, New York
.