In Hot Water – the Ongoing Debate on Bottled Water Extraction in Ontario
Guest blog written by Environmental Visual Communication student Chelsie Xavier-Blower
In the quiet countryside of the county of Wellington, echoes from a clash between the local community and mega-corporation Nestlé still linger in the air. Starting in 2015, the debate over Nestlé's water extraction in Aberfoyle and Elora sparked outcry from community members and organizations that got the attention of the province (and indeed the international community). It is time to take a look at what has happened since, and what both Nestlé and anti-water bottling organizations have to say about it, for the battle is far from over.
The position for the residents of this county are clear. "I think there has got to be a way to deal with this. Water is so basic, water is so precious," says Donna McCaw from the non-profit organization Save Our Water, who along with many other groups like Wellington Water Watchers, are fighting to remove Nestlé operations from their communities. "There is so much public support for what we are doing, there has to be a way to deal with the unfair laws." says McCaw. Robert Case from the Wellington Water Watchers adds: "It's sort of making sure that we weed out those uses of water that don't do anything other than produce plastic and profits for shareholders far away to keep it focused on local needs in the long term."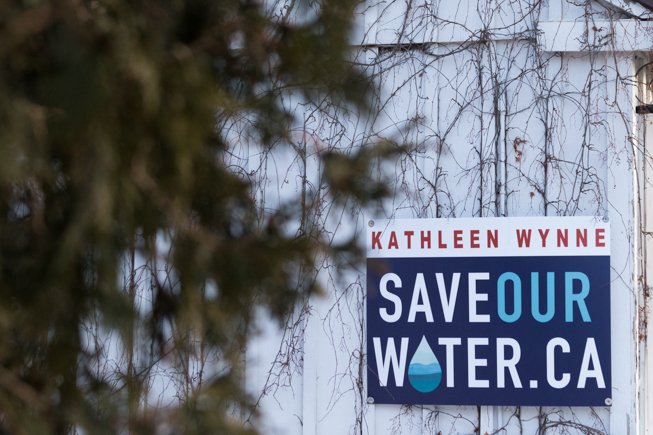 As for the other side, Nestlé strives to make sure their voices and company goals are heard and acknowledged. "We work hard to provide ongoing updates to communities in which we live and work. For us, it's just about making sure we have contacts with our local officials from the mayor to the county councilors, to the local community organizations" states Jennifer Kerr, Nestlé's Director of Corporate Affairs and Media Inquiries.
The community concerns were mostly fueled by Nestlé Waters Canada purchase of the Middlebrook Water Company well in Elora and their request for a permit renewal for their water plant in the township of Aberfoyle. Since 2015/2016, the Ministry of Ontario's Environment and Climate Change (MOECC), responsible for the overall governance of water extraction regulations in Ontario, has put new legislations into effect, an act many deem to be a direct response to the uproar raised from local communities. These amendments include the extension of public comment on applications from thirty days to sixty, a new series of technical bottling guidelines such as new drought restrictions and impact assessments, and no consideration for extraction permits for periods greater than 5 years (previously 10).
In addition to those modifications, the new legislation places a moratorium on water extraction until January 2019, meaning that water bottling companies cannot apply for a new permit, or renew their current one. However, companies can still extract the same amount of water stated on their previous permits during this time. Furthermore, and perhaps most importantly for Nestlé, is the increase in the cost of water extraction from $3.71 per million liters, to $503.71. The maximum amount water bottling companies can currently extract in Ontario is 7.6 million liters a day. This would increase their costs from $28.2 million to $3.8 billion per day – a very significant jump. For Nestlé's Aberfoyle and Erin Plant, the total they can extract a day is 4.7 million liters. The extraction from this plant alone represents an increase of $2.35 billion dollars per day, a cost sure to impact the company's bottom line.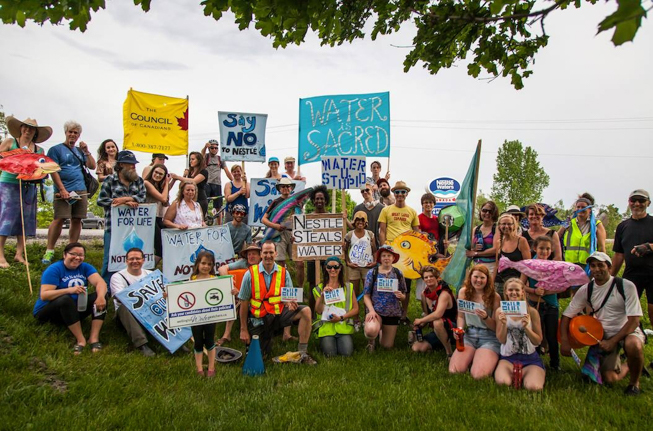 Local advocacy groups, however, aren't sure monetary increases are the answer. "You can't drink money," says McCaw, "We never were interested in talking about the pricing of water […], that's never been our particular priority because you can't make more water by dumping more money on it," adds Case. Not only did these changes grab the attention of Ontarians and Canadian news broadcast companies, they also caught the interest of international eyes such as The Guardian, Vice Media, and according to Case, journalists from the Great Lakes, U.S.A and as far as Belgium.
Nestlé, however, points out that they are not the only group who extract water: "All water users should be paying for the water they take from the ground. Only 5% of the people who have a permit to take water actually pay for the water," expressed Nestlé's Waters Natural Resource Manager, Andreanne Simard. Permit holders who do not pay for water extraction include municipalities, agricultural industries, mining companies, and golf courses. Combined with water-bottling companies, they collectively extract a total of 1.4 trillion liters of Ontario's surface and groundwater resources, every day.
"These changes came about in a response of the emotional and small organizations that were bringing the issue to the forefront. There really isn't a significant science basis for some of these changes," Simard states, referring to the MOECC changes.
"Everything we say is documented by facts and data and that's what I stand by, and that's what I want my kids to stand by and I would rather be on side with science than on public emotion."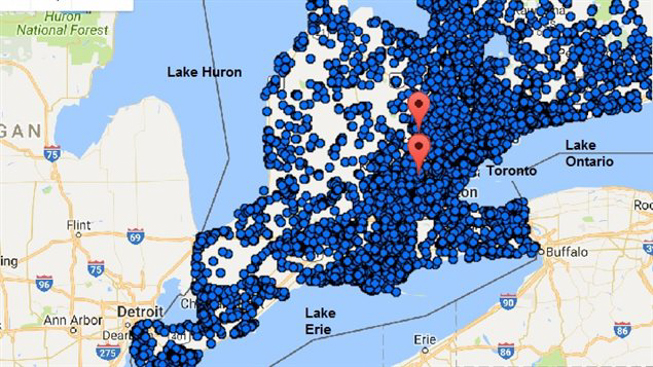 Simard proudly highlights the data collection on both groundwater resource and natural habitats and wetlands Nestlé's Aberfoyle plant has been collecting from eighty monitoring data points hourly, for the past seventeen years. Calling Nestlé the "golden standard" in managing the resource, she states: "We want to make sure that there is no declining trends of any sort due to our operations, so we track that not only on our property, but off our property. […] They [Nestlé] have natural resources managers like myself with science backgrounds that their primary responsibility is to manage the resource. If we were to see any changes to the resource, that is something our business takes very seriously and we would manage accordingly."
Simard states that all the scientific data Nestlé collects is shared with local universities, townships they are located in, local organizations, the Ministry of Natural Resources (MNR), and research groups. This same data has also been used to conduct a Tier 3 water budget study in Guelph. A Tier 3 study is an extensive study that determines present and future availability of water in a watershed. In such a study measurements are taken of the intake of water into a watershed, as well as how much is typically stored, and how much is expelled over a period of time. This information assists with regulating the water available for human uses and making sure the watershed's rivers streams and lakes are kept healthy.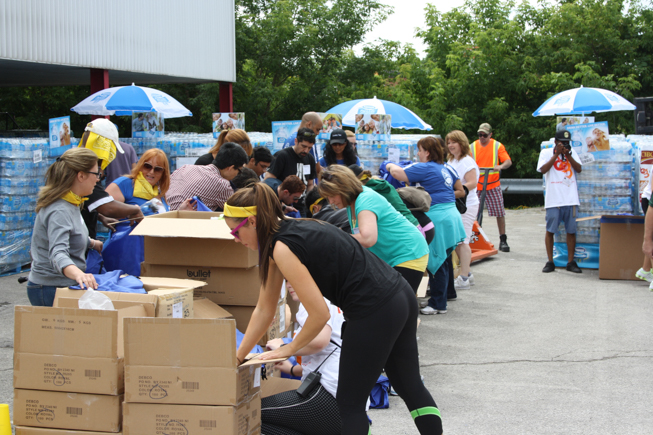 The county of Wellington is now in the process of their own Tier 3 water budget study conducted by the MNR, one that has never been done in the region before. "The problem is the study is going to take 2-3 years to do at best," says McCaw. "Guelph's took 10 years, and the moratorium is up in January 2019. We will not have the Tier 3 study done at that point. So that means we either need an extension of the moratorium, or we need some kind of legislation to deny new commercial water bottling permit." No response was received from the Ontario government after contacting them about any changes coming into effect in the near future.
Nestlé has also been known to donate large amount of funding to research groups studying groundwater in their communities, such as the $460,000 donation to University of Guelph's G360 Centre for Applied Groundwater Research. G360 largely works with private sector partners that collaborates with other research institutions to conduct studies on groundwater. Though they are funded in part by Nestlé they maintain that their research is conducted in an impartial manner and is not influenced by the interests of their donors.
Kerr also noted how on top of research funding and valuable scientific data Nestlé provides to communities, they also provide charitable donations, and water aid in times of crisis. Kerr stated that 650,000 bottles of water were donated during last years' flooding and fire crisis in BC, the only other province in Canada in which Nestlé works. Water bottles were given to hospitals, first responders, and evacuees and families in recovery. In Ontario, Nestlé contributes by providing water at local sporting events, to projects like the community benefits fund. "Over and above the employment, we do work very hard to have a real positive impact on the communities in which we operate," adds Kerr.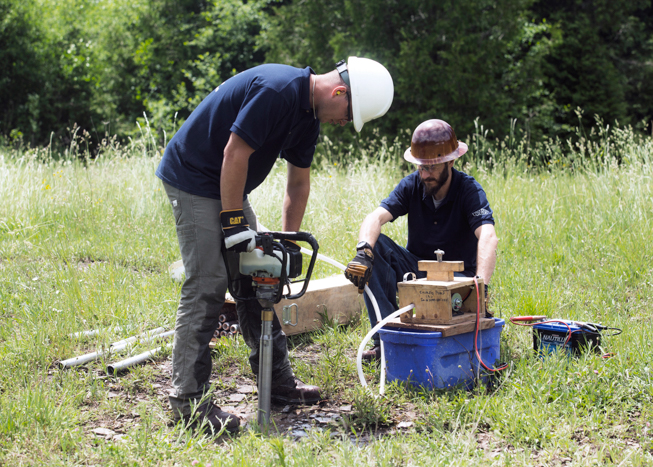 But for Save Our Water and Wellington Water Watchers, this isn't enough. "It's thinking about what comes next after climate change really kicks in, how are we going to be able to manage here in Guelph, in the little towns, around Wellington County? One way that we will do that is by making sure that our groundwater sources are properly protected and properly governed for the right priorities." says Case. Indeed, the effects of climate change have already started having an impact on water resources, as seen most recently in the looming water shortage in South Africa.
So, what's next after 2019? That remains the mystery question. Many argue that the establishment of the moratorium is a way for the government to "just not deal with it" until the next election, and essentially, it is a waiting game. "We could start a new trend, and we have the opportunity to be leaders in this domain in Ontario right now. It's an exciting moment. We need to push our government to not screw it up" says Case.