Posted: July 15, 2016 - 09:00 , by
ROM
Categories:
None | Comments () |
Comment
The Bog Copper story and the power of citizen science
Guest blog by Dave Ireland, Managing Director, Centre of Discovery in Biodiversity​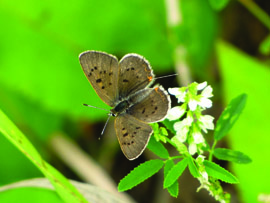 The Bog Copper butterfly is the smallest of the North American "Coppers" with a wingspan of up to 2.2 cm, making them tough to spot. They are found in very specific habitats too: acidic bogs where cranberry bushes—the exclusive food plants for their caterpillars—grow. The Bog Coppers' range extends across northeastern North America, from extreme eastern Manitoba to Newfoundland and south to Indiana and Virginia. This butterfly is "uncommon" in Ontario but is even rarer in other parts of its range, where it may be listed as "a species of conservation concern" or "threatened."
The number of records of Bog Coppers in Ontario is directly linked to the number of observers who visit bogs and are able to identify them. In remote locations, published observations may be absent, or old, depending on whether and when anyone last observed butterflies there. Surprisingly, Bog Coppers had not been recorded in Killarney Provincial Park on the shores of Georgian Bay, even though there is an ample cranberry bog habitat for them. But, in 2015, several sightings of Bog Coppers were confirmed in Killarney, through the observations of park visitors who were not experienced lepidopterists (people who study butterflies).
How was this possible?
I recently spoke to Nicole Rulff and Carly Potter, who spend a lot of time in Killarney, about their recent experience using a smartphone application called iNaturalist. Rulff and Potter happen to be interested in the power of citizen science and, after searching the web for what was available, decided to give iNaturalist a try. The app allows users to snap a picture of what they observe in nature and upload it to a global database. Most current mobile phones have built-in georeferencing information, so the location is added automatically. Users can weigh in on identification and provide any interesting notes on the observation. The information is then quickly made available to a worldwide network of experts, some of whom are notified specifically when certain species are observed. For most plants, fungi, and animals, an observation will have suggested identifications within minutes and in most cases a verified identification within a few days.
Rulff and Potter uploaded their Bog Copper observations in Killarney Provincial Park to the iNaturalist network, where they were verified by Ontario lepidopterists, adding a new butterfly to the Killarney species list and a new site to the Bog Copper distribution map.
Scientists are grappling with understanding our changing world. There is so much we don't know: For example, of the approximately 10 to 30 million species on Earth, only about 1.5 million are described. Of those described, many lack sufficient data for researchers to fully understand their status. Scientists need your help, and the power of crowdsourced information is truly an untapped resource.
Enter the BioBlitz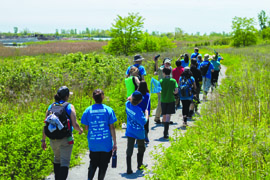 Since 2012, the ROM has been leading a large-scale citizen science initiative—the Ontario BioBlitz Program. A BioBlitz is an intensive survey of life, from insects to birds and everything in between, where scientists and non-scientists work together over a 24-hour period and document everything they see. One major limitation to successful BioBlitz events is the number of qualified taxonomic experts available to help identify what people find. In fact, a major limitation to documenting global biodiversity is the lack of trained taxonomic experts (people who can identify different groups of organisms). So in 2014 we also piloted the use of iNaturalist for the Ontario BioBlitz. Pickup was slow at first, and internet connectivity and the availability of taxonomic experts are ongoing barriers to quick identifications, but the application offered a promising new outlet. There's so much excitement around this new tool that in 2015 the ROM partnered with the Canadian Wildlife Federation to provide a specific iNaturalist application for Canadians—a subsidiary of the global network. iNaturalist Canada (www.inaturalist.ca) is available now, in both French and English, and we urge you all to join this online community and contribute your observations to further the documentation of our natural world.
Dave's own backyard discoveries!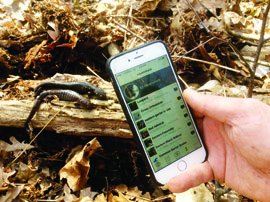 I thought for sure we had a visiting Monarch butterfly, and was proud of my wife for planting native milkweed. But after I uploaded my image to the iNat app, it was quickly confirmed as a Viceroy butterfly (and my ego was left in tatters!).
I am very interested in bees and pollinators in general, so when I saw a smallish "bumble bee" I snapped a pic and uploaded it to iNat. I'm proud of the biodiversity in my own backyard, and I was very interested in this strange-looking bee. I learned that it was not even a bee but a fly, a bee-like Robber fly species, to be exact, an animal that mimics bumble bees. Here's the feedback I received in the comments section…
" Awesome, I have been fooled by these flies before in my own backyard observations—thanks! "
" Robber flies aregood pollinators too, so be proud of your backyard! "
" I think it could be Mallaphora rather than Laphria (two genera of robber flies), but definitely a robber fly and not a bumble "
Let us know in the comments what you discovered in your backyard!
Originally published in the Summer 2016 issue of the ROM Magazine.