Forbidden City: Inside the Court of China's Emperors - Exhibition Announcement Event
On Wednesday October 9, 2013, it was announced that the exhibition The Forbidden City: Inside the Court of China's Emperors, in partnership with Beijing's Palace Museum, will open at the ROM on March 8, 2014. The legendary Forbidden City, once home to China's imperial rulers, is now the Palace Museum, and located in the heart of Beijing. The palatial city, containing about 980 buildings, is home to over 5,000 years of traditional Chinese art and artifacts. The Forbidden City, a UNESCO World Heritage site, is considered one of the world's most significant museums. To give some sense of the significance of the Forbidden City, the one-day visitor attendance to the Palace Museum was 175,000 on October 2, 2013.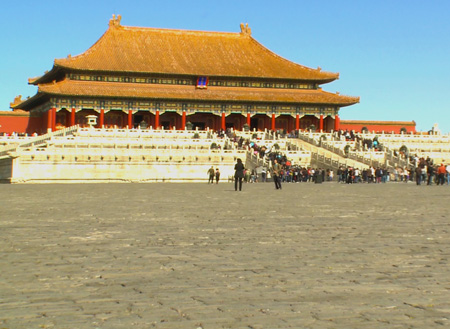 The ROM's exhibition, The Forbidden City, presented by The Robert H.N. Ho Family Foundation, will showcase approximately 250 treasures from the Palace Museum's collection of over 1.5 million objects. The exhibition will also give visitors insight into the Palace's history, including 600 years of China's rule governed from the Forbidden City as well as the tumultuous lives of the emperors, their families and those chosen few who lived their lives within the Palace walls.
The ROM, home to one of North America's finest collections of Chinese art, artifacts and architecture, held the announcement in the Gallery of Chinese Architecture in front of the Museum's recreated Chinese Palace Building. Speaking at the event were Janet Carding, ROM Director & CEO, the ROM's lead exhibition curator Dr. Chen Shen, along with Presenting Sponsor Robert H.N. Ho Family Foundation representative, Jean Miao, and Lead Sponsor Manulife Financial's Martha Hancock, each of whom spoke of the exquisite character of the artifacts, the exhibition's significance, and the extraordinary opportunity it offers Canadians to learn more about China's fascinating imperial history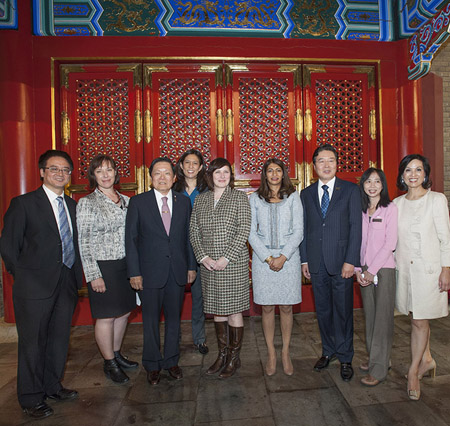 Also on hand to offer remarks were Senator Victor Oh, a member of the ROM's exhibition's Community Advisory Council, MPP Dipika Dermala who extended best wishes from Culture, Tourism & Sport Minister Michael Chan, and Mr. Fang Li, the Consul-General of the People's Republic of China. ROM exhibition co-curator Dr. Wen-chien Cheng was acknowledged, as well as co-curator Dr. Sarah Fee who was away on research activities. Judging by the success of today's event, The Forbidden City: Inside the Court of China's Emperors is certain to be a huge part of the ROM's 2014 Centennial celebrations.
Some of the news coverage highlights about the announcement are available online
Torontoist - The ROM Makes the Forbidden City Less Forbidding
Globe and Mail - Massive Treasures of the Forbidden City exhibit coming to the Royal Ontario Museum
Dushi.com - 安省皇家博物馆筹办故宫展 首展紫禁城珍品

For more about the Palace Museum in Beijing see links below:
Palace Museum website
UNESCO website
Wikipedia, the Palace Museum
City360, Forbidden City