Explorers' Club kids get a sneak peak at the newest Animal Explorer
Submitted by Courtney Murfin, Interpretive Planner and Explorers' Club Co-chair
This past Saturday, ROM members went wild at the Explorers' Club's spring event. A day of crafts, live creatures, cool ROM specimens and special programming brought Explorers closer to nature and introduced them to some new ROM programs. As a special treat, Explorers were the first to take Vara the Komodo Dragon on a scavenger hunt around the Museum! Kids had a great time introducing the newest member of the ROM's Animal Explorers program to his Museum neighbours. One little girl even brought Vara into the Earth Rangers show (she really didn't want him to miss it!).

Even though some parents were less excited than their kids to meet the live skink, cockroaches, and stick bugs at the event, they were all thrilled to explore the Museum with Vara. A special prize waited for them when they completed the hunt, as well as a bonus stamp in their passport (Explorers' Club members get to collect stamps to earn some really cool prizes!).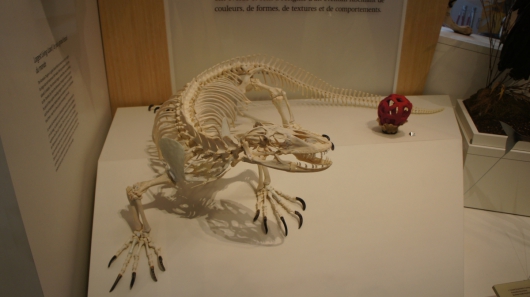 Members always have a fun at the Explorers Club events, with experiences like special shows in the ROM's inflatable StarLab, getting to meet ROM curators, and learning how to do some amazing folding with the Origami Society. This latest event was made even more special by having Vara there. Visitors can take this cuddly Komodo Dragon on their own scavenger hunt starting Sunday May 19th.