Epic Civilizations During ROM Revealed: A Volunteer's Perspective
On May 3rd and 4th, 2014, the ROM held an epic event in celebration of its centennial birthday: it invited the public behind-the-scenes into the curatorial areas and vaults. Almost all the staff and a small army of volunteers were on hand that day. Here is what happened from the view point of one volunteer, Amanjeet Chauhan.
In a single tweet [ABOVE] on Sat May 3rd, I tried to sum up my experience as a volunteer and a guest at ROM Revealed.
Of course, my day included so much more but it started with looking on in amazement at the crowds of people lined up from the ROM's main entrance on Bloor, east around the corner and stretching south along Queen's Park Crescent. What time did all of these people wake up that morning, I wondered, in order to be in line before 10 am on a Saturday? Now that's serious curiosity to see what the ROM would reveal! As the weekend unfolded, I, along with thousands of others, found out through two specially-designed, behind-the-scenes experiences: Epic Civilizations and Wild Wonders.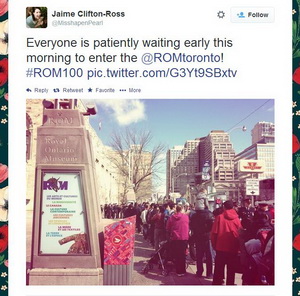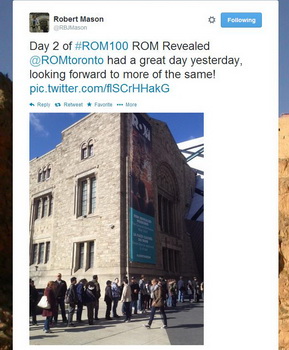 As a member of the ROM Revealed Volunteer Crew, I was stationed at the exit of Epic Civilizations. Visitors started the tour on the 4th floor, which led up to the 5th floor, ending after a round on the 6th floor. They saw artifacts lined on shelves and in drawers, spoke directly with experts, and even peeked into Curators' offices. In my red ROM Crew t-shirt, I was lucky enough to be on the receiving end of visitors' delight: "That was awesome!", "This is amazing!", and "Thank you so much for organizing this – what a treat!". I couldn't stop smiling as I thanked everyone for visiting and having such a great time. But I also had to answer their disappointing question: "Wait, is it over?!" That was when I had the pleasure of directing visitors to the many other activities: the Wild Wonders Experience, the ROM Ideas lectures, or the Hands-on Gallery Activities.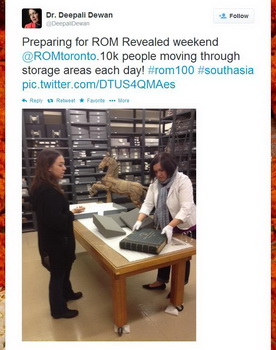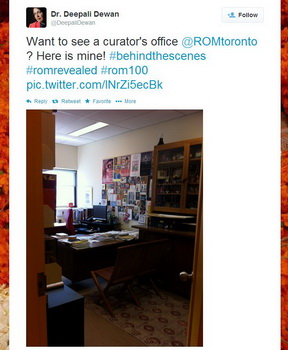 While it had been fun being a volunteer, I was excited when it was my turn to shift from volunteer to guest. And so I headed down to the 4th floor to discover the Epic Civilizations experience for myself. Several things stand out in my mind!
Artifacts gathered from around the Greater Toronto Area surprised me and reminded me that Toronto's story isn't just about the modern urban city and it's ever-expanding suburbs, but the history of the land and its peoples along Lake Ontario going back several centuries. An intriguing rock turned out to be a 250,000-year-old man-made artifact, in this case a hunk of stone that had been chipped and carved into a tool for everyday life. On another floor, there were a collection of contemporary objects from different parts of the collection. I was immediately drawn to one of ROM's youngest acquisitions: a crimson work by contemporary artist and yogi, Sohan Qadri. The painting seemed to be filled with energy, and I wanted to stare at it forever – until a crowd of people arrived. I reluctantly moved on, only to find myself at my former post, the end of the tour, softened by the smiling face of another volunteer!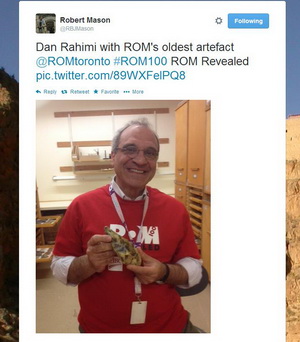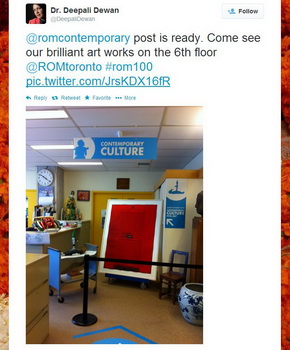 That had indeed been awesome – an epic experience – as both a volunteer and as a visitor myself. Now it was time to head back downstairs. Happy 100th birthday, ROM!