Dinosaur Weekend is finally here!
I feel like my whole life has been leading up to THIS moment.
My mom says my first love in life was dinosaurs (but don't tell my wife that). Ever since I was the littlest of kids, I've loved dinosaurs. LOVED THEM.
I wanted to be a palaeontologist for most of my life. In between visiting the ROM (always seeing the dinosaurs before anything else) and reading books about dinosaurs, I played with dinosaur action figures, watched Jurassic Park every week and lived for the idea of eventually going searching, digging, and studying dinosaurs when I grew up.
I remember meeting Robert T. Bakker and Phil Currie when I was a kid and feeling like I'd met rock stars. (Ok, forget about being a kid, when I met Dave Evans a few years back I'm pretty sure I peed my pants a bit). I remember the best vacation of my LIFE was being a seven year old in the Badlands of Drumheller Alberta, spending a week seeing actual dig sites and exploring the Royal Tyrrell Museum (a museum all about dinosaurs).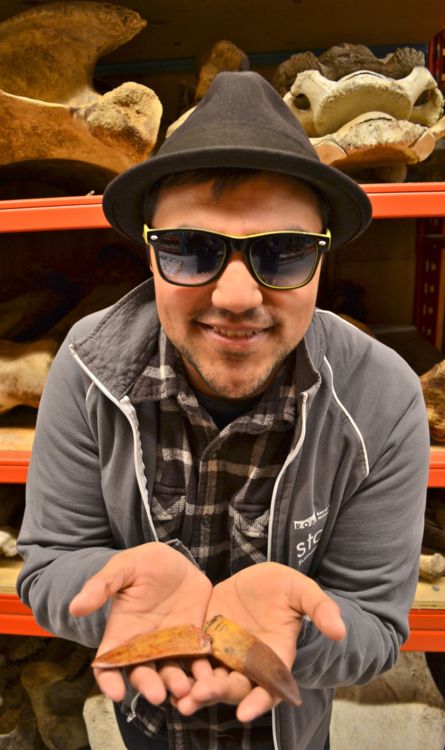 So in short, dinosaurs mean a lot to me.
As I grew up, though my passion for dinosaurs never waned, my dreams of becoming a palaeontologist quickly changed when I realized math was not one of my strong points. (Who knew palaeontologists use a lot of math!?) HOWEVER, this story has a happy ending. I realized I could infuse my love of dinosaurs in a new capacity that was even more awesome – working with kids. So, education and children's programming became my career focus.
Where I'm going with this…
Remember I said I feel like my whole life's been leading up to this moment?
I get to help organize a dinosaur-centred weekend at the very museum I was astonished by as a kid! (Holy wow – amazing stuff.) And I'm so excited that I have the opportunity to share this stuff with kids who are just like I was!
We've spent a bunch of time with the great folks in the ROM Palaeontology department to bring out some truly awe-inspiring stuff for Dinosaur Weekend:
We've got casts and real fossils for you to see and explore – some that you can even touch!
Real-life palaeontologists will greet you on the floor (#museumheroes) who will talk to you about their work and answer all your dinosaur-related questions. They will also be offering a special look at a mini fossil preparation lab – you'll be able to see how palaeontologists prepare fossils and mould and cast them for display.
We're also giving y'all a sneak peek of our upcoming Ultimate Dinosaurs exhibit. From the skeleton of an Eoraptor (the most primitive known dinosaur) to a Elosuchus skull (a Cretaceous crocodile), to what may even be the femur of a Spinosaurus, you'll see some dinosaurs, and other Mesozoic beasts, before they go on display this Summer!
Of course, we'll be brining the dinosaur dig out for all the young fossil hunters.
Super fun: we're setting up a station where you can make Hadrosaur headdresses that will ensure you won't look out of a place in a herd of duckbilled dinosaurs!
We'll even have some dinosaur foot prints out in dinosaurs where you can measure the size of your sneakers to the claws of a Carnotaurus. Toooooooo legit.
So come out! Join us! Let's talk about dinosaurs!
Upcoming Family Fun Weekends 2012 to watch for…
April 28-29: Dinosaur Weekend
May 5-6: Space Weekend
May 12-13: Ancient Egypt Weekend
May 19-21: Awesome Animals Weekend
June 9-10: Ancient Rome and Greece Weekend
Follow ROMkids on twitter and tumblr for the latest news from the studio!