Behind the Blitz: The Heart of the Data
Posted: June 1, 2016 - 22:11 , by
ROM
Guest blog by Angela Telfer, the Data Management Lead for Bio-Inventory and Collections Unit of the Biodiversity Institute of Ontario (BIO), and Database Coordinator for the Ontario BioBlitz program
During the BioBlitz, you will find me camped out at the Species Depot. I won't go out into the field, I probably won't collect a single species. The main equipment I will use will be a computer. I will be at Species Depot late into the night, and back early the next morning.
I am the Data Coordinator for the Ontario BioBlitz program! This year marks my 5th year managing the data produced through the 24 hour blitz. I digitize and compile all of the species observations that are made by dedicated volunteers like you. I receive species observations from both the Intense Biological Survey and Guided BioBlitz sessions, including those submitted through the iNaturalist app.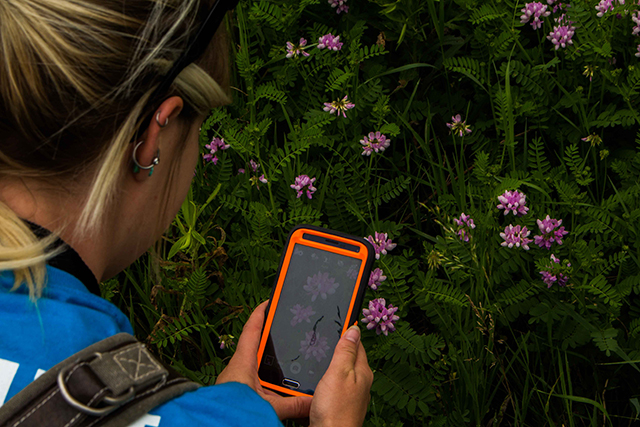 One of the goals of the Ontario BioBlitz program is to collect species occurrence data that can be used for scientific purposes. We don't finish our work with the final BioBlitz species count - we aim to share the collected data in global repositories so that any researcher, student, or citizen scientist can find and use the information for furthering their research. To provide the best data to the scientific community, I look for submitted data to answer most or all of the following:
WHO – who collected or observed the specimen? Who identified it?
WHAT – what species was it? If you don't know the scientific name, can you provide any other information, like a common name (i.e. Green Frog) or the family it belongs to (Ranidae)?
WHERE – where did you collect or observe the species? The more exact information that can be provided here, the better!
WHEN – what date did you collect it? Can you specify the time, or a general time of day (morning vs. night)?
HOW – Tell me anything else you can about the observation. Did you collect the specimen with a net? Did you identify it by a bird call or did you see it? Was it under a log? While information like this is not as vital to include, the more information you can provide, the better.
That's not asking too much, is it?! Just think of the 5 W's (and H) when handing in species observations. The WHY is to help us survey as many species as possible in the watershed!
After you collect this information, I take time to verify the identification with the current scientific literature. Sometimes names of species change, i.e. black-capped chickadees used to be known as Parus atricapillus, but now scientists agree their correct name is Poecile atricapillus. I need to know that those two names mean the same thing, so that I don't accidentally report more species than we actually found. I also check all species names to confirm they have the correct spelling.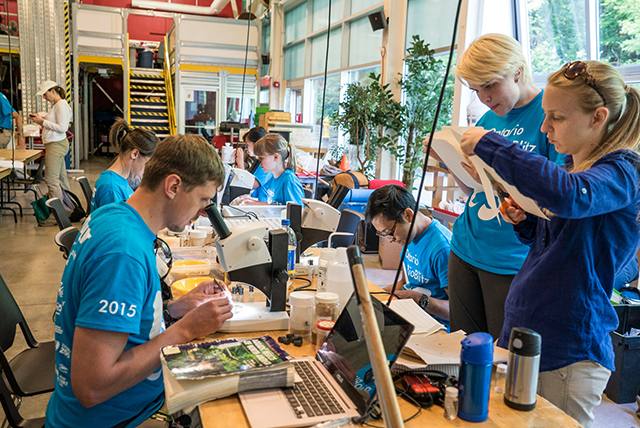 All the volunteers and citizen scientists who take part in the Ontario BioBlitz program are contributing to the scientific knowledge of the area. Our observations could be used to track changes in species distribution over time. We can spot introductions of invasive species, enabling researchers to work to stop their spread in our environment. The data could help protect the natural heritage of an area if rare species are found. So far, volunteers with the BioBlitz have recorded over 2,500 species in four Toronto watersheds. 23 of these are recognized species at risk for Ontario or Canada, and 4 were actually recorded for the first time in Canada!
I am excited for the upcoming BioBlitz on June 11 and 12, 2016. I'm sure it will be another late night entering data, but I can't wait to see how many species we can find this year. Remember my recommendations so that you can provide species observations that can be used by scientists for years to come.
The 2016 Ontario BioBlitz flagship event in the Credit Watershed takes place at Riverwood in Mississauga. Everyone is invited to come and check out our public festival - NatureFest this year to celebrate local biodiversity and citizen science, and to have some fun outdoors. Visit http://www.ontariobioblitz.ca/2016-event-information.html for more details! You can also submit your own species observations to iNaturalist at the event by contributing to our 2016 iNaturalist event project page.