Asian Carps and GLMRIS Canadian Information Session
Posted: April 3, 2014 - 09:00 , by
ROM
By Henry H.C. Choong, Departmental Associate, Invertebrate Zoology and Invertebrate Palaeontology Sections, Royal Ontario Museum
Invasive Species and the Great Lakes Basin
The Great Lakes basin ecosystem is of great importance to Canada; changes to this ecosystem can have far-reaching impacts upon people who rely on the system for transportation, trade, and recreation. For the past two hundred years, invasive species have significantly changed the Great Lakes ecosystem. An "invasive species" can be defined as a plant or animal that is non-native (or alien) to an ecosystem, and which introduction can bring about environmental, economic, and/or epidemiological consequences. It is extremely difficult to control the spread of invasive species once they are established. Ontario has thousands of rivers, lakes and streams, and therefore is extremely vulnerable to aquatic invasive species.
Invasive species can enter our inland lakes and rivers through canals, in dumped bait buckets, on boats, or in ballast water. Some species can also be introduced overland through illegal importation. Aquatic invasive species already present in Ontario include the round goby (Neogobius melanostomus) and zebra mussel (Dreissena polymorpha).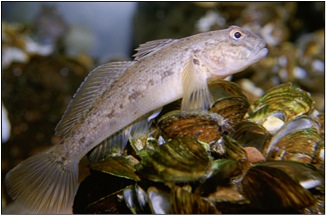 GLMRIS and Asian Carps
The Invasive Species Centre (ISC) and Great Lakes and St. Lawrence Cities Initiative hosted a Canadian information session on Asian carps and the Great Lakes and Mississippi River Interbasin Study (GLMRIS) on March 27, 2014 at the Radisson Hotel Admiral Harbourfront in Toronto. GLMRIS was authorized by the United States Congress, and conducted by the U.S. Army Corps of Engineers. The GLMRIS report, released on January 6, 2014, presents a range of options and technologies to prevent the transfer of invasive species between the Great Lakes and Mississippi River basins through aquatic pathways, and to mitigate impacts to resources with any plan implementation. The threat of unwanted species transfer between the Great Lakes and the Mississippi River basins goes both ways. This session focused on measures to prevent Asian carps from entering the Great Lakes by swimming up the Chicago Sanitary and Ship Canal (Historically the Chicago Drainage Canal), which provides a man-made link between Lake Michigan and the Mississippi River basin. Following the presentation on GLMRIS, a Canadian Perspectives Panel participated in a moderated discussion; later in the day, representatives from the various agencies provided Asian carps updates from Canada and the USA. A summary of the GLMRIS report can be found here: http://glmris.anl.gov/glmris-report/

Dilhari Fernando, Invasive Species Centre Executive Director, moderates the event in Toronto. Panel included, from left, Dave Wethington, GLMRIS Project Manager; Bob Lambe, Great Lakes Fishery Commission Executive Secretary; Eric Boysen, Director, Renewable Energy Program / Biodiversity Branch at Ministry of Natural Resources; Dave Burden, Regional Director General Central and Arctic Region of Fisheries and Oceans Canada; and Dave Ullrich, Great Lakes and St. Lawrence Cities Initiative Executive Director. (Photo credit: https://www.facebook.com/InvasiveSpeciesCentre)
"Asian carps" belong to the family Cyprinidae, which are freshwater fish comprising the carps, the true minnows, and their relatives. In particular, four Asian carps are considered highly invasive: Bighead (Hypophthalmichthys nobilis), Silver carp (H. molitrix), Grass carp (Ctenopharyngodon idella) and Black carp (Mylopharyngodon piceus). For more information, visit the Fisheries and Oceans Canada website: http://www.dfo-mpo.gc.ca/science/publications/article/2006/01-01-2006-eng.htm). Asian carps were introduced from Asia to North America in the 1960s and 70s to help aquaculture and wastewater facilities keep retention ponds clean. Silver and Bighead carp feed on plankton. Black carp first came in Grass carp shipments, but was later introduced deliberately to control a parasite-hosting snail. Subsequently, these fish spread north through U.S. waterways towards the Great Lakes. The spread of Asian carps into the Great Lakes is a threat to Ontario's native fish species.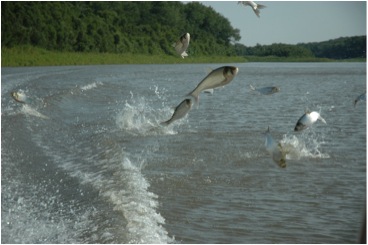 The Royal Ontario Museum, through its curatorial expertise, research, collections, and ROM Biodiversity, plays a crucial role in species identification, clarifying the taxonomy of invasive species, and understanding bioinvasions (their ecosystem impacts, dispersal mechanisms, and management strategies), as well as in engaging and educating the public on issues surrounding invasive species. The role of the ROM's curatorial staff in species identification was acknowledged by Eric Boysen, Director, Renewable Energy Program / Biodiversity Branch at Ministry of Natural Resources during the information session which was attended by Ms Maureen Zubowski, Technician, Invertebrate Zoology, and myself.