Applify Your Museum Visit
Mobile applications have changed the way we live–they have replaced our alarm clocks, notepads, calculators, and cameras. We can have all these things in the palms of our hands via smart phones and smart gadgets. Smart phones have moved away from being just a powerful phone and web-surfing device. They have become a true lifestyle-enhancing accessory with the addition of mobile applications. Apps simplify our daily lives, entertain us when we are bored, keep us connected to the world, and again they have the ability to enhance our life experiences. With the tap of a screen our pictures can turn into instant collages, our videos can become viral, and our thoughts can be directly shared with millions of people across the globe. If words could conceive, apps would be the love child of fun and simple. Apps bridge the physical and digital world for improved communication and enriched interactivity, and there is no better place to test this out than at the Museum. The Royal Ontario Museum is the epitome of adventure and wonder; there's much to see, feel, learn and most importantly—share!
Bridge your worlds this March Break and test out these fun apps during your next visit to the ROM. Be sure to share your creations with us on Twitter & Instagram using the @ROMtoronto handle.
Groopic
Apple and Android compatible
Free
So you're at the ROM -- you and your group are fascinated by the Futalognkosaurus. Your first instinct will be to take a photo of it, your second instinct will be to take a photo of your whole group with it– and of course this photo won't include you. Groopic solves this impossible problem by seamlessly including the photographer in every group photo. With groopic, your pictures have every friend, every time. And no more asking for help from a stranger! Take two pictures, mark the photographers and let Groopic do the work for you. It automatically combines the incomplete pictures into one complete group photo.
Myself and a few volunteers put this app to work and here is what we got: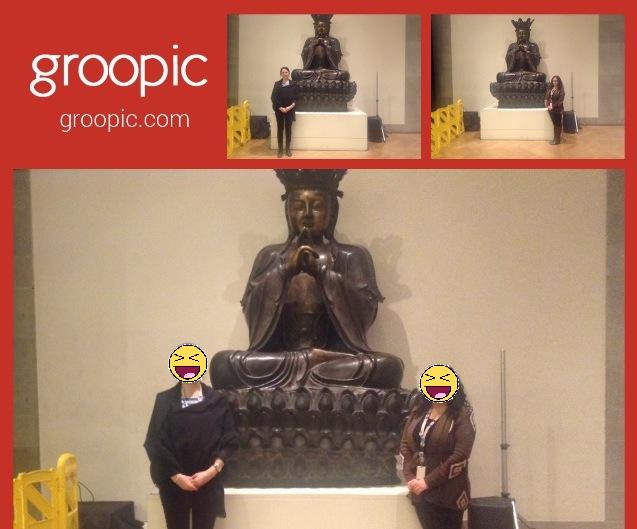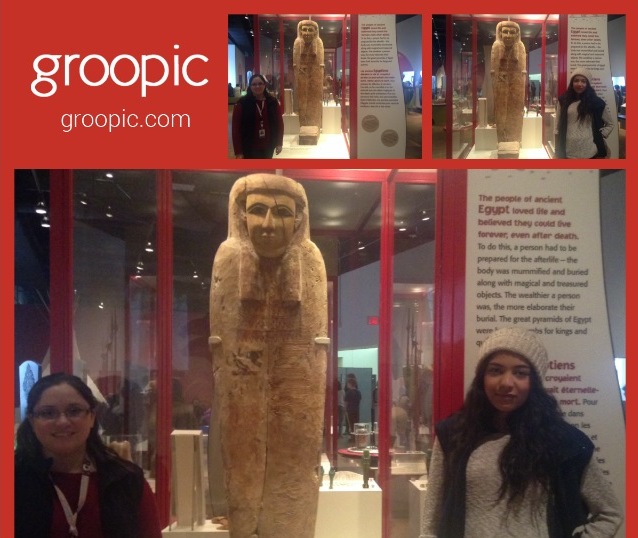 Juxtaposer
Apple and Android compatible
$2.99
This app allows you to combine multiple pictures into creative and fun photomontages quickly and easily thanks to its intuitive and responsive user interface. In other words, it's a simplified, dummy proof Photoshop, that is accessible anywhere and anytime.
With Juxtaposer, you can take any element from one picture and add it to another. Remix the ROM's collection by swapping a statues head with yours, or combine photos into custom works of art.
I opted for the take any element from one picture and add it to another option, and placed this Harlequin Pembroke Table (1751-1806) at the ROMs entrance. I think it makes a nice addition!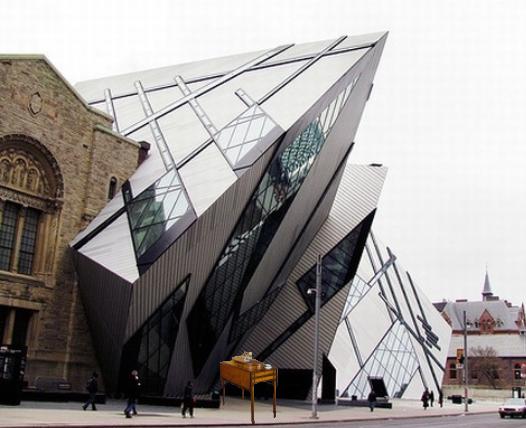 Seene
Apple and Android compatible
Free
If you love 3D imaging and interactive images, Seene is the app for you! Simply point and shoot an image of the desired artifact using the "record" button. A quartered, pie-shaped icon will appear – move it around your subject to cover each of its angles. Seene will then read the data you have imputed into your device to build a three-dimensional representation of your surroundings, cool!
Take a 3D image at the ROM this March Break & share it with us!
Magisto
Apple and Android compatible
Free
Editing videos not your thing? Fret not, Magisto uses "emotion sense technology" to transform the video and photos you shoot into polished short movies with emotion and excitement at the core of every story. Driven by artificial intelligence and simple user interface, Magisto is a cloud based service for creating and sharing professional quality personal movies.
This app uses magic, or emotion sense technology to automatically select your most compelling ROM moments (or any moment for that matter) and, like an expert video editor, weaves them together to convey a story with customized styles and music.
Record your favourite ROM moments and let Magisto do all the work for you! If you're happy with your video, consider submitting it here
Shadow Puppet
Apple and Android compatible
Free
Shadow Puppet is an app that allows you to choose photos from your smart device camera roll, place them in a slide show, and provide a couple minutes of narration with the press of a microphone record button. You can also tap parts of the photo to highlight them and move them around or zoom in to focus on particular points of interest as you talk about them.
So what's so neat about that? Shadow Puppet's simplistic structure makes sharing stories easier than ever before. Storytelling today means crowding around someone's phone as they describe their photos – Shadow Puppet brings that "show & tell" experience online by allowing you to create animated slideshows of your pictures that can be shared via instant message, email, Facebook, or Twitter.
This app is especially great for families with children. Children love seeing and hearing their own voice, words & pictures come together. Narrate your ROM photos via Shadow Puppet & make your story come alive.
Disclaimer: The information contained within this blog article is provided solely for the reader's general knowledge. The Royal Ontario Museum cannot accept responsibility for these mobile applications and their use.