Ancient Egypt Weekend! OR How a mummy, NOT a dinosaur, got me into teaching.
I started volunteering at the Royal Ontario Museum when I was 14. After a few summers of being a camper at Summer Club, I was old enough to start volunteering. Volunteering at Summer Club turned out to be an incredibly magical experience for me, and eventually led to me to where I am today!
One of the things I loved MOST about volunteering here was that, though I was working, I still got to have fun learning about all the wonders of the galleries. Really, it was like going to camp for free (with some added responsibility, of course). Shockingly, some of my earliest memories are not of dinosaurs, but of Egypt. Like many people who have walked through our Egyptian gallery, I was awed by our mummies. What amazed me most about them was not their wrappings, death rituals or how they were honoured and decorated, but instead, I was mostly impressed by the stories of their lives. Instructors like Julie Frost and Beverley Galandzy made the tales of each mummy's life so incredible to hear – it's really neat how much we can learn about a mummy's life from what they are buried with. As well, clues about their lifestyles and passings can be gained thanks to how astonishingly well-preserved the bodies are.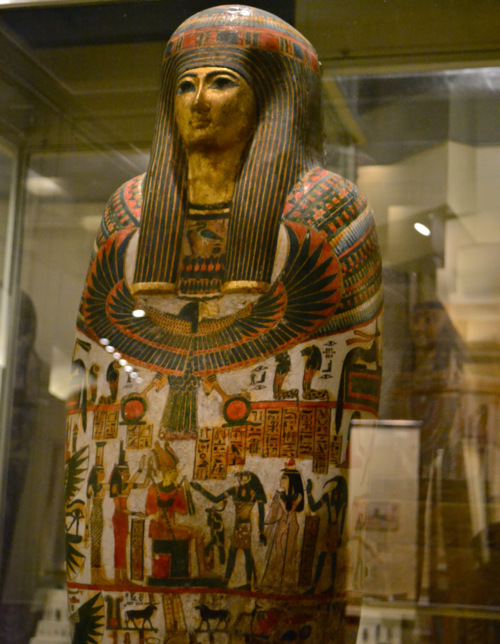 With all this in mind, we have one mummy that is very special to a lot of people at the ROM, myself included. Her name is Djedmaatesankh, and her background helped me fall in love with storytelling and teaching. I remember sitting cross-legged with all the other kids and staff up in Egypt while our instructor Beverley told us all about Djed. Because of the hieroglyphs on her coffin, Egyptologists were able to glean a lot about her life, like how she was a chantress (a musician/singer) in a temple, and that her husband was a guard in the same building. Beverley then went on to tell us about how Djed had died from an abscessed tooth, which most likely lead to a fatal blood infection. Beverly taught us all about how dentistry wasn't nearly as effective then as it is today, and how chipped and broken teeth were common and dangerous risks of eating in ancient Egypt – Turns out, grain was a staple food in Ancient Egypt, and stones were used for in the process of turning it into bread. During this process, however, bits of stone would chip off and make their way into the food – sometimes leading to unfortunate fates such as that of Djed.
While spending time as a ROM staff member, I was AMAZED by how farthe minute details of a specimen in a museum can be taken to teach so many things, as well as inspire with such detailed stories. In my early years working at the ROM, I remember mulling this over in my head… Having just decided that palaeontology was not the career option for me, the idea of sharing information became a new and exciting focus for me.
Where I'm going with this…
I want people to have the opportunity to be inspired and awed by our Egyptian collection in the same way I was. To see the fabulous stories, the intricate details, to be awed. So with that in mind we've dedicated May 12th and 13th for Egypt Weekend! We're supplementing our already impressive Egyptian collection with Out Of The Vaults objects and specimens, touch tables and staff on the floor who can talk to you about everything Ancient Egypt. As well:
-We've loaded up the 3rd floor centre block with tons of crafts and activities, from pectoral collars to God and Goddess headdresses, pigment painting and our Egypt Archaeology Dig, as well as much more!
-In the Egyptian Gallery you can try you hand at the Ancient Egyptian game of Sennet, and dress in Egyptian robe. Our storyteller will also be up in Egypt, and of course, our Arts for Children and Youth artist residency continues!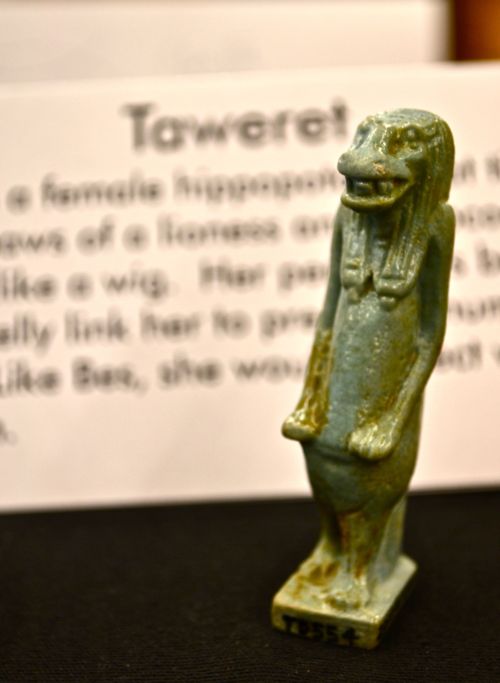 I hope you get a chance to make it out for Egypt Weekend. Maybe we can help inspire a whole new generation of story tellers, teachers, and curious people!
Upcoming Family Fun Weekends 2012 to watch for…
May 12-13: Ancient Egypt Weekend
May 19-21: Awesome Animals Weekend
June 9-10: Ancient Rome and Greece Weekend
Follow ROMkids on twitter and tumblr for the latest news from the studio!