Adventures in the Great Bear Rainforest: from the Royal Ontario Museum to the wilds of British Columbia with Paul Nicklen
Posted: May 5, 2017 - 09:11 , by
ROM
By guest blogger Paul Esposti, 2016 Environmental Visual Communication Program graduate.
It's September 2016, although I've lost track of the days. But it's September and I'm in Northern British Columbia and being dry is a distant memory as I lay in a damp field surrounded by tall grass hiding from an enormous grizzly bear less than 30 metres away.
I've never seen a grizzly in the wild before, and I should probably be a little more intimidated. But it's hard to be intimidated by this bear: it's sitting in a creek entertaining itself by balancing a rock on its head, and this fearsome predator looks comical enough to play with.
Paul Nicklen, a conservation photographer and my mentor on this journey, would disagree. He's also lying in the grass not far from me, and he's had enough close encounters with bears to know that misjudging them can be dangerous. Despite its amusing appearance, the bear is well aware of our presence. It keeps an eye on us as it goes from playing in the creek to digging up roots to eat. Finally, sensing something we don't see, it charges back into the forest behind us. I'm cold and wet as we start to gather our gear together for the trip back to the boat, anchored in a bay nearby.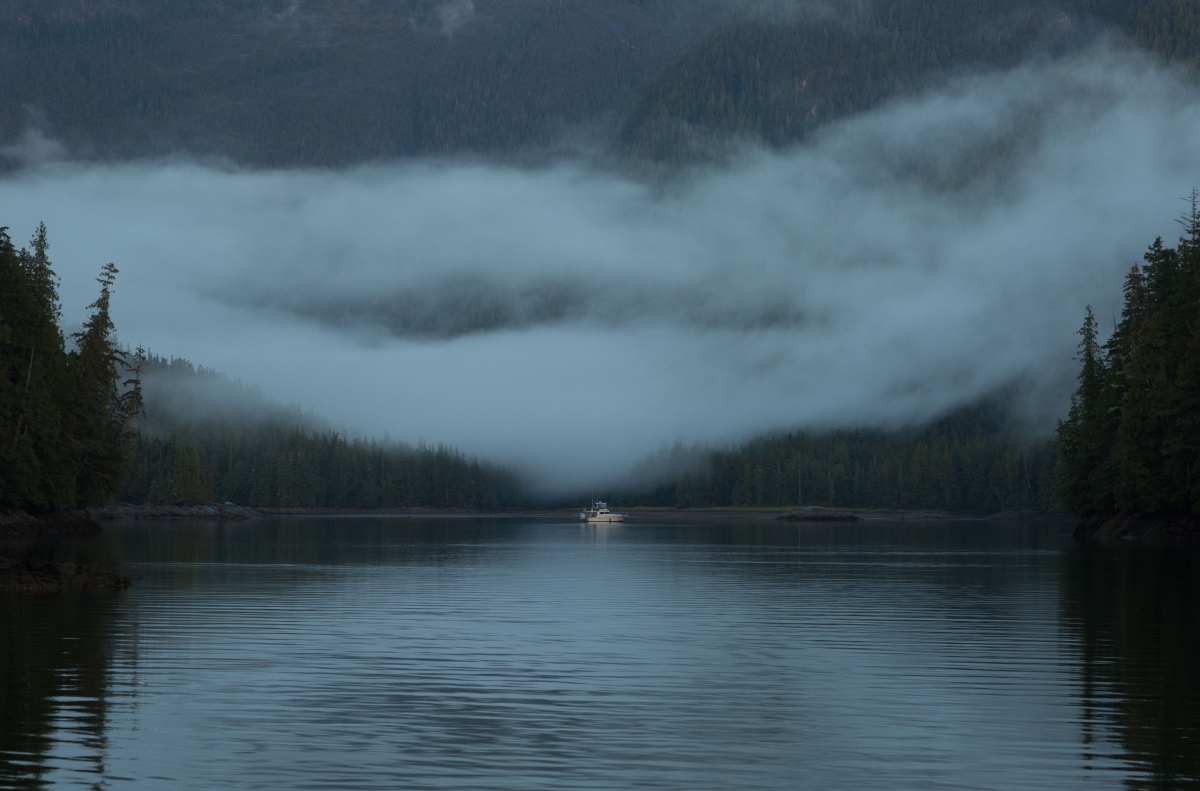 Big Things Have Small Beginnings
Exactly one year before my encounter with the talented bear I was in Costa Rica, as part of a photo documentary workshop with the organization Photographers Without Borders (PWB). This decision was the start of a whirlwind year that changed my life.
While in Costa Rica, I met Danielle Da Silva, PWB's founder, and Tallie Garey, the organization's tireless image curator. Tallie was a graduate of a specialized graduate program called Environmental Visual Communications that's offered by Fleming College in partnership with the Royal Ontario Museum. The goal of the EVC program is to bring art and science together, to teach people to communicate visually and bring scientific and environmental messages to people in a way that will motivate them to affect change. It didn't take much urging on their part to convince me to leave my current career and apply to the program.
Fast forward a few months and there I am, going to class at the ROM every day. Photography, multimedia, communications, campaigns. All challenging, definitely. But the real challenge is being finding a conservation organization to work with during the summer Student Placement component of the program. It's the first opportunity to get out and use your skills, and can determine the direction your career will take. My career path hasn't exactly been what you'd call average. A degree in biology, an entomologist, a commercial diver, a boat builder, and a research and development consultant. It's a diverse skill set. And as it turns out, a skill set that was about to become very useful.
Tallie, an eternal optimist, is never afraid to suggest things a more cynical person would consider absurd. In this case she suggested I try to get a placement with Sea Legacy, an organization founded by Paul Nicklen and Cristina Mittermeier. Besides founding Sea Legacy, Nicklen and Mittermeier also happen to be two of the greatest conservation photographers in the world. But Tallie's optimism rubs off on you and so with Tallie's encouragement I suggested the idea to Dave Ireland the Managing Director of Biodiversity at the Royal Ontario Museum, as well as one of the Environmental Visual Communications instructors. I'm fairly sure Dave thought I was crazy.
His skepticism was understandable. The thought of calling up Nicklen and Mittermeier and proposing I spend the summer working for them was certainly a stretch of the imagination. But several emails and a skype call later and Dave had done the impossible. By mid-July 2017, I was travelling to Vancouver Island.
Swab That Deck!
The first month of my placement with Sea Legacy was all about boat repairs and preparations. There was plumbing to be fixed and some occasional wiring issues to be taken care of. Fortunately, some part of me actually likes crawling into the cramped engine compartment of a boat to fix the plumbing (you really don't want to know what that entails) and perform some creative electrical wiring while hoping nothing catches fire. And then there was the gear. Nicklen and Mittermeier use a staggering amount of photography gear. From Still cameras, cinematic cameras, and drones. And of course all of it had to be tested, organized, and loaded onto a 40-foot-long boat while leaving enough room for four people. These preparations were required because Sea Legacy's was planning their first official expedition. The goal was to cruise up the coast and channels of British Columbia, and document the beauty, biodiversity, and threats to one of the most amazing places on the planet – the Great Bear Rainforest.
What followed was four weeks on the boat and a daily routine that would be interrupted by spectacular views and experiences that bordered on the surreal.
The Eagle Has (Crash) Landed
We had been travelling for a few days and were anchored in God's Pocket, a small cove near Port Hardy and a good place to shoot underwater footage. Nicklen and I, along with our shipmate and guide Kelly, were the small aluminum boat we used for short onshore excursions. It was a rough day and the diving wasn't good. As we made our way back, Kelly, whose 's parents should have named him Hawkeye, spotted a bald eagle in the water hundreds of metres away – and it was swimming. Birds of prey can in fact swim by using their wings as paddles, they just don't do it very well. Especially when under airborne attack from two other bald eagles which was the case for this particular bird. The unfortunate eagle was trying to swim to shore but at almost a kilometre away its chances weren't good, even less so as it had to constantly roll onto its back to fend off its attackers. So we decided to rescue it (which leads to a debate about interfering with the natural order of things, but that's a whole other conversation). As it turned out the eagle wasn't all that keen on a boat pulling alongside it and trying to haul it aboard. Kelly, being young and brave, or maybe just a little foolhardy, made a few attempts at grabbing it. If you've ever seen a bald eagle up close, they have talons - big ones. Eventually we tried a safer approach and used a towel to hook on to the talons and bring the eagle into the boat. It didn't struggle after that. Maybe it was exhausted, or maybe it was just happy to not be drowning. By the time we got it to shore and released it, it was still giving us a look like it wanted to tear our throats out.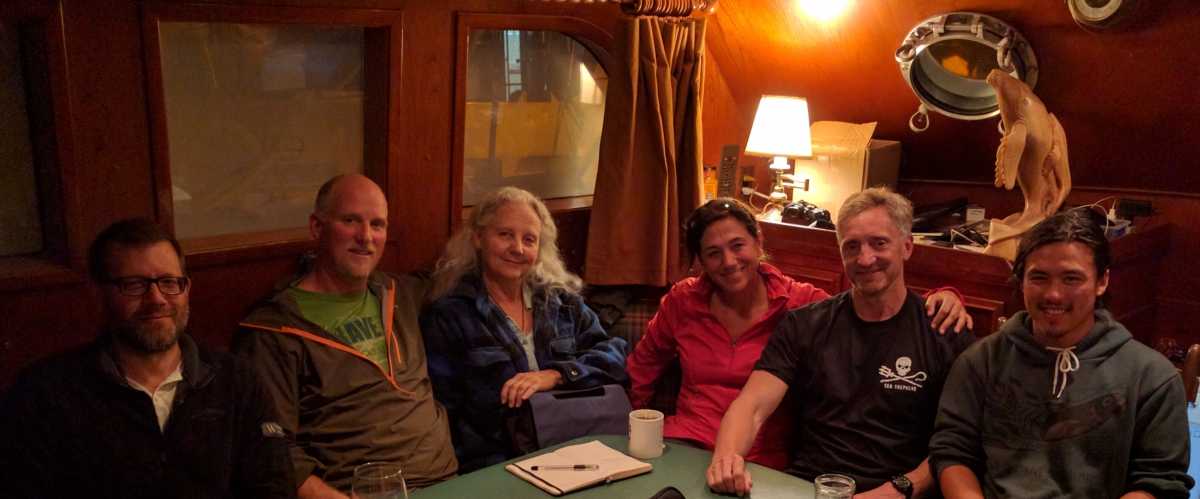 From left to right: me, Paul Nicklen, Alexandra Morton, Cristina Mittermeier, Simon Ager, Tamo Campos
Pirates Ahoy!
One morning we were out filming a pod of orcas and we got a call from Sea Shepherd, the somewhat notorious oceanic activists/eco-pirates. They wanted to drop by for a visit. Their boat, an impressive 80-foot two-masted sailboat named the Martin Sheen (named for the actor who bought it for them) was moored in a port near close-by. They had been asked by Alexandra Morton, a conservationist lobbying against fish farms on the BC coast, to come and help some local First Nations' bands evict select fish farms that had been operating for years in their territory without permission. Sea Shepherd had invited us along to document the event.
And so there I was, in the cabin of a famous ship, with Alexandra Morton, journalist Simon Ager, and Tamo Campos, the grandson of David Suzuki.
The following day we joined a flotilla of boats, with the Martin Sheen in the lead. On board they had the Hereditary Chiefs and Elders from the local bands in traditional dress. After landing on the farm, the band leaders performed a cleansing ceremony and served the eviction notice. One band member, Arthur, told me how he used to be able to make a living on the fishing boats catching wild salmon. But after they started to decline he was forced to work on a fish farm for $10 an hour. Whether you agreed with him, or supported fish farming, one thing you wouldn't forget as you listened to him was the sad and distant look in his eyes.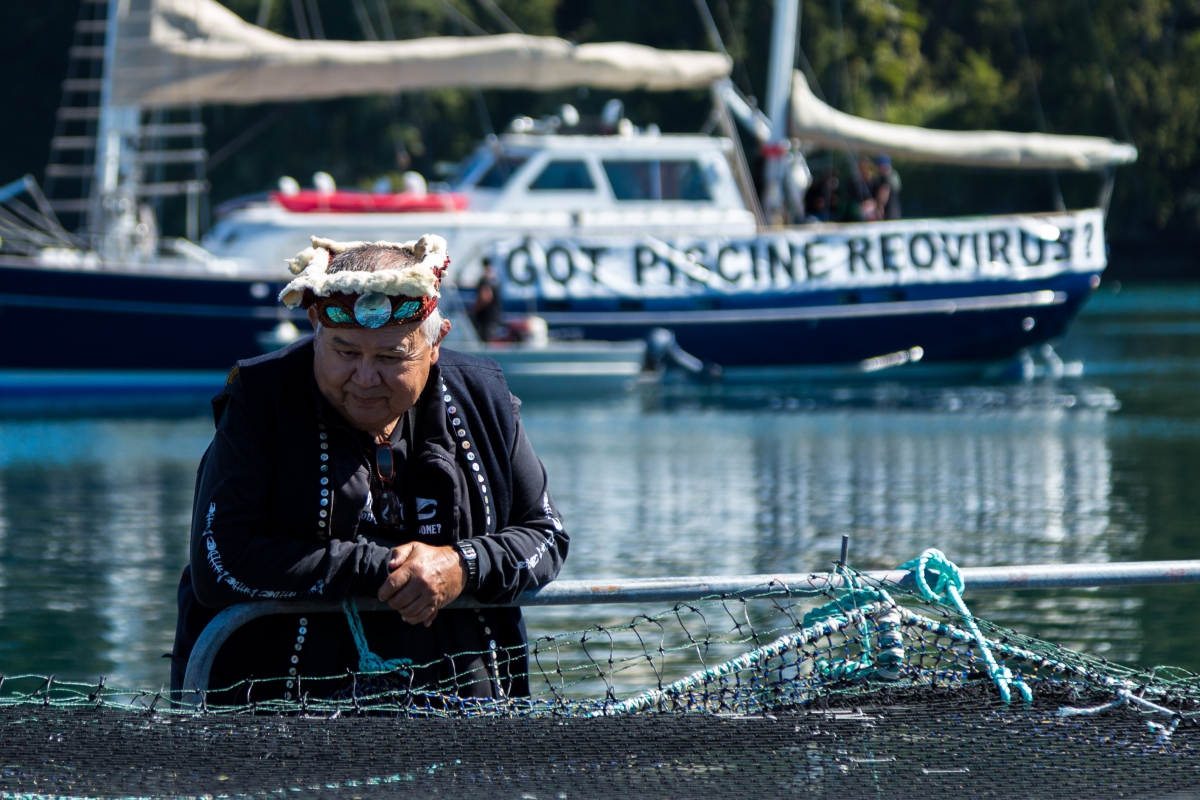 Arthur, a member of the Musgamagw Dzawada'enuxw First Nation, looks in a fish pen with the Martin Sheen in the background.
Leviathans
"The sea, once it casts its spell, holds one in its net of wonder forever."
A few days after the leaving the company of Sea Shepherd we were in a narrow channel near Bella Bella, almost a fjord. It was early morning and we spotted two humpback whales. It didn't take long to realize the two were bubble netting, an eating technique where they circle each other, blowing bubbles in a tightening sphere, corralling fish as they rise. When they reach the surface, they lunge out of the water, swallowing as much of the school as possible. It was a sight beyond words and not something I'll soon forget. But there was more to come.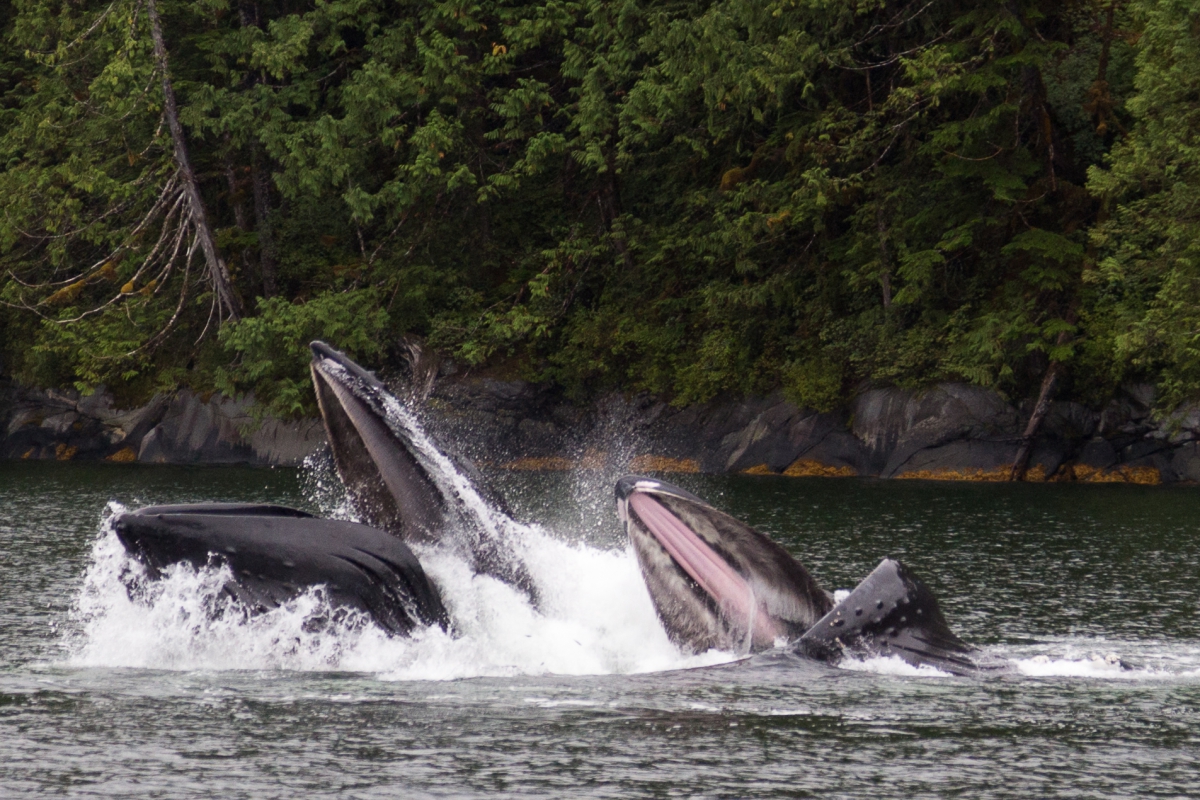 Dinner with the Murdochs
It turns out James Murdoh (FOX Media mogul and son of Rupert Mudoch) and his family have a retreat in a narrow channel in the mountains near Bella Bella, and one evening we were invited for dinner. In November 2015, FOX Media purchased National Geographic, the storied natural history and geographic magazine. Many of the photo-journalists who make the stories so compelling, honest and unimpeded by corporate bias were skeptical, but as I learned, the Murdoch's purchase was very well intended. James and his wife are both very hospitable and kind. And they're both environmentalists trying to elevate National Geographic to tell more compelling stories about our natural world and inspire readers to take action.
There are natural hot springs at the Murdoch retreat, landscaped by a Japanese master to fall into a series of pools, each at the perfect temperature. On my last night I sat under the stars in a hot spring in the mountains of northern BC with two of the world's best photographers. It was hard to get my head around the amazing experience I'd had… it isn't something you can get your head around easily>
I'm still working on it…
Dedicated to the memory of Rob Stewart and all who fight for the seas and oceans.
Related Links