8 things to know about the ROM's reopened Weston Entrance
Posted: December 11, 2017 - 12:42 , by
royal
Categories:
None | Comments () |
Comment
With the reopening of the heritage Weston Entrance, the ROM is literally and symbolically throwing its doors open even wider and welcoming all audiences into the Museum. Here are 8 things to know about the Weston Entrance: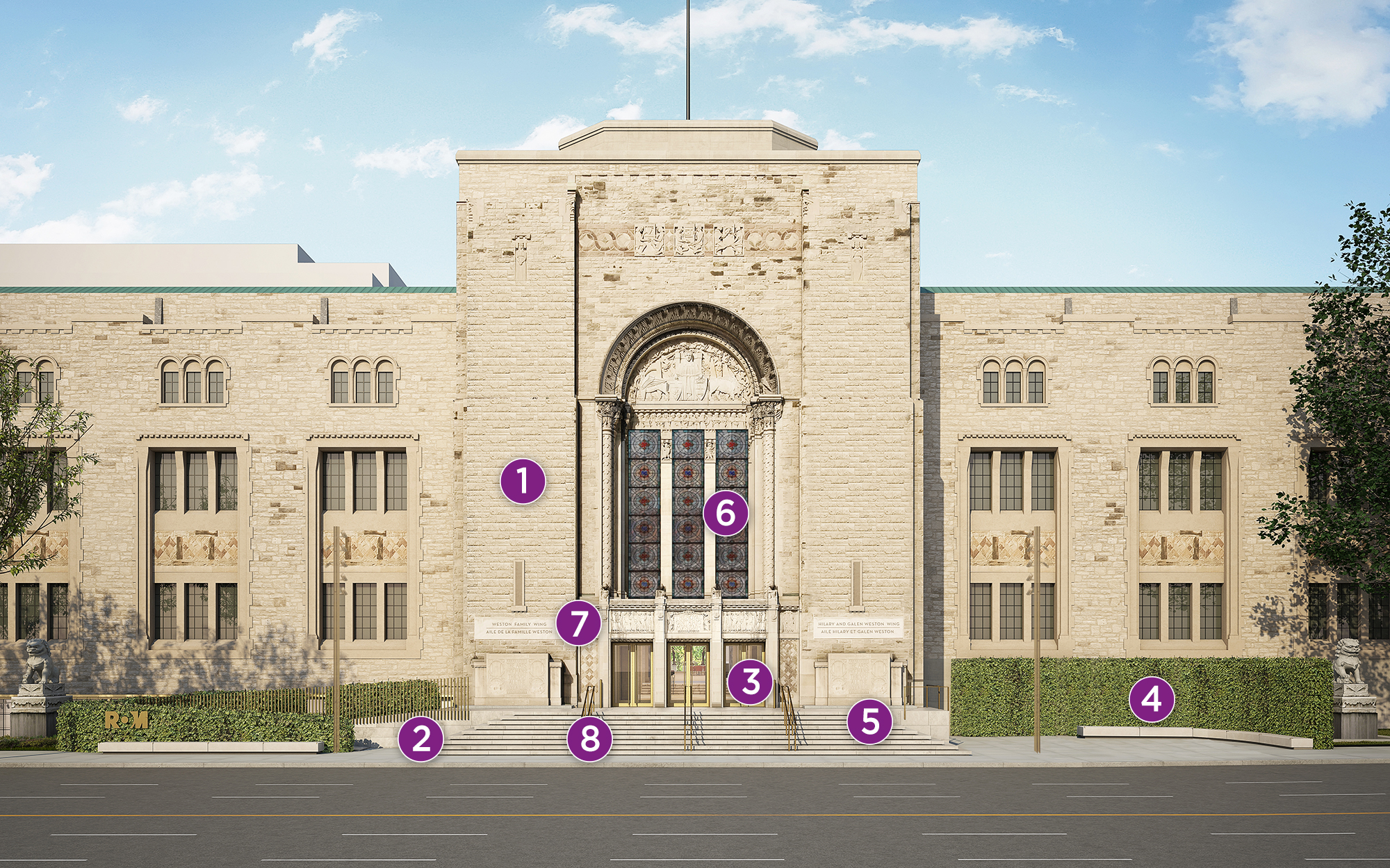 Then and Now

The construction of this wing began during the Great Depression. Rather than defer construction, going ahead as planned was seen as a way to address massive unemployment. The hand finishing and carving, now very much a part of the building's identity, were chosen over the simplified design techniques in mode at the time in order to employ more labour.

More Access

In keeping with the ROM's aim to be at the forefront of accessibility for our visitors, this new ramp meets all current Ontario and AODA (Accessibility for Ontarians with Disability Act) standards.

Doors Open

Walk by the Museum at night and you will get a direct sightline from the entrance, through the rotunda, and right into our Asian galleries. This allows our community to experience a part of the ROM despite visiting hours being over.

Going Green

The European Green Beech hedge surrounding the entrance is a new addition to our neighbourhood flora, with dark green leaves that turn shades of gold and bronze in autumn.

In Praise of Limestone

Our original steps featured Queenston limestone, a common rock used as building stones in Toronto owing to the proximity of its quarries in the Niagara Escarpment. We chose LaSalle limestone, which is similar to the look and texture of the original steps. LaSalle limestone is a "harder" limestone and is known to stand up for many years in high traffic areas.

Stained Glass

Look up at the windows and you'll see red and blue birds etched in the glass. These windows were first installed for the 1933 opening. In 2005, each piece of glass was carefully extracted to put into a new frame that was more rust and weather resistant. Since then, three layers of glass have been added to protect these historic windows.

The Art of Man

Seated atop each pillar of the entrance are four veiled ladies. They capture part of what Charles T. Currelly, one of the ROM's first directors, wanted the museum to represent: "The Art of Man Throughout the Ages." These allegorical figures denote the arts of pottery, literature, music, and metalwork.

Bronze Highlights

The main staircase railings, stair accents, glass door frames, accessibility ramp pickets and railing, and the veils of the muses are all in bronze—a material that is not only enduring but one that also reflects the classic institution.