Posted: March 13, 2013 - 15:01 , by
ROM
Senior Preparator, Bob Walsh was asked to give a talk on his specialty, exhibit lighting design, by the National Institute of Design in Ahmedabad, India.
The Sun Temple at Modhera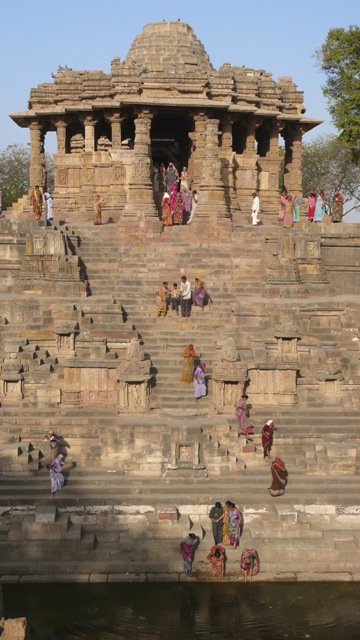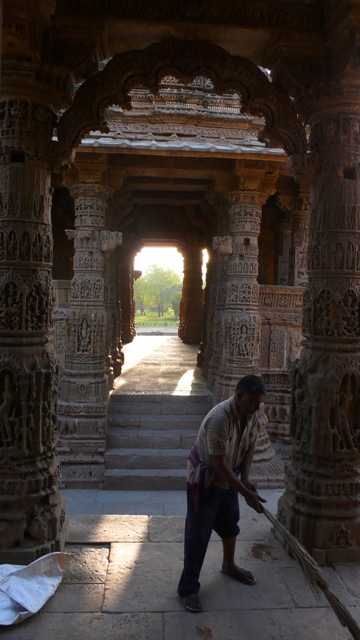 After 90 minutes of travel in a hired car, through what seemed an endless landscape of industrial parks, gated communities, shantytowns, and religious shrines, I arrived, at sunrise, at the Sun Temple of Bhimdev I, in Modhera. Dating to 1027 AD, it's an amazing complex of intricately carved sandstone temples, fronted by an immense and fantastic "Kund, or ceremonial step well.
With the sandstone glowing in the early morning light, I explored the carvings decorating every inch of this magnificent structure. Erotic scenes, dancers, and elephants (considered good luck) played across the pillars, along with depictions of every Hindu god and goddess imaginable.
The temple was damaged by invading forces and by earthquake over the centuries, but what remains is still impressive. Some small areas have been restored, but this effort only shows how, in comparison, the original craftsmen had such highly developed skills.
Later, I moved rhythmically up and down the stepped levels of the Kund, while looking at the many shrines. I tried to imagine the ancients using this site, their reverence for the natural elements of earth,water, air and sky made manifest in sandstone. By then, busloads of Indian tourists began to arrive, and the midday heat began to rise, signalling to me that it was time to move on.
Tomorrow the final installation of the students exhibit on Sarkej Rosa begins and I'll be helping them with the lighting.
I'll let you know how it goes,
Bob