Totally Buggin': Spiders and Insects in Pop Culture
Guest blog written by 2018 Environmental Visual Communication student Michael Berger.
Dr. Susan Tyler paces the empty subway platform, lit by flickering fluorescents, anxiously waiting for her husband's return from the perilous depths of the underground. Out of the corner of her eye she spots the shadow of a man, tall and broad-shouldered, standing perfectly still. Determined, she walks towards him briskly.
"Um… Do you have the time?"
No answer.
"Sir, the time?"
He slowly raises his head. It's then that she notices a clicking noise emanating from beneath his jaw. The workings of his jaw begin to move. Something is not right.
Susan turns, feeling her heart drop into her stomach. She walks away, quickening her pace as she goes. The man begins unfolding what she thought was his coat. She looks back to see his coat is actually wings, spreading as his face separates down the middle and pulls back to reveal the blackened mandibles of an insect. He is not a man, he's a bug, and he's charging at her through the air.
Just as the bug snatches Dr. Susan Tyler, I let out an involuntary squeal and find myself a couple feet further from my screen. Although I personally don't have a fear of bugs, the crafting of that scene, from the eerie music to the dark and sinister setting, definitely made me question my lack of a phobia.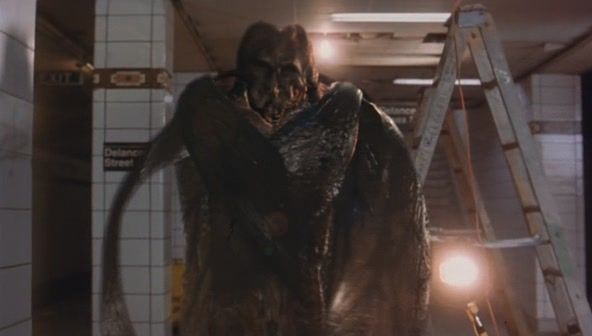 Image Credit: Director of Photography DAN LAUSTSEN; Director GUILLERMO DEL TORO. MIMIC image copyright MIRAMAX.
I'm about halfway through my horror movie bug-a-thon watching the 1997 film Mimic by Guillermo Del Toro, a story about a hybrid insect made for pest control that goes terribly wrong. I've just finished watching the 1986 film The Fly by David Cronenberg, which follows the loss of a scientist's humanity as he becomes a fly. While both films are arguably about the dangers of technology, insects are prominently featured and add to the sinister tones. But what is so sinister about a bug, and why do directors of horror films so often turn to bugs to darken the mood?
"That's his fascination. He likes clockworks, he likes bugs, you know, he's got his tropes." Says Elinor Rose Galbraith, set decorator of The Fly and Mimic, on Del Toro. "He loves insects because I think psychologically he's always seen himself as an outsider. […] I think he sort of transferred that into his work, because a lot of his work is about the other."
It's easy to see bugs as the other. Bugs are so different from us. They have three times as many legs, way too many eyes, and completely unrecognizable mouths, not to mention their habits and noises. While we can relate to mammals, and even birds, there is nothing human about a bug, and so a bug is alien.
I think that if The Fly were The Chipmunk and Dr. Seth Brundle had instead transformed into a chipmunk, the tone of the film would be drastically different. Instead of becoming terrifying and deformed, Brundle-chipmunk would become cute.
"That's correct. And [flies] are foreign, they represent the foreign element, the other, the thing we don't know." Says Galbraith on my hypothesis.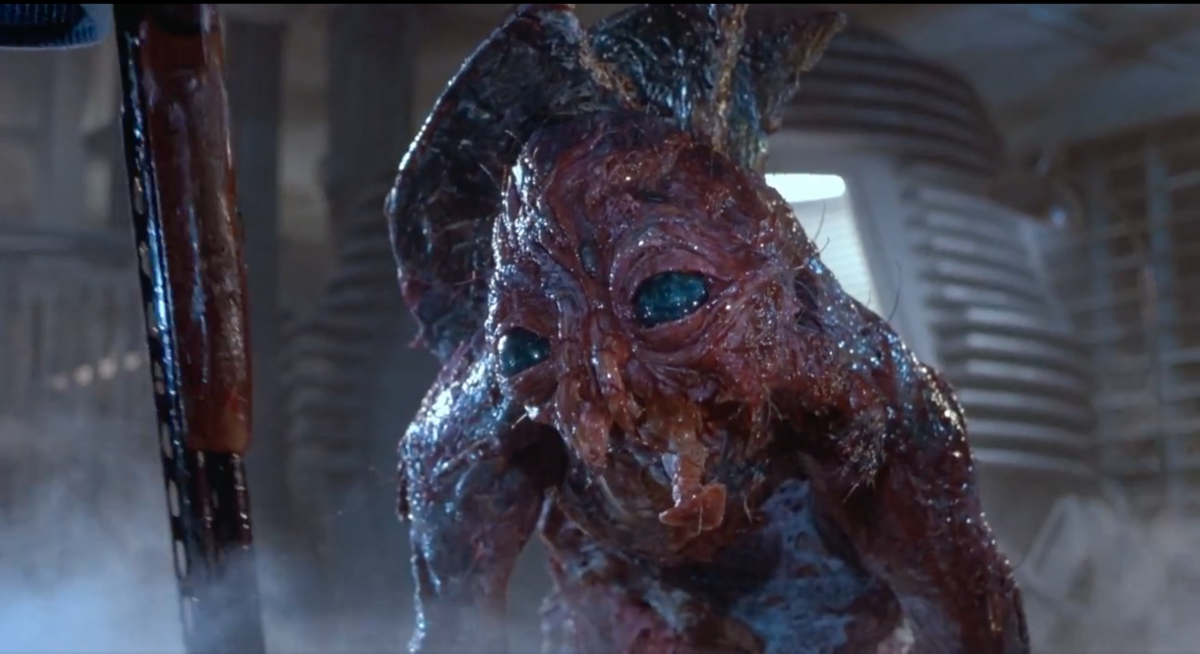 Image Credit: Director of Photography MARK IRWIN; Director DAVID CRONENBERG. THE FLY image copyright 20th CENTURY FOX.
Just picture alien design in films. So often these aliens are modelled after insects because it's almost impossible for humans to visualize something alien without drawing inspiration from something on earth. And what better alien earthling than a bug? For example, the aliens of District 9, the 2009 sci-fi thriller directed by Neill Blomkamp, were clearly bug-inspired by design. They were even named "prawns" by the humans, after shrimp, which are close relatives to bugs.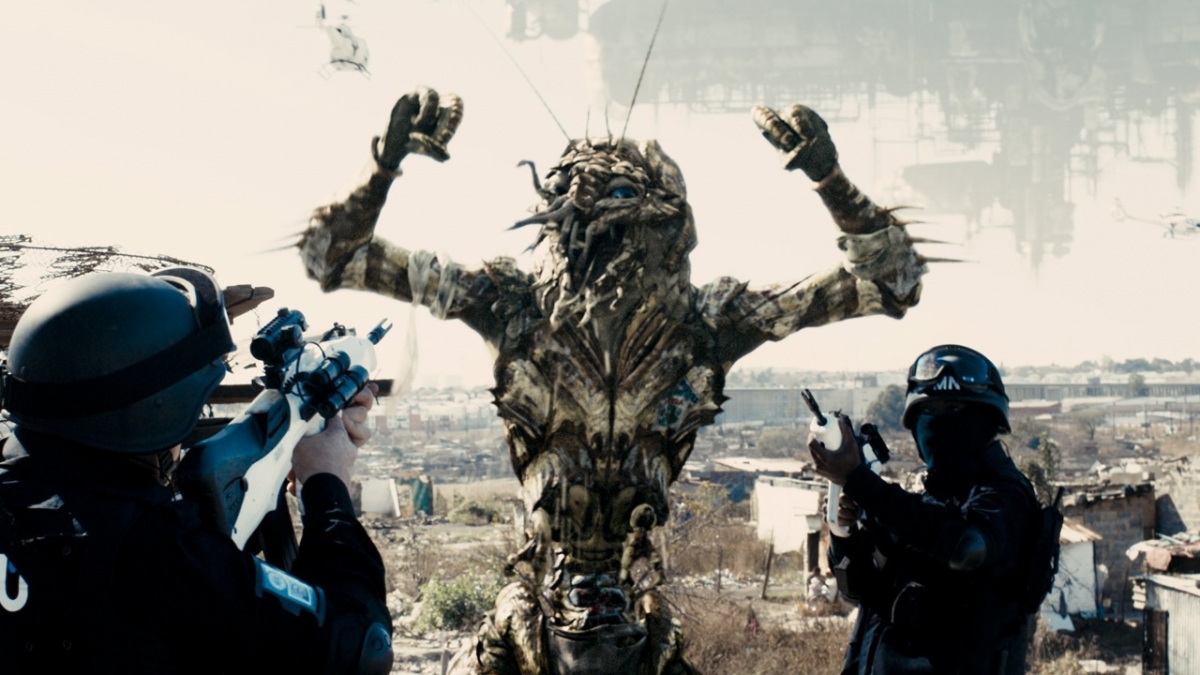 Image Credit: Director of Photography TRENT OPALOCH; Director NEILL BLOMKAMP. DISTRICT 9 image copyright TRISTAR PICTURES INC.
"People will play on what you're naturally afraid of." Says Courtney Murfin, the interpretative planner for the Royal Ontario Museum's exhibit Spiders: Fear and Fascination, "So if people are already afraid of something, why invent some new monster when there's already this creepy component that you can just ramp up and you know they're going to be scared of it."
I couldn't help but agree with Murfin's reasoning. If something is already alien, why make a new alien? If something is already terrifying, why create a new monster? But is it fair to have this irrational depiction of bugs as the ultimate enemy?
"Spiders won't kill you. Really, they won't." Says Murfin, "There's very few deaths a year. Very few of them will bite you, they have to be really provoked. Particularly in Canada none of them are venomous enough to kill you."
Although most people are aware of the benign nature of bugs, this reasoning does not appear to factor into their phobia. And, as Murfin said, this phobia makes for great horror stories. While in reality bugs are tiny, at our mercy and much more afraid of us than we are of them, these qualities don't make for exciting stories.
"Stories are meant to be larger than life." Says Murfin.
While these fear-fueled tales are enjoyable for horror fans everywhere, they don't push us past our un-founded feelings about bugs. If anything they re-enforce these irrational societal fears and foster a climate of bug-phobia that can leave the most afflicted completely paralyzed when they inevitably run into a creepy-crawly. So if you are the aforementioned "most afflicted", how do you go about overcoming that paralysis?
"I saw a cockroach give birth in the hands-on gallery one time and that's why I'm not freaked out by cockroaches anymore." Says Murfin, "Exposure therapy, right. Understanding something is what helps you overcome a fear, an irrational fear, which is the point of the [Spiders: Fear and Fascination] exhibit essentially."
Galbraith notes a similar experience working on Mimic and The Fly. "For me, when I was working on [the films], I definitely developed a sympathy for bugs that I never had before, because I realized how splendiferous they were. When you see the vast array, variety, diversity of insects, they're gobsmacking."
"I find it so fascinating because it's so alien." Galbraith adds.
This highlights an incredible point: perhaps the same quality that makes bugs so terrifying is what can make them beautiful. Once what is alien can become less mysterious, it can become fascinating.
Spiders are one of the most remarkable animals on the planet! They spin webs, dance, swim, and even grow back lost limbs. Entangle yourself in the world of spiders when you come face-to-face with nearly 400 amazing live and preserved arachnids in Spiders: Fear & Fascination, on display now through January 6th, 2019.