#ROMSriLanka Kicks off Month-long Expedition
Posted: August 21, 2015 - 12:47 , by
ROM
Guest blog written by #ROMSriLanka Communication team member Deirdre Leowinata
If the words "adventure", "exploration", and "travel" come to mind when you hear the word "science", then you watch a lot of David Attenborough, you're a shark week fanatic, you're a field biologist, or all of the above. However, if you don't fall into one of those categories, we might have just the team that will change your mind.
Now joining the ranks of such historical intrepid explorers as Roald Amundsen, Charles Darwin, and Bilbo Baggins, is the ROM's own Assistant Curator of Mammalogy, Burton Lim, along with his rugged team of researchers. Burton and his ROM Biodiversity team are traversing the planet's surface to reach the small and mysterious country of Sri Lanka between August and September for one purpose and one purpose only… small mammals.
What do we mean by small mammals?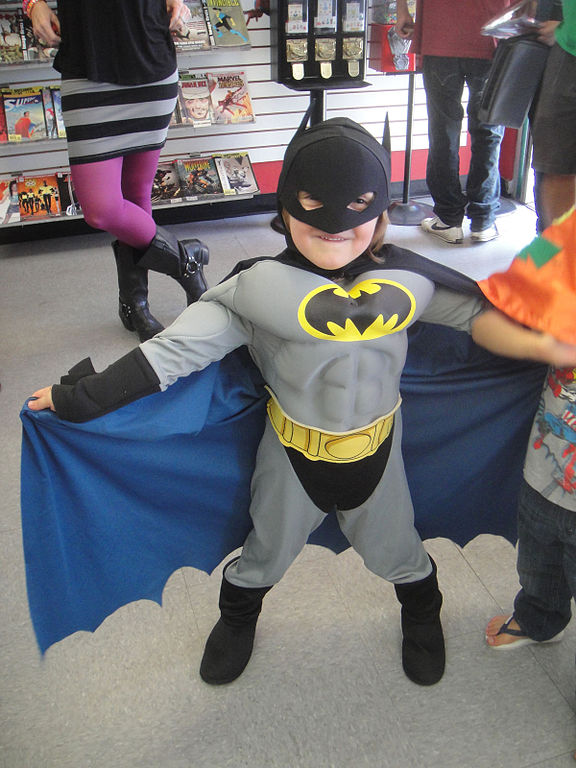 Hint: NOT Batman, but instead, BATS! Our team will be catching and identifying bats, along with other small, furry creatures such as rodents and shrews.
Sri Lanka has been locked off to the outside world since 1983 when a backlash against the revolting Liberation Tigers of Tamil Eelam (most widely known as the Tamil Tigers) catalyzed a decade-long separatist movement into a civil war. After 26 years, multiple failed attempts at peace, and a death toll between 9000 and 75,000, the war finally ended in 2009.
War can have both positive and negative impacts on biodiversity. The Sri Lankan Civil War ravaged the country's trees, exacerbating an already stressful situation and leaving less than 20% of its pre-colonial forest left. However, in the Vanni region of Northwest Sri Lanka, bird diversity flourished to extraordinary heights after citizens fled the area during the war. Direct effects on wildlife aside, one thing war definitely does is make conservation and research, especially efforts involving international collaboration, very difficult: The last comprehensive small mammal survey in Sri Lanka was in 1935.
Nineteen. Thirty. Five.
I.e. We haven't really looked at what kinds of animals are living on the island since before WORLD WAR II. To give you some perspective: In the meantime, the Internet was invented, social media took over the world, climate change became a crisis, and we've gone from landing on the moon to close-up pictures of our galaxy's most distant (non) planet.
What we have here is a rare and very unique opportunity to explore and discover in a world that has our footprints all over it. Because it has been so long, and Sri Lanka is such an isolated country, there's a pretty good chance that we might find some new species. The country is already known to have incredible numbers of species, many of which are only found on the island. In the most recent amphibian surveys on the island, researchers uncovered 35 new species of frogs and toads. We hope this bodes well for our own voyage!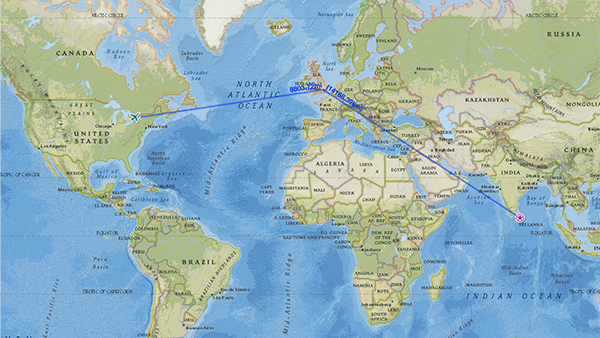 The core field team consists of Dr. Burton Lim, Internationally-known bat scientist Dr. Brock Fenton of Ontario's Western University, Dr. Signe Brinkløv from the University of Southern Denmark, Dr. Wipula Yapa from the University of Colombo in Sri Lanka, two field assistants, and a two-person communication team who are going to be documenting it all for you. We will be travelling to four sites on the island: The Knuckles Mountain Range in central Sri Lanka; Wasgamuwa National Park, also in the centre of the country; Koslanda hill country and bat caves in the south; and Yala National Park in the Southeast.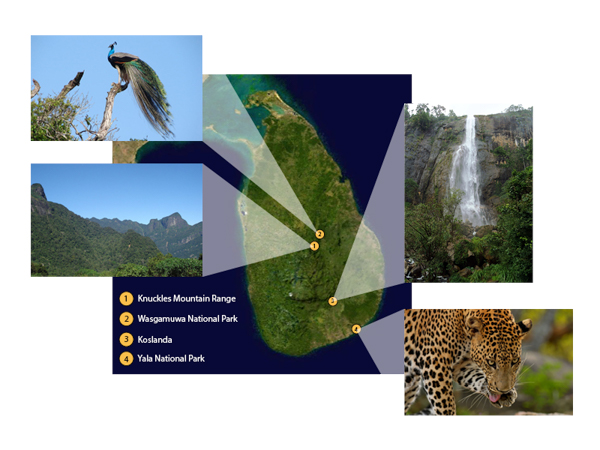 The four sites the team will visit in Sri Lanka. Photo Credits: courtesy of Wikimedia commons; clockwise from lower left: Knuckles Mountain Range by Astronomyinertia; Wasgamuwa Peacock by Chamara Ratnaweera; Diyaluma Falls by Adbar; Sri Lankan Leopard by Amila Tennakoon
The ROM Biodiversity trip to Sri Lanka is one of the country's first international collaborations, which is both exciting and intimidating, but we are extremely thrilled to invite you along for the (likely bumpy) ride. Armed with a couple of bags of gear that we hope will last the month, we will be posting pictures, facts, and experiences throughout the trip, and we hope you join us in this grand adventure. You can even chat with Burton at noon on September 10th via our Google Hangout!
Follow along on Twitter, see updates on the ROM's Facebook and Instagram accounts, and watching for the hashtag #ROMSriLanka. See you in the field!