National Volunteer Week 2017 | Volunteer Spotlight: Elizabeth Novak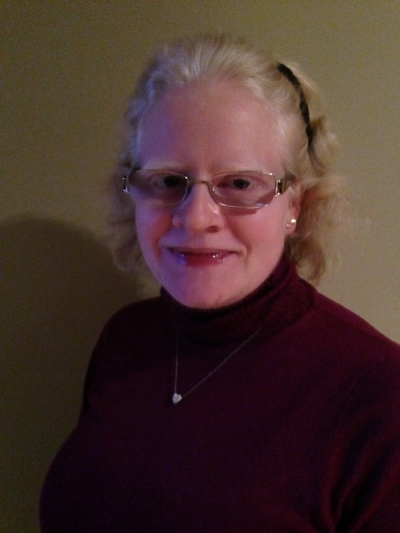 Elizabeth Novak served as the Community Co-Chair of the ROM Diversity and Inclusion Committee from January 2011 to January 2017.
What inspired you to volunteer at the ROM?
I was inspired to do volunteer work at the ROM because of my love of museums, and in particular the Royal Ontario Museum. The ROM has been a favourite cultural institution for me to visit since my childhood, as I have a strong love of history and a passion for natural history. The ROM has always been a wonderful place for me to explore and learn new things.
I was also inspired to volunteer with the ROM's Diversity and Inclusion Committee while pursuing my Masters In Museum Studies with the University of Toronto. My love of museums lead me to pursue a professional master's degree in museum studies. One of my interests as it relates to museums is the topic of audience inclusion as it relates to disability and accessibility issues. I myself was born with a genetic condition called albinism that causes me to have low vision. Being visually impaired has inspired me to want to make museums like the ROM as accessible and inclusive as possible for persons with disabilities. Through my masters work I learned about the ROM's Diversity and Inclusion Committee and was invited to join as a member.
Tell us about your role at the ROM.
My role as a member of the ROM's Diversity and Inclusion Committee and my role as the committee's Community Co-Chair is to provide strategic advice and proposal development for disability-related access for museum exhibitions, publications, programs, marketing, communications and visitor experience. My role is to act as a community leader on the committee and to assist the committee with other initiatives, such as forging community partnerships with organizations and members of disability groups throughout the GTA. The Diversity and Inclusion Committee is also involved with stakeholder development and proposal development of new accessible projects that will benefit ROM visitors.
What do you love best about volunteering here?
I love to volunteer with the ROM and The Diversity and Inclusion Committee because of the work we are doing that helps to make the Royal Ontario Museum a more inclusive and accessible place, not just for persons with disabilities, but for all visitors coming to the museum. I love being able to work with staff professionals at the ROM and to learn about how the museum creates its exhibitions and programs. I am always learning new things both as a museum professional and as a person with a visual impairment about how museums can work to make themselves more inclusive. I love being able to make a positive difference for others through sharing my knowledge/experience as a museum professional and as a person with a disability to make a learning institution like the ROM a more accessible place.
Can you share a favourite memory of volunteering here?
One of my favourite memories that stands out for me volunteering with the ROM's Diversity and Inclusion Committee was advising and providing feedback and design testing for the ROM's Maya: Secrets Of Their Ancient World Exhibition which premiered in 2011. I am really interested in the ancient history of Maya culture. I was able to see the creation/design process for this wonderful exhibition, and I was able to contribute my knowledge and experience to make the exhibition more accessible for museum visitors with disabilities. I thought that the Maya Exhibition was really well done!
Apart from your volunteer work at the ROM, what do you like doing in your spare time?
In my spare time I love to read and explore my passions for natural history and history. I actually love visiting museums and other cultural institutions in my free time. I also enjoy going to the movies with my friends, and watching wildlife and history TV documentaries.